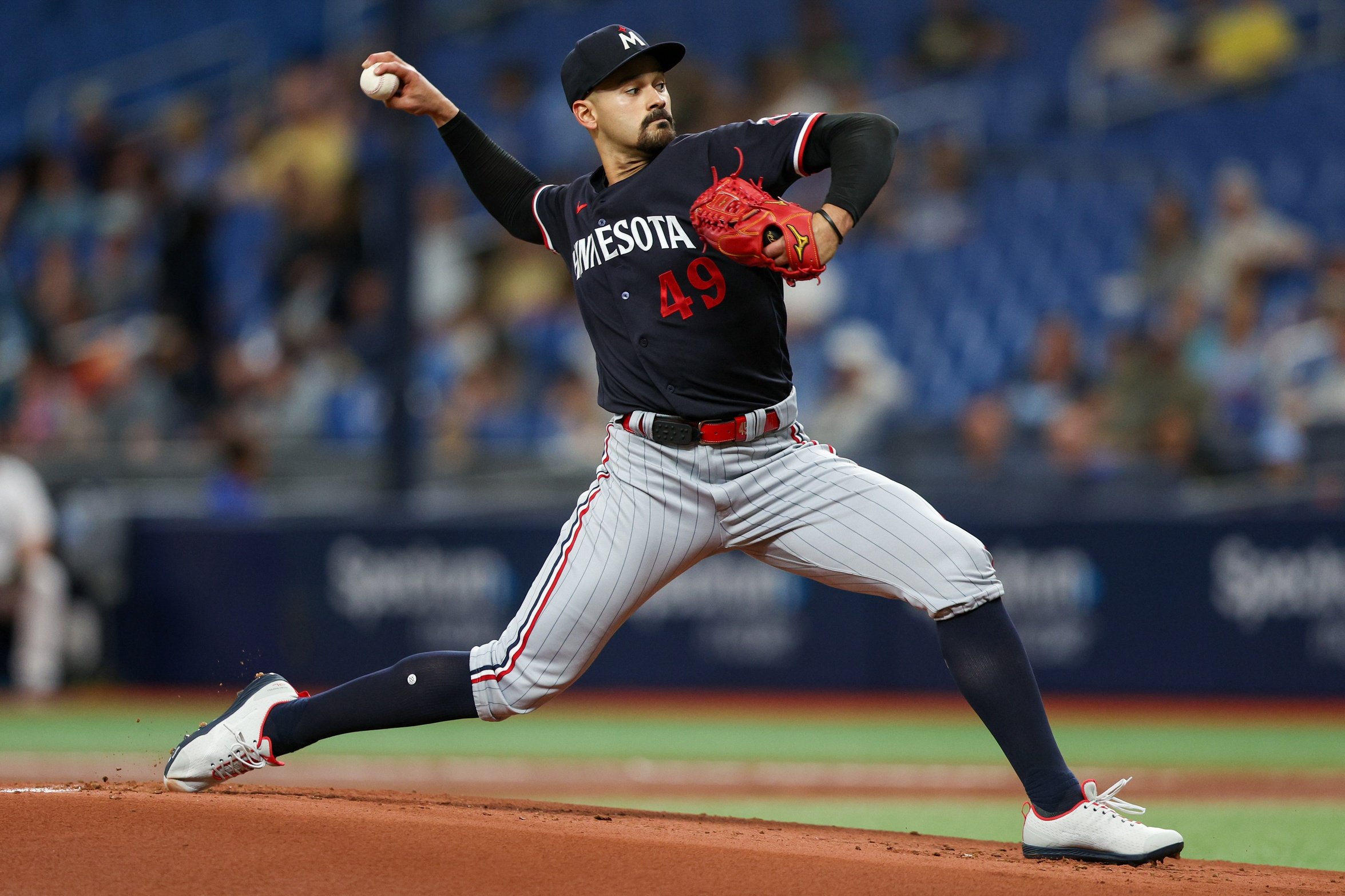 Image courtesy of Nathan Ray Seebeck-USA TODAY Sports
Box Score
Starting Pitcher: Pablo López, 7.0 IP, 5 H, 1 R, 1 ER, 1 BB, 6 K (92 pitches, 63 strikes, 68.5%)
Home Runs: none
Bottom 3 WPA: Jhoan Durán (-.376), Ryan Jeffers (-.316), Carlos Correa (-.139)
Win Probability Chart (via FanGraphs)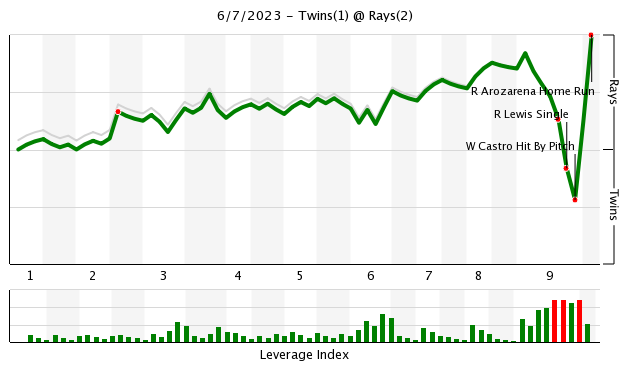 Pablo is back! But…
Coming into tonight's game, Pablo López had given up 17 runs in his four previous starts, almost just as many as he's given up (19) in his eight starts before that. Sporting a Johan Santana-esque goatee, the Twins' opening-day starter desperately needed a good start to get out of this nearly month-long slump. The first of two big problems for him and the Twins: he needed to do it facing the best offense in the majors.
Entering this game, the Rays led the league in OPS, wRC+, and ranked second in runs scored. The Twins got a (bitter) taste of the power of that offense last night. How can you stop such a powerful offense? After a quick eight-pitch first for López, the Rays struck first, with Isaac Paredes crushing a leadoff home run to deep center. Fortunately, López didn't let it get to him and retired the following three batters to end the inning.
The second big problem for López and the Twins this evening was the poor offense as of late. Minnesota's bats couldn't muster more than four hits in their shutout loss on Tuesday night. Tonight, however, Tampa Bay went with a bullpen day. Could the struggling Twins offense take advantage of that?
At first, it didn't look like it. Opener Shawn Armstrong took care of the first two innings in a hurry, facing only seven batters and allowing only a single. When reliever Cooper Criswell took over in the third, the Twins put together their first threat of the night. Ryan Jeffers (single) and Donovan Solano (walk) both reached to put two men on with only one out. Alex Kirilloff, though, flied out. Next, Carlos Correa struck out on four pitches. Are we witnessing the worst offensive version of Correa's career right now?
Luckily, the offensive struggles didn't affect López, and he was able to navigate through Tampa Bay's juggernaut lineup brilliantly. After giving up that home run in the second, López went on to toss four scoreless as sharply as humanly possible against such an offense. He completed six with only 85 pitches, giving up only one walk and striking out six. He came back to pitch the seventh and delivered another 1-2-3 inning, making it six consecutive batters retired to close his start. The Twins' first big problem of the night was solved in a fantastic fashion.
But the second big problem of the evening, the struggling offense, was far from being solved. After the second-inning threat, Minnesota's offense was unable to produce a hit to spark a rally. Tampa Bay pitchers retired eight consecutive Twins hitters between the sixth and the eighth inning.
Taylor, Lewis tie the game for the Twins… but it's worthless
Things could change with a swing of the bat in the ninth, and when Solano got hit by a pitch, Michael A. Taylor came into the game to run for Solano. He stole second with Max Kepler up to bat, and then Kepler walked. With Royce Lewis batting, Taylor stole third, and then Lewis lined an RBI single to left and tied the game. Reliever Jason Adam hit Willi Castro, loading the bases with only one out, but he managed to induce an inning-ending double play against Ryan Jeffers.
But the hopes of an extra-inning win didn't last long. With Jhoan Durán pitching in the bottom of the ninth, Randy Arozarena jumped on the second pitch of the at-bat for a walk-off home run to center.
Postgame interview
What's Next?
The Twins will try to avoid the sweep this Thursday (6/8) in game three, with the first pitch scheduled for 12:10 pm CDT. Bailey Ober (3-2, 2.33 ERA) toes the rubber for Minnesota, while Tampa Bay's starter has yet to be determined.
Bullpen Usage Spreadsheet
| | | | | | | |
| --- | --- | --- | --- | --- | --- | --- |
|   | SAT | SUN | MON | TUE | WED | TOT |
| J. López | 31 | 0 | 0 | 0 | 0 | 31 |
| Pagán | 4 | 0 | 0 | 20 | 0 | 24 |
| Morán | 19 | 0 | 0 | 0 | 0 | 19 |
| Stewart | 0 | 0 | 0 | 0 | 13 | 13 |
| De León | 0 | 12 | 0 | 0 | 0 | 12 |
| Jax | 0 | 11 | 0 | 0 | 0 | 11 |
| Thielbar | 0 | 10 | 0 | 0 | 0 | 10 |
| Durán | 0 | 0 | 0 | 0 | 2 | 2 |