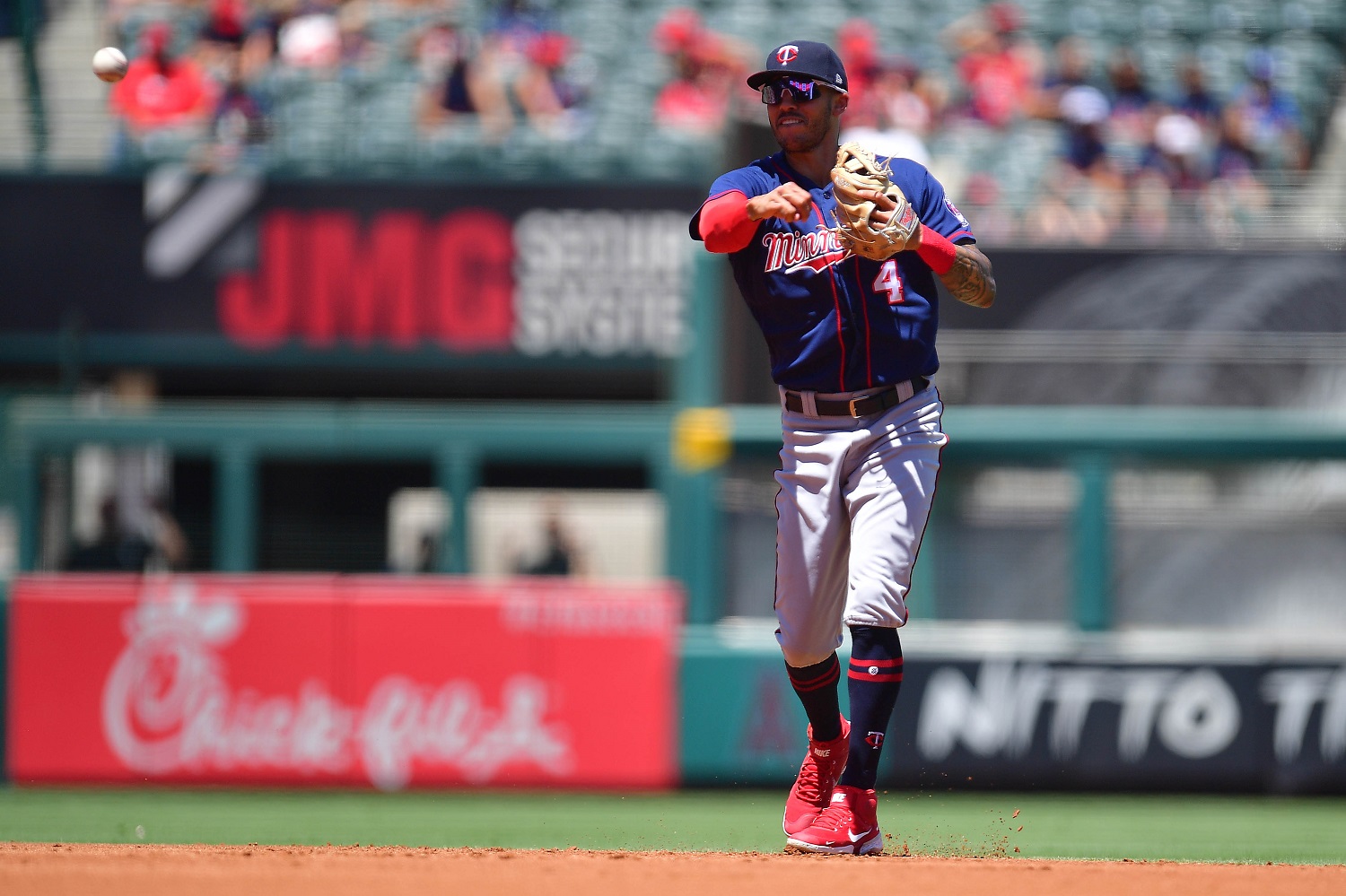 Image courtesy of Gary A. Vasquez-USA TODAY Sports
Minnesota is in an interesting situation looking at the 2023 roster. How should the team approach the shortstop position? The Twins expect Royce Lewis to return in the middle of next season, and there's hope he can be the team's long-term answer at shortstop. Lewis' presence leaves the Twins with two options. The team can sign one of the top available shortstops or look for a stop-gap player until Lewis is ready. 

5. Elvis Andrus, SS
Age: 34
2022 Stats: .249/.303/.404 (.707), 103 OPS+, 32 2B, 17 HR, 18 SB, 3.0 WAR
Andrus has a $15 million option that he can exercise since he had more than 550 plate appearances this season, so there is no guarantee that he will hit the open market. He seems like a solid stop-gap option for the Twins if he is available. His OPS improved by 100 points after leaving Oakland last season, and he finished with an above-average OPS+. He may have lost a step defensively, but that's expected as someone heads into their mid-30s. SABR's Defensive Index had Andrus ranked as the ninth-best shortstop in the American League. Andrus and his representatives need to gauge the market to decide if he can get more than $15 million in guaranteed money. 

4. Dansby Swanson, SS
Age: 29 
2022 Stats: .277/.329/.447 (.776), 115 OPS+, 32 2B, 25 HR, 18 SB, 5.7 WAR
Swanson is hitting the free-agent market at the perfect time. He was a first-time All-Star in 2022 and has a World Series title on his resume. Some of the other players on this list will get more significant deals, but Swanson will be able to cash in on a tremendous 2022 season. Even with his breakout season, Swanson has a career OPS+ (95) that is below average. He makes up for his offensive flaws with tremendous defense, with only two NL shortstops ranking higher than him in SDI. Teams need to decide if the 2022 version of Swanson is real before handing him a blank check. 

3. Xander Bogaerts, SS
Age: 30
2022 Stats: .307/.377/.456 (.833), 131 OPS+, 38 2B, 15 HR, 8 SB, 5.7 WAR
Bogaerts has the resume every team wants from a free agent. He plays a premium position, is a four-time All-Star, has two World Series titles, and has four Silver Sluggers. He does have three years remaining on his current contract, but many expect him to opt-out. The one knock against Bogaerts is that he is older than the other top players on this list. Only two AL shortstops ranked higher than him, according to SDI. He will get paid like a top-tier player by one of the teams in the free-agent shortstop market. 

2. Carlos Correa, SS
Age: 28
2022 Stats: .291/.366/.467 (.834), 140 OPS+, 24 2B, 22 HR, 0 SB, 5.4 WAR
Correa made his opt-out decision clear as the season ended. He is heading back to the free agent market for the second straight offseason in an attempt to sign a long-term deal. Last winter, Corey Seager received the largest free agent shortstop contract at ten years and $325 million. Correa is likely searching for a similar amount. Twins fans may feel underwhelmed by Correa's performance this season with the Twins, but his season totals were similar to other years in his career. He was a tremendous hitter with plus defense. However, he failed to produce in some clutch situations and his best offensive months were near the season's end when the team fell out of the race. Minnesota has payroll flexibility to sign Correa, but it would be out of character for the front office to make that type of commitment. 

1. Trea Turner, SS
Age: 29
2022 Stats: .298/.343/.466 (.809), 121 OPS+, 39 2B, 21 HR, 27 SB, 4.9 WAR
Outside of Aaron Judge, Turner is likely to get the biggest free-agent contract. He is a true five-tool talent with skills on both sides of the ball and elite speed. He's stolen 30 or more bases in five seasons, even in an era when teams are less inclined to run. Plenty of front offices will be willing to throw piles of money at Turner to a top-of-the-order hitter that takes their team to the next level. He's won a batting title, he's won a World Series, and he's a multi-time All-Star. Minnesota isn't going to sign Turner, but his contract will likely point to how much it will cost to sign Correa long-term. 

Do you see any of these shortstops as fits for the Twins? Leave a COMMENT and start the discussion.