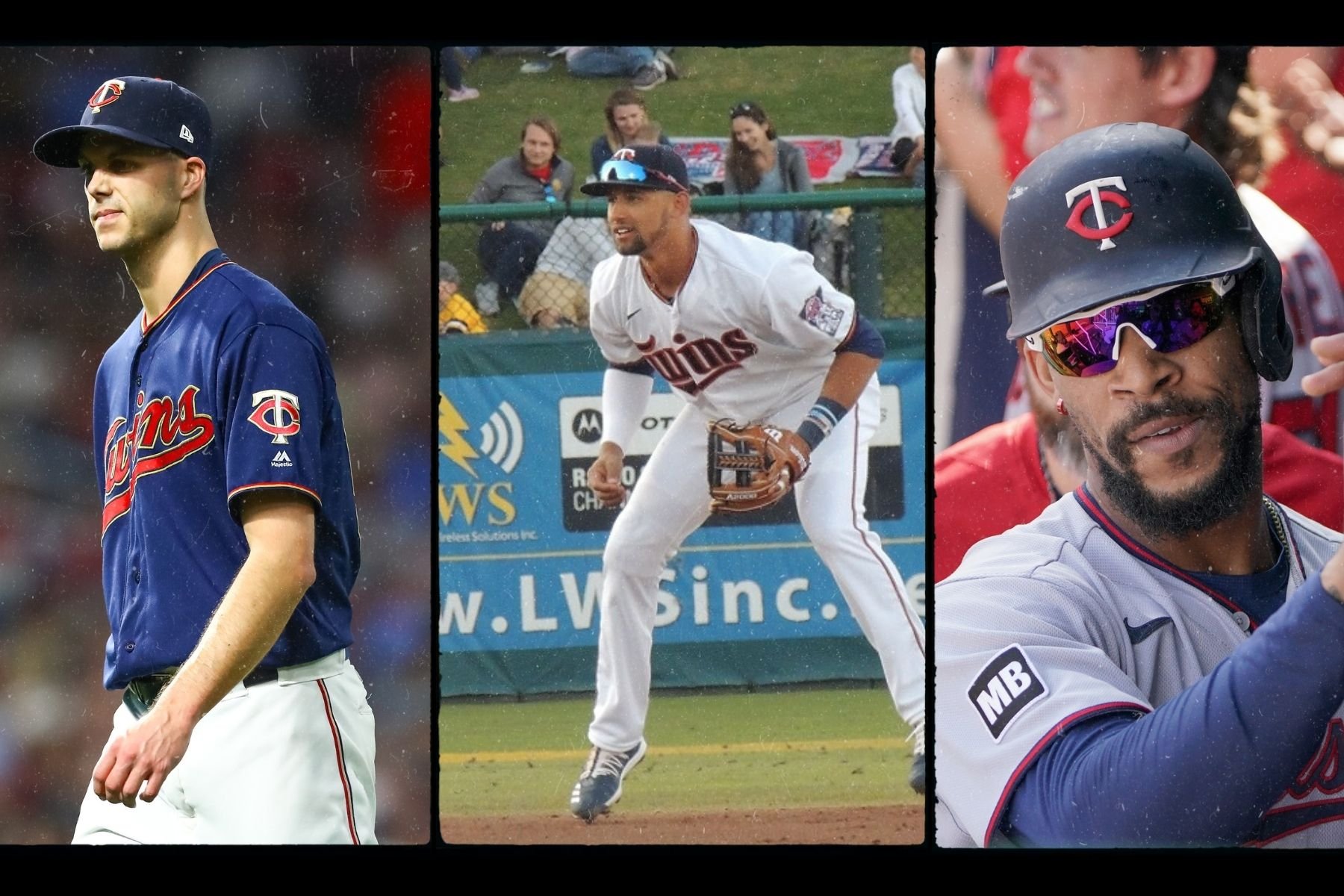 Image courtesy of David Berding, Denny Medley of USA Today Sports; Seth Stohs of Twins Daily
In the Offseason Handbook (reaching your inbox in ONE WEEK if you preorder now!), we cover a wide array of options to address various needs via free agency and trade. However, before perusing these options, it's necessary to take a step back and figure out what the objectives are.
Here are six questions the team must ask itself. The answers will bring focus to a presently hazy offseason agenda.
#1: Are we grooming Royce Lewis to take over at shortstop, or do we need a long-term solution?
With Andrelton Simmons' one-year deal expiring, the Twins are back to square one at shortstop. They seem disinclined to move Jorge Polanco back there, and Nick Gordon isn't a legit full-time option, so they'll be shopping this winter. The question is: to what degree?
If they still believe in Lewis and his viability at the position, they'll likely aim at the lower end of free agency, seeking a short-term stopgap. In the Handbook, we divide the Free Agent SS class into two tiers, with the second featuring players who'd fit this purpose. But be warned: with the exception of Dodgers utilityman Chris Taylor, the second-tier names are not very appealing targets. 
If the Twins don't feel Lewis is the ultimate solution at short – either because his defense there isn't up to par or because his long layoff produces too much overall uncertainty – then they could try to get in on the high-end free agent action, with five different All-Star caliber shortstops hitting the market. It's rare that you see ever see this kind of talent up for grabs, which is why the Twins are under some pressure to make a call on Lewis. If he's not the guy, they might not get another chance like this to procure their next fixture on the open market.
#2: Are we attempting to build a credible contending rotation, or are we intent on developing the pitching pipeline?
There are plenty of intriguing names in the free agent starter class (we profile more than 50 in the Handbook), and the Twins will surely sign at least a couple. But again, the external approach here will be contingent on an internal decision, which directly links back to the overarching question cited at the outset.
If the Twins are serious about investing and contending, they could be in play for someone like Justin Verlander or Noah Syndergaard, who offer proven ace potential and relative affordability coming off lost seasons. But they also carry a ton of risk. Only if guided by an adamant intention to contend would the Twins make a splash like that.
Should they commit to a transitional year, it's very possible someone like Michael Pineda could be Minnesota's biggest rotation signing – more of a steady innings eater than a high-upside replacement for José Berríos and Kenta Maeda. In this scenario, the strategy would be more oriented toward building from within around Joe Ryan and Bailey Ober. The Twins do happen to have a ton of near-ready prospects to sort out, although health is a question mark with nearly all of them.
Speaking of health question marks:
#3: Do we trust Taylor Rogers to bounce back from his finger injury?
In the Arbitration Decisions section of the Handbook, we break down a dozen different cases for arbitration-eligible players this year. No decision is tougher than Rogers, who's coming off an All-Star season that ended with a scary middle finger injury. 
He's projected to make around $7 million in his final year before free agency – a rather exorbitant price for a reliever, even without the looming uncertainty. If they're going to tender him, the Twins better have every confidence he can return to form next year, because that expense would deplete a sizable chunk of their resources.
For a similar salary, you could likely land a more reliable closer from the free agent pool, such as Raisel Iglesias or Mark Melancon. And if Rogers is moving on, you almost need to go get a guy like that, because without him, the back end of this bullpen becomes a glaring weakness.
#4: How much confidence do we have in controllable relievers who performed well last year?
Lowering our gaze from the closer role, decisions around what's keepable from the 2021 mix will dictate the broader bullpen strategy. If the Twins have faith in a series of second-half performances that helped propel the Twins relief corps to a surprising 2.0 fWAR (11th in MLB) and 5.82 WPA (3rd in MLB) after the break, turnover in this unit could be fairly light.
Alex Colomé is a critical crux point in this scenario. He posted a 3.51 ERA and 3.86 FIP after his nightmarish April, including 3.51/3.71 after the All-Star break. Not exactly a no-brainer to bring back on his $5.5 million option for 2022, even if you disregard the first month, but it's really a $4.25 million decision when you account for his buyout.
If the Twins decide to move on from Rogers, they could theoretically just activate Colomé's option and plug him into the closer spot, although that's surely not a move that would generate much enthusiasm with fans.
Then you've got Tyler Duffey, Caleb Thielbar and Jorge Alcalá. All three seem likely to return (Duffey and Thielbar are arbitration-eligible, Alcalá is still pre-arb so he'll cost around the minimum). But how will they be slotted into the hierarchy? 
Duffey was rather unreliable for much of the season but turned a corner after the trade deadline, posting a 2.05 ERA, 2.17 FIP and 28-to-6 K/BB ratio in 22 innings between August and September. The same pattern played out to a greater extreme with Alcalá, who entered August with a 5.27 ERA before putting up a 0.96 ERA, 1.78 FIP and 24-to-3 K/BB ratio in 18 ⅔ IP the rest of the way.  
Finally, there's Juan Minaya and Danny Coulombe. Both were minor-league signings who took opportunities and ran with them this year. Minaya posted a 2.48 ERA and 9.7 K/9 in 40 innings. Coulombe turned in a 3.67 ERA and 4.7 K/BB ratio in 34 ⅓. Each has a history of big-league success, so they're not total flashes in the pan. Each will also arbitration-eligible for the first time; it'll cost about $2 total million to bring both back.
Theoretically, if the Twins decide to bring back all of the above players (Rogers, Colomé, Duffey, Thielbar, Minaya, Coulombe) they'd have six of eight bullpen spots filled, greatly reducing the work to be done this offseason. However, it's pretty easy to envision only three or four being retained, which would lead to a heightened reliance on the utter crapshoot known as relief free agency.
#5: How will the designated hitter position be utilized going forward?
For most of the past three years, the Twins have had a full-time DH in Nelson Cruz. He'll be available this winter (likely at a reduced cost following his post-trade drop-off in Tampa), as will a few other primary DH types like Kyle Schwarber. Internally, someone like Miguel Sanó or Brent Rooker might make sense.
Of course, the Twins can also steer away from a regular designated hitter and leverage the position rotationally. This would open up a world of different possibilities, such as using Mitch Garver or Josh Donaldson as part-time DH, thus reducing their likelihood of getting injured while opening up more playing time for young players behind them (i.e., Jose Miranda and Ryan Jeffers). Using Luis Arraez there semi-regularly would be another option, protecting his balky knees and limiting his defensive exposure.
#6: What to do with Byron Buxton?
This is the biggest question of the coming offseason, no doubt. The Twins have three paths forward with regards to Buxton: trade him, extend him, or retain him with one year of service remaining. The last of those three seems least likely and the first seems most likely, based on the indicators we've received. But it's all on the table.
Within the trade scenario, there is another decision that correlates directly with the "retool or rebuild" ultimatum: Are we looking to get back MLB-ready talent (maybe even a replacement center fielder) or seeking to increase the upside with younger, rawer prospects?
Cody Christie has a feature story in the Handbook that breaks down the Buxton decision in depth. Suffice to say that it's a pivotal moment for the franchise and its future.
Let's hear from y'all. Which way do you lean on these six questions, and which important ones did I miss? Share your thoughts in the comments. 
MORE FROM TWINS DAILY
— Preorder the Offseason Handbook
— Latest Twins coverage from our writers
— Recent Twins discussion in our forums
— Follow Twins Daily via Twitter, Facebook or email