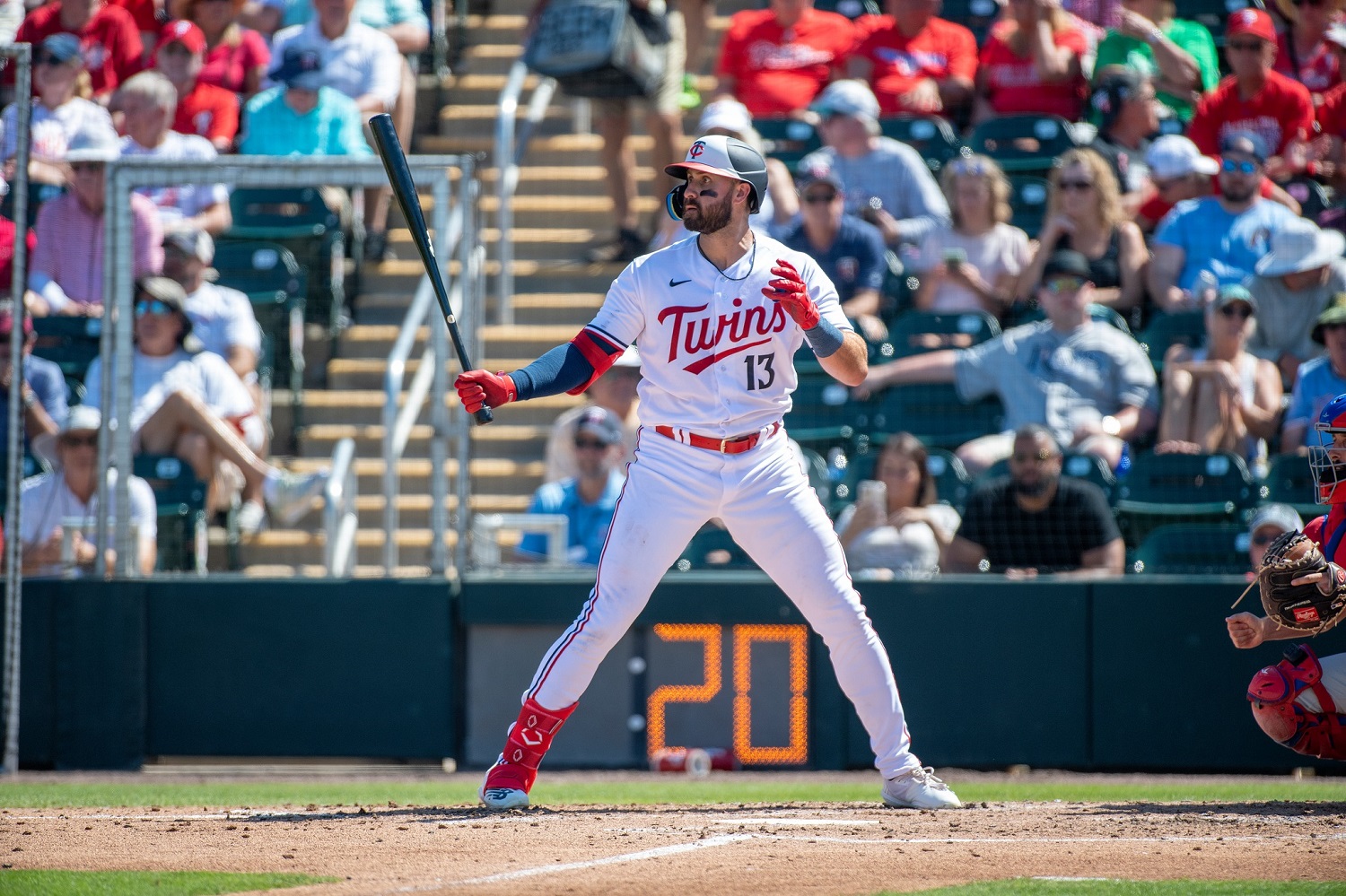 Image courtesy of William Parmeter
The Twins went into the off-season with some clear needs on their roster. A left-handed corner outfielder was not one of them. In fact, that mold of player was one of the only assets that the club seemingly had in excess. Their surplus consisted of Max Kepler, Alex Kirilloff, Nick Gordon, Trevor Larnach, and Matt Wallner. 
Then it was announced that two-time all star Joey Gallo would be joining that group, warts and all. This left many Twins followers, myself included, befuddled as to how this game of musical chairs would turn out. The move played into the notion that this front office likes a good contract more than it likes a good player, and it gave the team's critics a fresh slab of red meat to feast upon.
As a prototypical three-true-outcome player, Gallo would surely require ample playing time for the $11 million investment to be worth it. How might this impact the development of the young talent such as Kirilloff, Larnach and Wallner? Where would Gallo play defensively for it all to make sense? Would this make a trade of one of the incumbent lefty bats all but certain? 
Clearly, Gallo's signing created more questions than answers, and that tends to turn a lot of people off when molding a contending roster. 
But now, Gallo is one of the most vital cogs in the Twins' 2023 blueprint. That begs one last question - did he change, or did we?
When his signing became official in late-December, many griped about Gallo's high-strikeout, boom-or-bust approach. That criticism is certainly valid. Gallo has a career strikeout rate of 37.3%, which is the highest among qualified active players. Not only that, but Gallo has only put 25% of his swings in play over the last two seasons, which is by far the lowest in the major leagues in that time. 
About a month later, the Twins shipped fan-favorite Luis Arraez to the Miami Marlins in return for Pablo López and two prospects. This sent fans into even more of a tizzy, as Arraez is one of the premier contact hitters in the game. This magnified the bitter aftertaste that many were experiencing, whether that was fair to Gallo or not.
But now, his fit on the roster makes more sense, especially given the injury concerns that are once again emerging in the lineup. Kirilloff was the on-paper starting first baseman for most of the off-season, but is now pegged to miss the beginning of the regular season as his recovery from last season's wrist surgery is taking longer than expected. Second baseman and lineup stalwart Jorge Polanco missed the entirety of the Grapefruit League slate with knee soreness, and will once again hit the dreaded injury list. Even superstar Byron Buxton will be limited to designated hitter duties as he continues to recover from his many leg and hip ailments. 
This gives Gallo plenty of opportunity for playing time. That could mean sliding in as the regular first baseman until Kirilloff returns. It could mean more of an opening for him in the outfield, with Gordon shifting to second base. It could mean more starts in center field until Buxton is back out there. It could even mean increased time back at third base while Jose Miranda slides over to first. No matter where it happens, Gallo will get plenty of looks all across the diamond. 
The bigger question surrounds which version of Gallo's bat comes north to Target Field. Will he be the behemoth that slugged 38 home runs in three different seasons? Or will he be the heir-apparent to Miguel Sano's throne of punch outs?
The good news is that Gallo did extensive training with hitting coach David Popkins over the off-season in an effort to make more contact. The Twins' coach has been lauded by Gordon and Carlos Correa for the in-season work that paid dividends in the second half of last season. Hopefully Popkins' tutelage will continue to be effective as he continues to work with Gallo, who is likely his biggest challenge yet. 

What do you think? Are you happy to have Gallo aboard as the Twins begin their 2023 campaign? Where do you think he will get most of his playing time? Do you think Popkins will be able to help Gallo as he did with Correa and Gordon in 2022? Let us know in the comment section below.