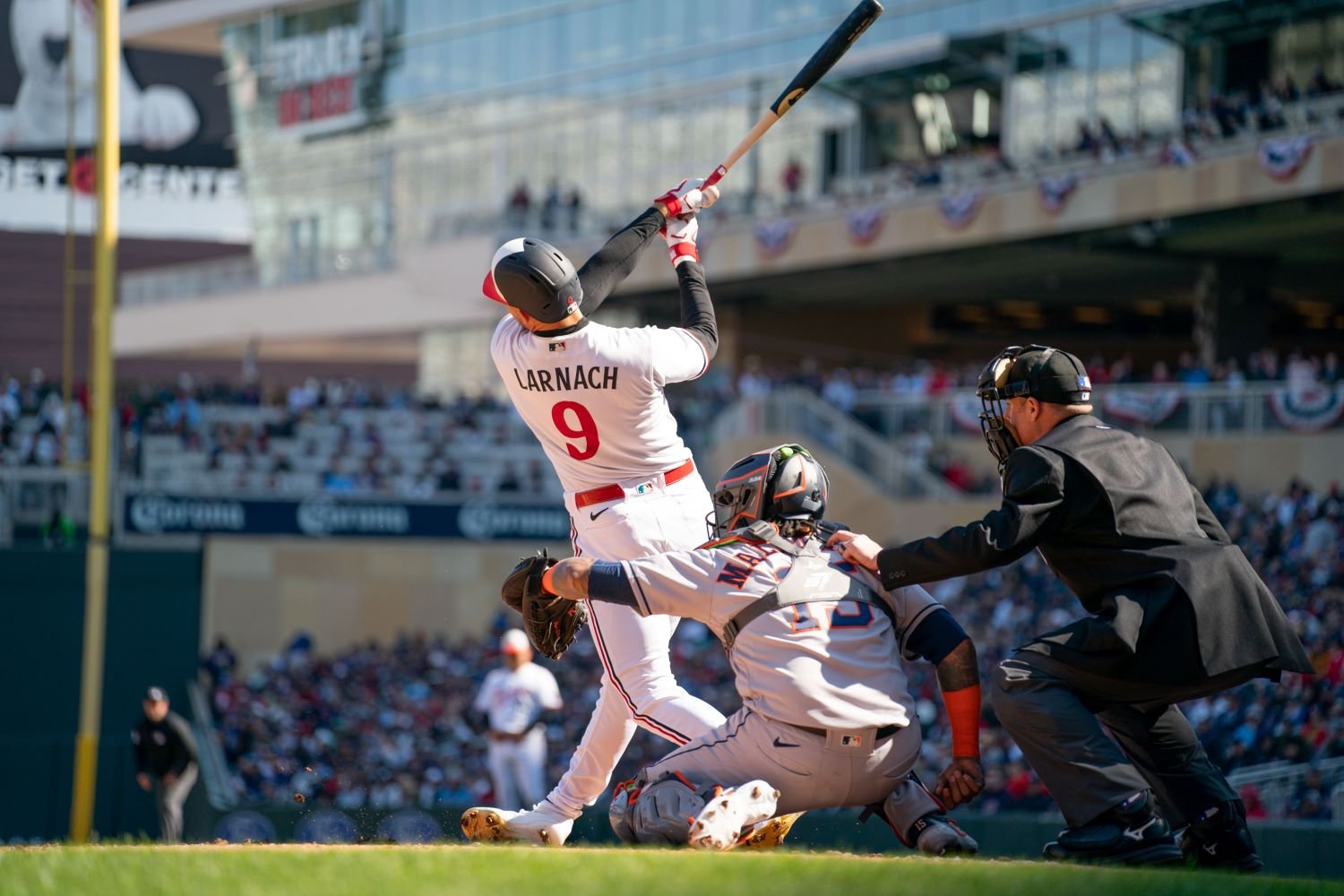 Image courtesy of Matt Blewett-USA TODAY Sports
The Twins drafted Trevor Larnach with the 20th overall pick in the first round of the 2018 MLB Draft. He was coming off a tremendous college career where he posted a 1.116 OPS during his junior season, along with helping Oregon State to the College World Series title. Minnesota's current front office has preferred drafting powerful college bats, and Larnach fits that mold. Larnach's future outlook with the team is cloudy five years into his professional career. 
Larnach will turn 27 this winter, and he's played 180 games at the big-league level. There have been flashes of the power hitter the Twins drafted, but his overall performance has been underwhelming. In 669 plate appearances, he has hit .223/315/.380 (.695) with 31 doubles, three triples, and 18 home runs. His 94 OPS+ is below league average, and he's posted a 228-to-73 strikeout-to-walk ratio. The Twins hoped for more from Larnach, especially entering the 2023 season. 
Multiple Twins players began the year on the injured list, which created a spot on the Opening Day roster for Larnach. In the season's first month, he hit .242/.354/.390 (.744) with seven extra-base hits in 28 games. The Twins sent him to Triple-A at the beginning of May, and he proceeded to go 7-for-14 with two doubles and two home runs before being called back up to Minnesota. He'd bounce back and forth throughout the season, but he's been in St. Paul since the end of July with seemingly no room for him on the big-league roster. 
Since his most recent demotion (33 games), Larnach has posted a .907 OPS with eight doubles, one triple, and six home runs. St. Paul's hitting environment is a little different than the big-league level, and one would expect him to hit well with his level of professional experience. However, some areas have caused him struggles since being drafted, including hitting versus offspeed pitches and finding consistent success against left-handed pitchers. 
Larnach has posted a .856 OPS versus right-handed pitchers for the season while being held to a .596 OPS against southpaws. Lefties have struck him out in 32 of his 79 at-bats this season, and only four of his 14 hits have been for extra bases when facing same-sided pitchers. The Twins have done a good job limiting his exposure to tough left-handed starters, but that also determines the value he can provide to the big-league club. 
He struggled with offspeed pitches as he moved up the organizational ladder. Larnach kills fastballs and has provided 10.8 runs above average when facing fastballs throughout his big-league career. Against all other breaking pitches, he has negative runs above average, including -7.8 against change-ups and -3.2 against sliders. Facing a lower level of competition at Triple-A likely won't help him improve against off-speed pitches, and it's one of the reasons he continues to find success at that level. 
Entering the 2024 season, Larnach has one option year remaining, but he has little left to prove at the Triple-A level. The Twins will have some decisions with the team's outfield for 2024. Max Kepler has a $10 million team option for 2024, and he's provided over $17 million in value this season. Matt Wallner has gone through his share of ups and downs, but he surpassed Larnach on the team's depth chart. Other players, including Gilberto Celestino, Nick Gordon, and Austin Martin, might fit into the team's corner outfield plans. 
The Twins' front office values depth, which might be what Larnach represents at this point in his career. Last winter, there were conversations about the Twins being willing to trade from their corner outfield depth, and that might come to fruition again this offseason. Larnach will keep swinging away at Triple-A while waiting for another opportunity to prove he can be a full-time player. 
What role will Larnach fit on the Twins next season? Is he more than a platoon outfielder? Leave a COMMENT and start the discussion.