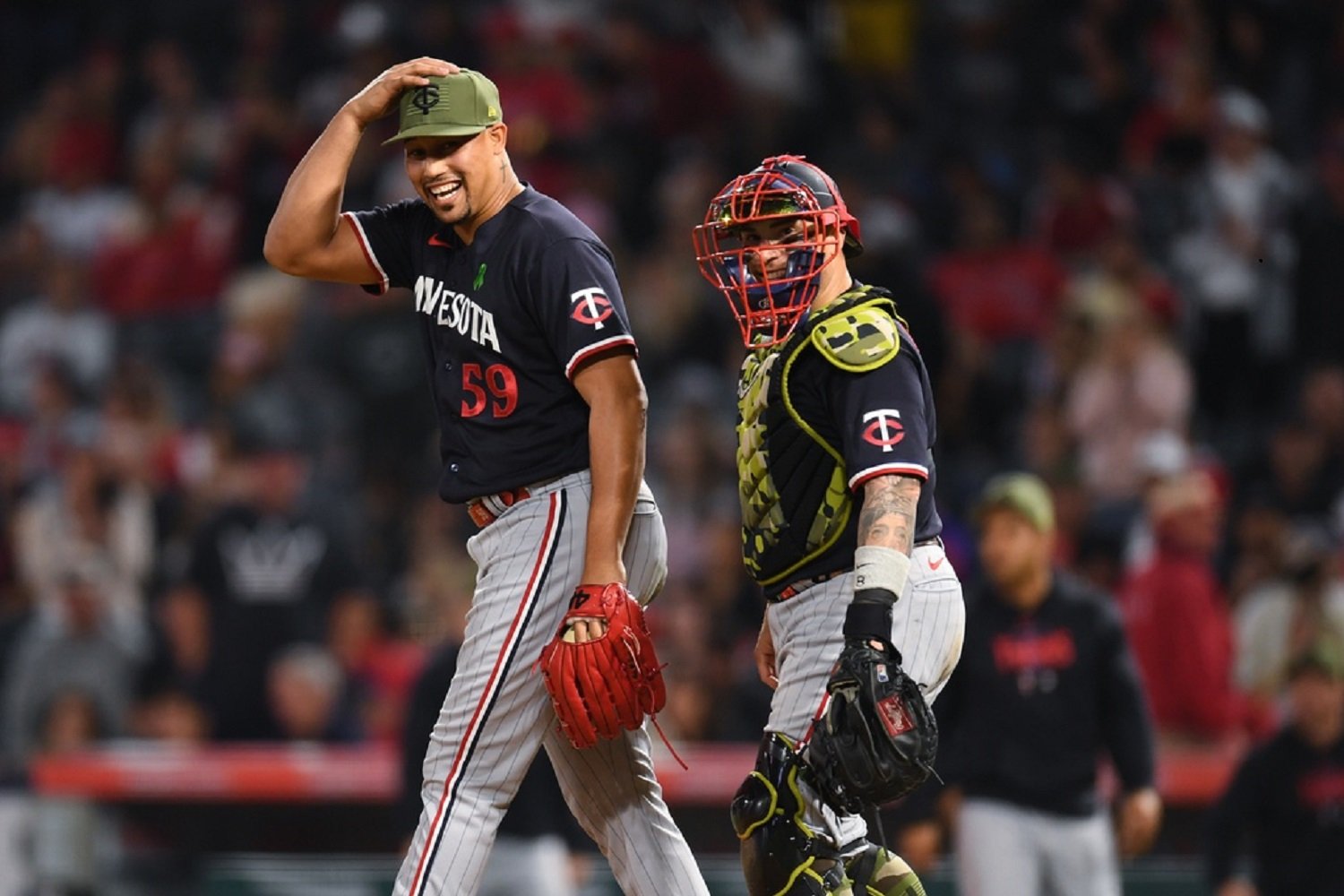 Image courtesy of © Jonathan Hui-USA TODAY Sports
Box Score
Starting Pitcher: Louis Varland: 5 IP 6 H 2 ER 1 BB 4 SO (92 P, 62 Strikes, 65.2%)
Home Runs: Gallo (11),
Top 3 WPA: Jovani Moran (0.226), Kyle Farmer (0.119), Trevor Larnach (0.10)
Win Probability Chart (Via Fangraphs):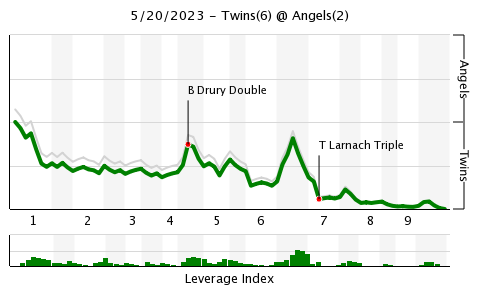 Buxton Uses Speed, Then Leaves Game
Byron Buxton was all over the bases in the early innings, going first to third by way of deking the outfielder on two separate occasions, pretending to slow down as he approached second base before turning on the jets and reaching third easily. Both times, as well as after beating out a double play, Buxton got up slowly while grimacing. This has been a common occurrence this year, although Buxton has made numerous game changing plays with his speed despite the pain. Today may have been a bridge too far, as he was removed for a pinch hitter in the sixth, with the initial diagnosis being "leg tightness." The Buxton-playing-center-field train retreats deeper back into the station.
Varland Holds it Together, Continues Run of Success
Coming off of two excellent outings against the Padres and Cubs, Louie Varland was solid for the most part. He got off to an auspicious start, with both his pitchcomm and backup pitchcomm devices malfunctioning and home plate umpire Roberto Ortiz gesticulating like he was just told his plane was overbooked. Varland kept his composure and even struck out Shohei Ohtani looking to end the first, although the pitch was a fastball right where Ohtani likes it.
Varland settled in and continued to dot the edges of the strike zone with his fastball while working in some decent cutters. A misplaced slider and cutter to the middle of the Angel's order in the fourth led to an Angels run, and a fat fastball in the sixth allowed Ohtani to get extended and make the game 4-2 with a long home run to right center. 
Twins Hit a Lefty?
The Twins have struggled against left-handed starters all year, and were thoroughly deconstructed by lefty Reid Detmers on Friday. On Saturday, the Twins faced a more accomplished lefty in Patrick Sandoval, who finished with a sub 3.00 ERA in 2022 and is off to a good start this year. Armed with an effective changeup and slider, Sandoval struggled to spot his fastball in the first, allowing the Twins to work deep counts, and for Kyle Garlick and Farmer to contribute RBI singles. Sandoval settled in after that, but Twins batters still worked him hard and he was done after striking out Garlick with two outs in the fifth.
Bullpen Pitches Four Scoreless
Starting with Jovani Moran's great effort cleaning up Varland's mess in the sixth, Jorge Lopez, Brock Stewart, and Jhoan Duran made quick work of the powerful Angels lineup, looking dominant and delivering a relatively stress-free win after struggling as a unit for the first four games of the current west coast road trip.
Rocco Biffs His Challenge
There was a curious play in the first inning, when, after Garlick's single made the game 2-0,
Willi Castro was asked to sacrifice and did so successfully, bringing in Farmer for the third run of the inning. Castro hustled down the line and was close enough to being safe that Rocco Baldelli decided to challenge the call. The replays were pretty inconclusive so the decision was potentially damaging.
Jared Walsh Returns, Doesn't Kill Twins
Wisconsin native Jared Walsh, an All-Star in 2021, made his return to the Angels' active roster after recovering from a disturbing neurological disorder in which he lost depth perception, experienced intense tremors, and was unable to sleep with any regularity. He also underwent surgery for thoracic outlet syndrome, a difficult condition to come back from in its own right, during his recovery. He went 0-4 and popped out a bunt attempt, but it is good to see him back.
What's Next: Pablo López (2-2, 4.00 ERA) will try to deliver the Twins a road series win opposing wunderkind Shohei Ohtani (5-1, 3.23 ERA). López has been inconsistent since signing his extension, logging a 6.11 ERA in five starts. Ohtano has been human on the mound lately, giving up five runs to the Orioles in his most recent start.
Postgame Interviews:
Bullpen Usage Chart