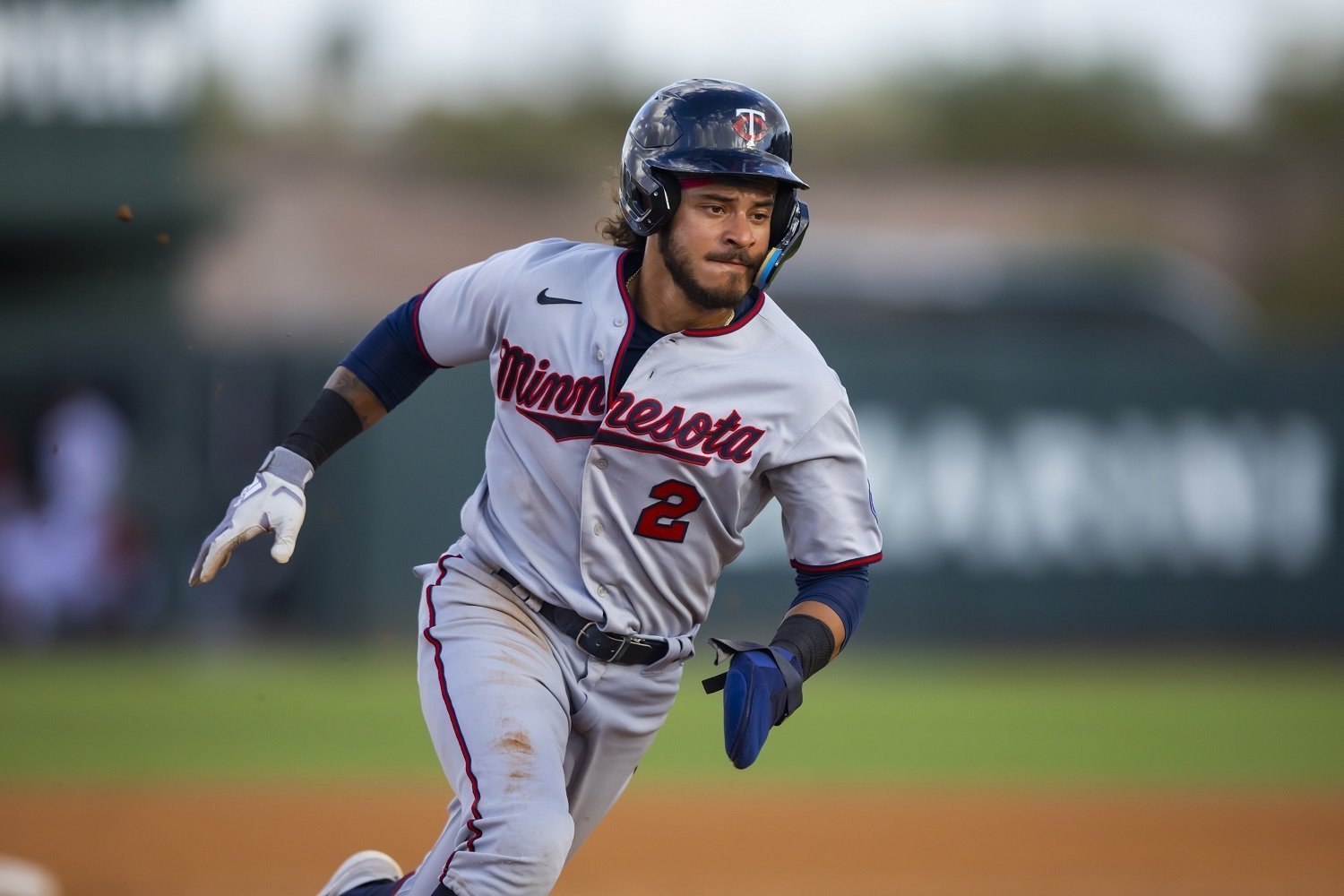 Image courtesy of Mark J. Rebilas-USA TODAY Sports
If the reports hold that the Twins are attempting to cut payroll from over $150m in 2023 to $125-140, the expectations for activity this offseason can be lowered significantly. The downside of this is obvious. The Twins likely can't afford to bring in a proven slugger like Rhys Hoskins for first base. Safer Sonny Gray replacements, such as Eduardo Rodriguez or Aaron Nola, can be all but written off. There will be plenty of negativity around this news, and it's all warranted. However, the payroll reduction will create opportunities for some players within the organization, likely the sole positive of pulling back on spending.
Austin Martin
With center field as one of the primary needs this offseason, Martin could be part of the solution. It would be great to sign Kevin Kiermaier or bring back Michael A. Taylor, but these names may price themselves out of the Twins' plans due to requiring multiple years or a one-year deal at a premium.
Willi Castro became a passable center fielder in 2023, and they still hope that Byron Buxton will return to the field at some point. Austin Martin would be the fallback option, undoubtedly getting a big chance to stick in 2024 if everything stays the same.
Martin slashed .263/.386/.405 in St. Paul last season, and the Twins are high on his ability to handle center. He stole 16 bases in 59 games, and his six homers were the most he's hit in a season in professional ball. Martin's skill set would be a great complement to the Twins' lineup with his ability to get on base and lack of strikeouts, and he could even become a platoon leadoff hitter against lefties if everything breaks right.
Yunior Severino
Even after Alex Kirilloff's shoulder injury proved less significant than initially thought, the Twins likely need more confidence in the former top prospect's ability to lock down first base for 2024. A right-handed option to platoon is a reasonable ask to insulate the position. Such a role may be less of a priority with limited funds available. 
Severino has little to prove after leading the minors with 35 homers in 2023. He got off to a rough start in his Triple-A debut but finished with a slash line of .233/.320/.511, and the Twins saw enough to add him to the 40-man roster after the season. 
Severino is a strikeout-prone light tower power hitter with a defensive profile likely to slot in best at first base. His ability to switch hit makes up for some of his lack of versatility, and he could carve out a career for himself as an all-or-nothing slugger capable of being a legitimate offensive weapon when he's running hot. At 24 years old, Severino's time may come in 2024, as the first call-up should Alex Kirilloff miss more time.
Jair Camargo
To combat the financial limitations, the Twins may not only spend less but look to shed salary from places they can afford to add elsewhere adequately. Should they decide to do so, Christian Vazquez becomes a prime candidate to ship out to another team. After not appearing in a single postseason game, it's obvious Vazquez is the backup to Ryan Jeffers, and his total collapse offensively in 2023 makes him more replaceable despite his still great defense.
Camargo profiles as a perfect backup catcher: He spent all of 2023 in St. Paul, hitting .259/.323/.503 with 21 homers in 90 games, he has received solid reviews on his defense and pitch calling, and his raw power gives him enough of a floor to be an asset to an MLB squad for several years.
Camargo would likely debut in 2024 regardless after being added to the 40-man. Trading away an MLB catcher may push him onto the Opening Day roster.
The Twins have internal options should they slash payroll, as in addition to the listed names above, they have several other young players on their way. Deshaun Kiersey Jr. may create a strong career for himself in center field. Several pitchers, such as David Festa, could see an earlier debut should the Twins shop in the bargain bin to replace Sonny Gray. At least with the deflating news comes the excitement of young players potentially debuting.
Are there any other internal options that stand to benefit from the payroll decrease? Let us know below!