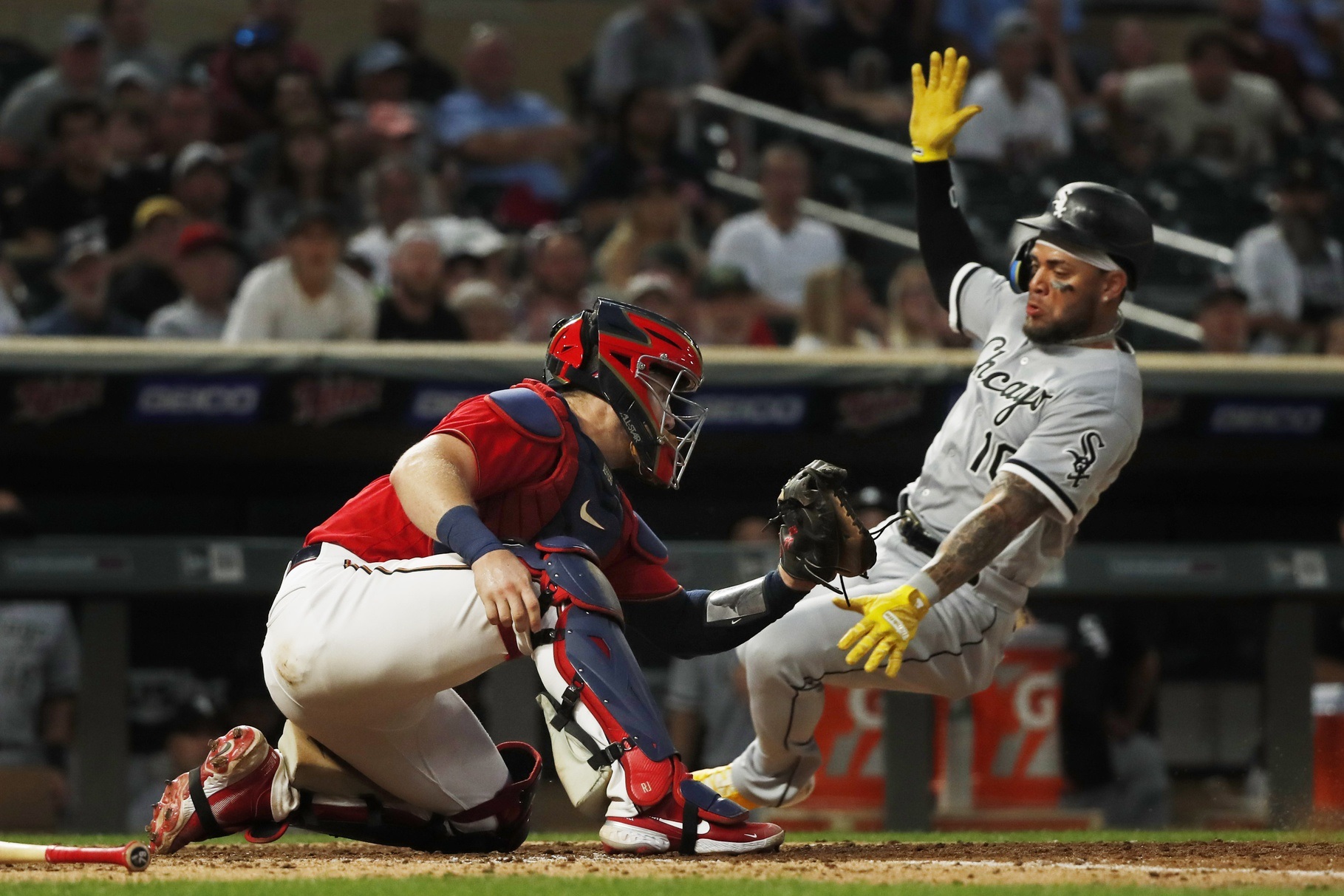 Image courtesy of © Bruce Kluckhohn-USA TODAY Sports
There's been plenty of speculation about how MLB's new rule changes will affect hitters and pitchers. It makes sense, given the current roster the Twins have that contains Joey Gallo, Max Kepler, and a plethora of fly-ball pitchers. But, one other Twins player may be significantly affected by these rule changes, catcher Ryan Jeffers. 
Jeffers has a classic backup catcher prototype, lots of power with little contact, and a good defensive reputation. However, the current and some inevitable rule changes could hinder Jeffers' value this year and moving forward. 
First off, we need to understand where Jeffers provides value. This piece will focus purely on his defensive strengths and weaknesses, so offense aside for now. We have comparable quantitative data for three defensive categories: pitch framing, blocking, and throwing out runners. Other aspects of catcher defense, like understanding the pitching staff, calling pitches, leadership, and other intangibles, play a significant part in catching too. Still, from the outside, it's difficult to see who excels in those areas outside of player and staff quotes. 
Let's start with the good for Jeffers, his pitch framing. It's a big reason the Twins have been high on Jeffers coming into the season the last two years. From 2021 to 2022, Jeffers established himself as one of the better pitch framers in baseball. According to Fangprahs, Jeffers' 3.3 framing runs above average (FRM) placed him 22nd among 51 catchers that caught at least 400 innings. However, limiting the pool to catchers that have caught at least 1000 innings over those two years makes him look much more impressive. Jeffers' 6.8 FRM ranks 14th out of 36, notably ahead of the presumed starter, Christian Vazquez, who was 18th at 3.7 FRM. 
This data is supported by Statcast as well. In 2022 Jeffers was 18th out of 60 qualified catchers in catcher framing runs, which was good for the 64th percentile. He also finished 21st out of 60 in strike rate. Jeffers performed similarly in 2021, finishing 21st out of 59 qualified catchers in catcher framing runs and 15th in strike rate. While not among the elite in strike zone manipulation, Jeffers certainly provides value in stealing strikes behind the plate. Unfortunately for Jeffers, with the automated strike zone being tested in the Minor Leagues, this could potentially neutralize his best skillset as a catcher. 
Let's move on to areas Jeffers could improve. The first area is his ability to control the running game. Jeffers had a poor caught-stealing rate in 2022, only throwing out 7 of 38 runners in motion. That is a stolen base success rate of over 81%. This has been a problem for Jeffers throughout his career, as in his three years behind the plate, he has allowed more than 80% (91/113) of stolen base attempts to be successful. 
We can also look to another stat to show Jeffers' struggles in this area. Fangraphs as a stat called stolen base runs saved (rSB). This statistic credits the catchers with their caught stealing rate and the rate at which runners try to steal. In 2022 Jeffers finished with -1 rSB, placing him 35th among 51 catchers that caught at least 400 innings. While -1 might not seem like a huge issue, if we expand the sample, we get a better picture. If we look at catchers that have caught at least 1,000 innings between 2021 and 2022, Jeffers ranks 35th out of 36 in rSB at -5. Only Austin Nola finished below him. 
The third defensive area to focus on is pitch blocking, the first thing youth catchers learn to do. Statcast recently released a new stat called blocks above average, which measures "the number of passed balls and wild pitches compared to the expectation of an average catcher." Jeffers ranks 53rd out of 66 qualified Statcast catchers in this metric with -3. There is a pretty sizable runs gap between the bottom ten players and where Jeffers ranks, as the bottom couple of catchers are -11 and lower, so that 53rd ranking may be a bit misleading. Nonetheless, Jeffers still finished below Gary Sanchez, who was made notorious (probably too much so) for having passed balls and wild pitches issues. 
While it is unclear how the pitch clock, the pickoff limit, and the bigger bases will affect baserunning, they were undoubtedly created to incentivize aggressive baserunning. This likely means more stolen base attempts, bigger leads, and better jumps on balls in the dirt. Because Jeffers already struggles to control the running game as is, these new rules can potentially severely hurt Jeffers' value as a defensive catcher. In addition to his struggles at the plate, if Jeffers' most valuable asset on defense also becomes neutralized, Jeffers' ceiling as a starting catcher could be in question.