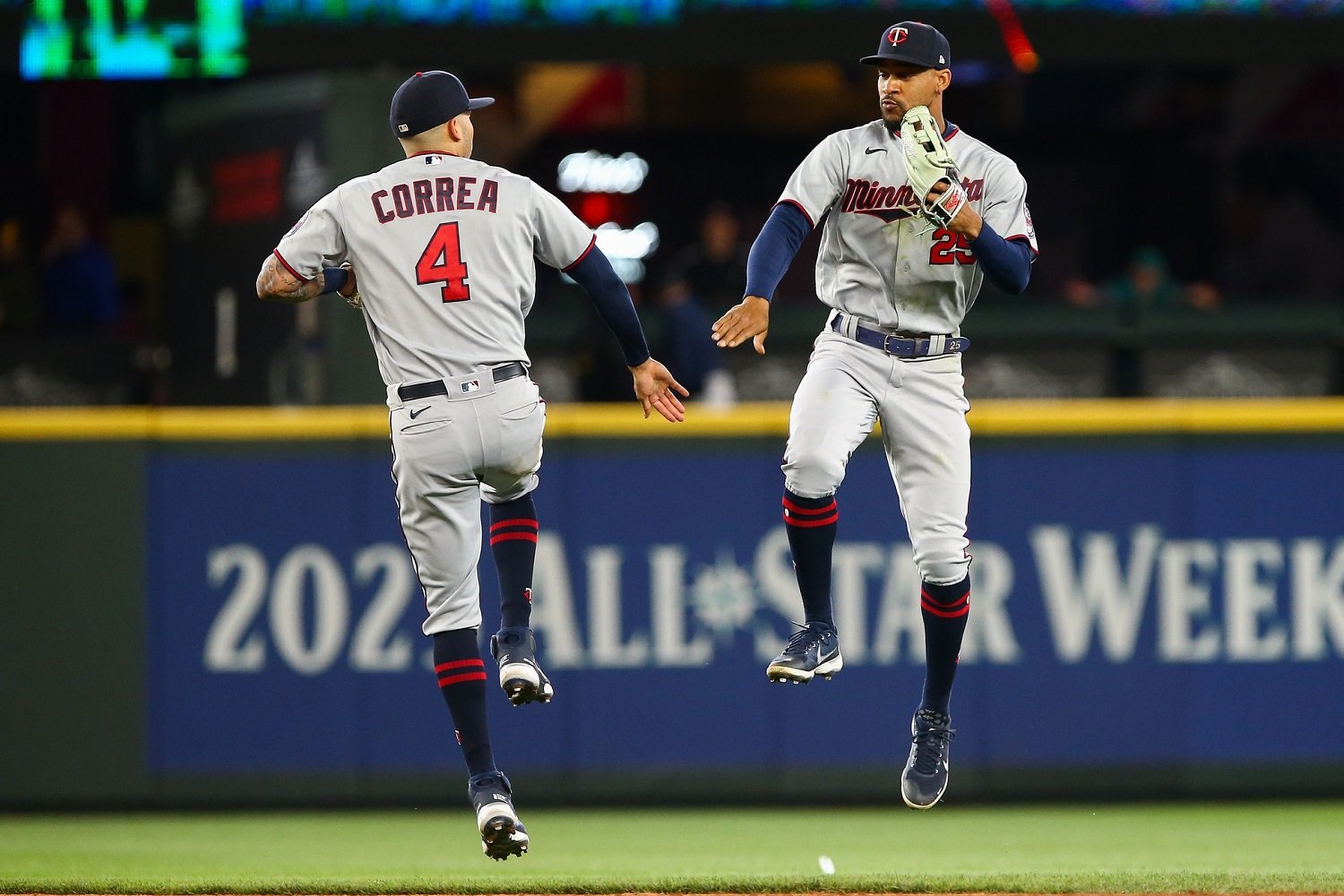 Image courtesy of Lindsey Wasson-USA TODAY Sports
Last season, the lockout forced MLB to allow teams to begin the year with 28-man rosters. The lockout forced a shortened spring training, and baseball was worried about an increased chance of player injuries. For 2023, teams must narrow their final roster to 26 players. Players listed below with the ** are on the bubble for the final roster spots. 

Catchers (2): Christian Vazquez, Ryan Jeffers
Entering the offseason, Ryan Jeffers was the lone catcher on the team's 40-man roster. Adding Christian Vazquez helps bolster the organization's catching depth. Last winter, the Twins traded Mitch Garver to allow Ryan Jeffers to become the primary catcher. However, many teams utilize a multi-catcher approach to keep players healthy and help their offensive production. Minnesota also signed veteran catcher Tony Wolters to a minor league deal, but he likely won't make the Opening Day roster. The Twins will need Walters during the season, and he has caught over 2800 innings at the big-league level. 

Infielders (6): Luis Arraez, Carlos Correa, Kyle Farmer, Alex Kirilloff**, Jose Miranda, Jorge Polanco 
Adding Correa to this group changes the entire look of the infield. Farmer can now shift to a utility role and play all over the diamond. He was penciled in as the team's starting shortstop until Royce Lewis returned from his ACL injury. Minnesota is handing Miranda the starting third base job after the team traded Gio Urshela to the Angels. All the projected infielders can be used at multiple defensive positions, which will help Rocco Baldelli create the best line-ups on any given day. Minnesota was in the driver's seat for the AL Central last season before injuries ravaged the roster. Correa's return puts the Twins back in the conversation as a playoff team in 2023 and beyond. 

The depth here comes from the likes of Royce Lewis, when he returns (hopefully in June or July), who can play all over the diamond. Austin Martin can get whatever time he needs in St. Paul. The team can be patient with Brooks Lee rather than push him up too quickly. 

Outfielders (5): Byron Buxton, Gilberto Celestino, Joey Gallo, Nick Gordon**, Max Kepler
Correa's signing also pushes other players off the 26-man roster. In my initial roster projection, Trevor Larnach was on the bubble, and now he will be in St. Paul's outfield with Matt Wallner. Both players will get playing time in 2023, but there needs to be room to keep them on the Opening Day roster. Kyle Garlick is also an interesting player because there might be other right-handed free-agent upgrades. Joey Gallo and Max Kepler fill similar roles for the Twins, so the Twins will likely trade Kepler, allowing them to carry a right-handed bench bat. Nick Gordon is out of minor-league options so the Twins will keep him based on his breakout performance in 2022. 

Rotation (5): Sonny Gray, Tyler Mahle, Kenta Maeda, Joe Ryan, Bailey Ober
On paper, this starting five is a group that can win the AL Central, but there are health concerns with multiple pitchers on the roster. Mahle struggled with shoulder issues after the Twins acquired him, Maeda is returning from Tommy John surgery, and Ober dealt with various injuries last season. The Twins have starting pitching depth on the 40-man roster, with Louie Varland and Simeon Woods Richardson ready to contribute at the big-league level. Jordan Balazovic is also an interesting name to consider if he is healthy to start the year. Minnesota has also been rumored to be interested in some of the remaining veteran free agents, but the club may want to rely on its pitching pipeline. 

Bullpen (8): Jhoan Duran, Jorge Lopez, Griffin Jax, Caleb Thielbar, Emilio Pagan, Jorge Alcala**, Jovani Moran**, Trevor Megill**
Minnesota hopes Lopez can return to his previous form and combine with Duran to be a dominant back-end duo. ZiPS projects feel like the Twins' bullpen is top-heavy, which makes sense considering the recent track record of players expected to be on the roster. Jax could be a breakout reliever and fill a fireman role that Tyler Duffey had previously occupied. Pagan continues to be a question mark, but the Twins offered him arbitration, so they hope his performance improves in 2023. The Twins have also shown a tendency to move relievers up and down from Triple-A, a trend likely to continue next year. Minnesota will have some decisions at the bullpen's backend with other 40-man roster options like Ronny Henriquez and Cole Sands.      

What changes will happen to the team's roster before Opening Day? Where do the Twins rank compared to other AL Central squads? Leave a COMMENT and start the discussion.