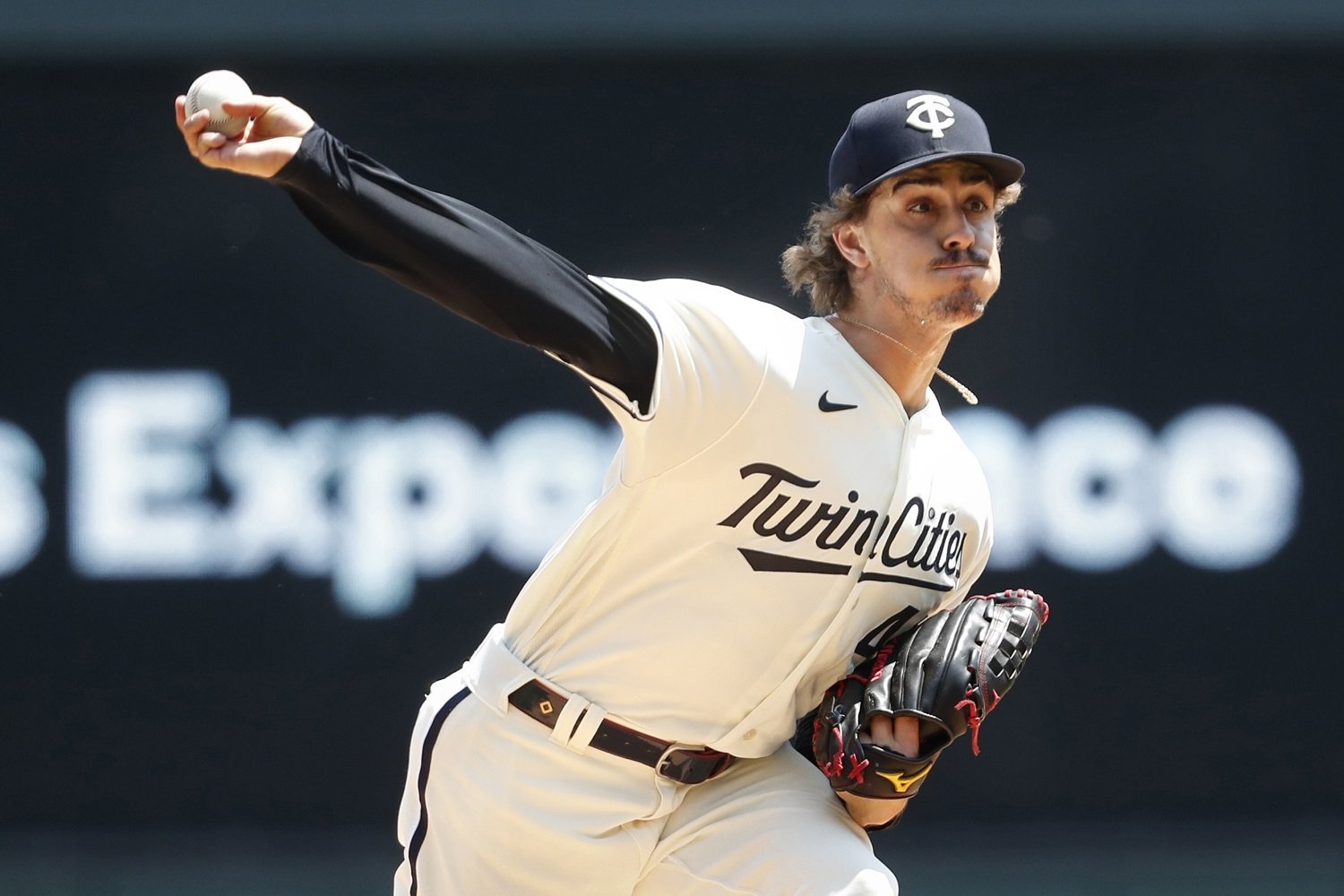 Image courtesy of Bruce Kluckhohn-USA TODAY Sports
Box Score:
SP: Joe Ryan: 6.2 IP 2 H 2 ER 1 BB 4 SO (88 Pitches, 65 Strikes, 74%)
Home Runs: Willi Castro (5)
Bottom 3 WPA: Jorge Polanco (-0.207), Royce Lewis (-0.204), Caleb Thielbar (-0.107)

Win Probability Chart (Via Fangraphs):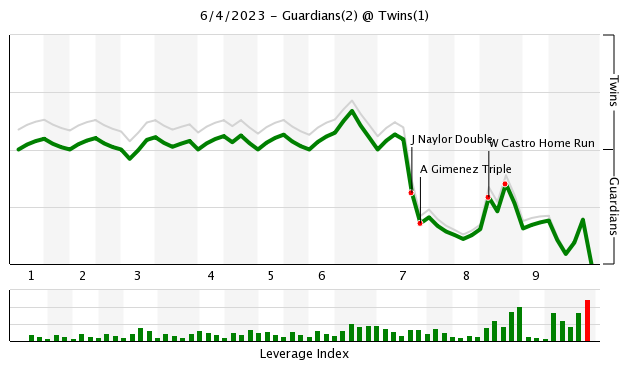 The Definition of a Pitching Dual
Triston McKenzie made his debut for the Guardians Sunday, and he did not disappoint. Twins fans were hoping for rust, but instead they got straight nastiness. McKenzie scattered ten strikeouts over five innings, and all that the Twins could muster was a Michael A. Taylor single in the third inning.
On the other side, Joe Ryan was in fine form. Through six innings, he gave up just one hit, and that runner was thrown out trying to steal second base by Ryan Jeffers. 
The Story Turns in the Seventh (You've Heard this One Before)
Ryan started the seventh in innocent fasion, retiring the first two batters easily. Jose Ramirez worked a two out walk, Ryan's only of the game, and then the wheels fell off. After a mound visit, it was decided that Ryan would stay in to finish what he'd started. Turned out that Josh Naylor enjoyed that decision, taking Ryan deep for a run-scoring double to put the Guardians up 1-0.
Thielbar returned to the bullpen after a lengthy injury absense, and Twins fans breathed a collective sigh of relief. Then Andres Gimenez came to the plate, and greeted Thielbar with a run-scoring triple off of the out-of-town scoreboard to stretch the score to 2-0.
Can the Twins Come Back?
That second run felt like the game-clincher, especially with the depleted lineup and the recent history of low-scoring losses. But someone forgot to tell Willi Castro. In the top of the eigth inning, Castro cleared the out-of-town scoreboard to cut the lead in half at 2-1. A Taylor double to left, and the Twins were back in business. Jorge Polanco made a quick out to second, moving Taylor over. Then the hero of the week (and the next decade) Royce Lewis stepped up to the plate with two outs. Then disaster struck, both for the game's chances and most importantly, for Lewis' chances to continue his hero run with the Twins. Royce flipped over the first baseman after being thrown out, and you can find the video on your own. For now, let's give thanks that he wasn't seriously injured.
So Clase, and yet So Far
The Twins were able to start a two-out rally in the ninth against Guardian closer Emmanuel Clase. Ryan Jeffers walked, and Kyle Farmer laced a single to right, setting the stage for Castro to make another memory in a Twins uniform. Unfortunately, Castro struck out, without ever actually seeing a strike thrown to him, and it was game, set, split.
What's Next:
The Twins finally have an off-day on Monday, before heading out on an epic 3000+ mile road trip to Tampa and Toronto. The Twins were late in naming there Tuesday starter, but have settled on Louie Varland (3-1, 3.51 ERA) to face Tampa's surprise ace RHP Zach Eflin (7-1, 3.30 ERA) to kick-off the three game series. First pitch is scheduled for 5:40pm CDT.
Postgame Interviews
Bullpen Usage Chart
| | | | | | | | |
| --- | --- | --- | --- | --- | --- | --- | --- |
|   | SUN | WED | THU | FRI | SAT | SUN | TOT |
| J. López | 0 | 16 | 0 | 0 | 31 | 0 | 47 |
| Pagán | 0 | 0 | 33 | 0 | 4 | 0 | 37 |
| Morán | 1 | 0 | 0 | 13 | 19 | 0 | 33 |
| Jax | 8 | 0 | 12 | 0 | 0 | 11 | 31 |
| Stewart | 0 | 13 | 0 | 15 | 0 | 0 | 28 |
| De León | 0 | 16 | 0 | 0 | 0 | 12 | 28 |
| Durán | 0 | 0 | 0 | 26 | 0 | 0 | 26 |
| Thielbar | 0 | 0 | 0 | 0 | 0 | 10 | 10 |