Bats: R / Throws: R
Age: 18
Rule 5 Eligible: After 2026 Season
Acquisition Method: International Signing
Scouting Report
Monthly Splits
| Split | Team | G | AB | R | H | 2B | 3B | HR | RBI | BB | IBB | SO | SB | CS | AVG | OBP | SLG | OPS |
| --- | --- | --- | --- | --- | --- | --- | --- | --- | --- | --- | --- | --- | --- | --- | --- | --- | --- | --- |
| Season | Team | LG | Level | G | AB | R | H | TB | 2B | 3B | HR | RBI | BB | IBB | SO | SB | CS | AVG | OBP | SLG | OPS | GO/AO |
| --- | --- | --- | --- | --- | --- | --- | --- | --- | --- | --- | --- | --- | --- | --- | --- | --- | --- | --- | --- | --- | --- | --- |
| 2022 | DSL TWI | DSL | ROK | 41 | 155 | 34 | 55 | 86 | 13 | 3 | 4 | 20 | 18 | 2 | 35 | 30 | 5 | .355 | .420 | .555 | .975 | 0.81 |
| Date | Team | OPP | AB | R | H | TB | 2B | 3B | HR | RBI | BB | IBB | SO | SB | CS | AVG | OBP | SLG | HBP | SAC | SF |
| --- | --- | --- | --- | --- | --- | --- | --- | --- | --- | --- | --- | --- | --- | --- | --- | --- | --- | --- | --- | --- | --- |
See all » Yasser Mercedes Articles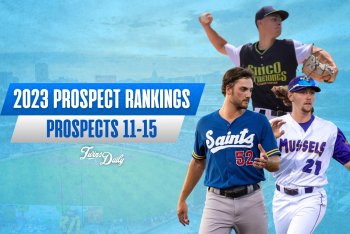 Just outside the Top 10 Twins prospects, you will see names featured that can make big impact at all levels of the Twins farm system. See which prospects ranked 11 through 15.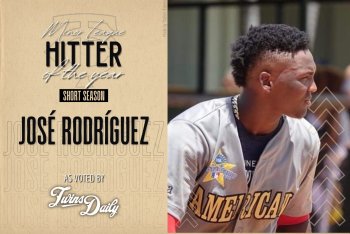 During a short season, it can be challenging for hitters to separate themselves from other players at their level. In one of this season's closest voting results, each of the top three candidates was considered for the Twins Daily Short-Season Hitter of the Year.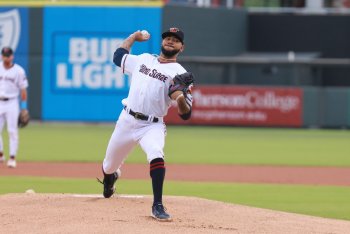 There was lots of action on the farm on Tuesday, as both the rookie leagues played pseudo-doubleheaders in addition to the regular slate. A top pitching prospect, and heck, the whole team, went off in Double-A, and a new top prospect hit a milestone in Cedar Rapids.
See all » Yasser Mercedes Videos