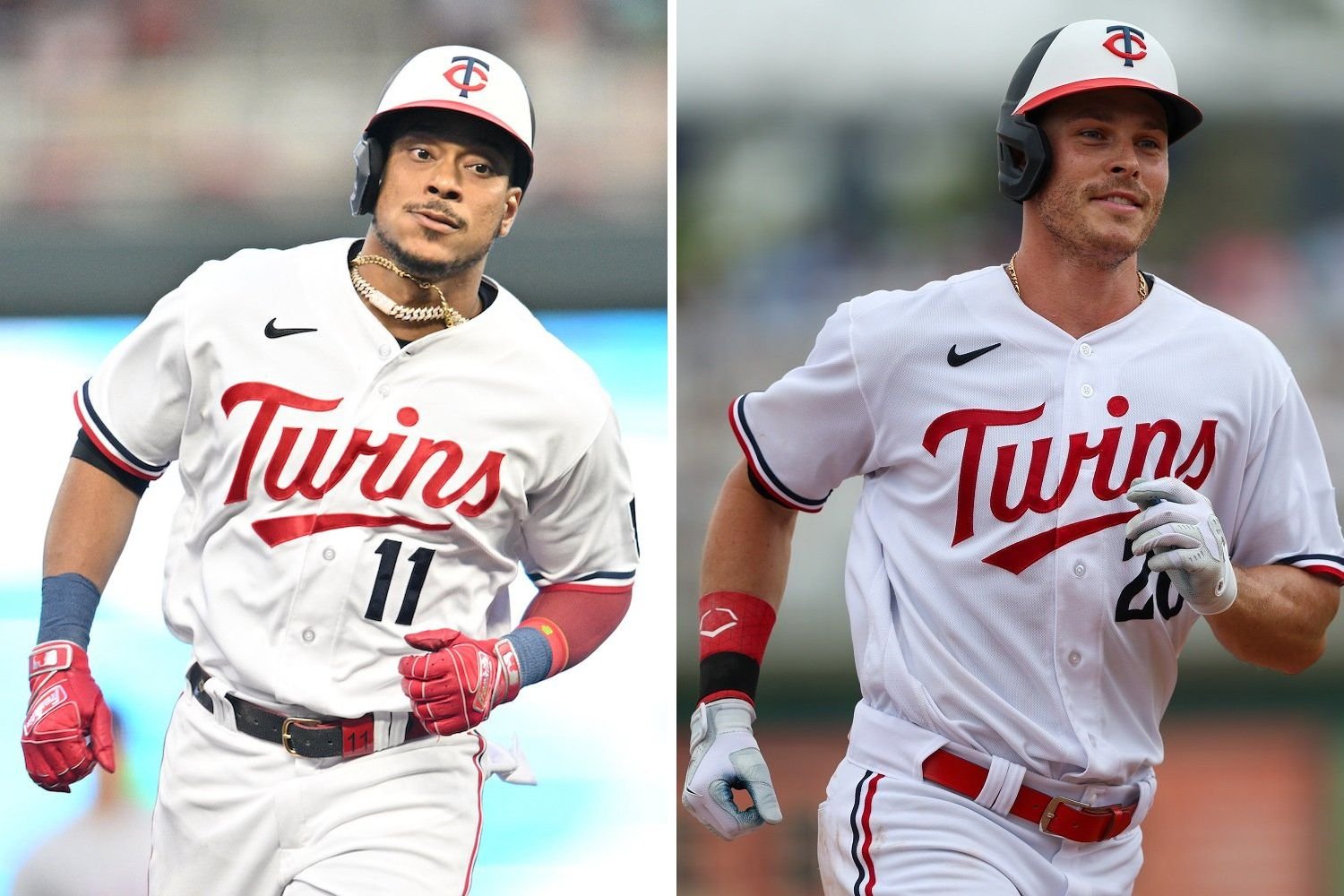 Image courtesy of Jeffrey Becker and Nathan Ray Seebeck-USA TODAY Sports
The Twins recently confirmed that they'll be looking to trim payroll this offseason, which may create some challenges as they aim to address a set of clear needs on the roster. One of the most straightforward ways for the front office to create some spending flexibility is by trading one or both of Jorge Polanco and Max Kepler.
The longtime Twins mainstays are both under contract for around $10 million apiece next season; the club could clear as much as $20 million from the 2024 payroll by moving them and their salaries. Adding to the appeal of this idea: the emergence of standout rookies (Edouard Julien and Matt Wallner) at second base and right field, and the fact that both Polanco and Kepler boast solid trade value.
That latter point is key, because as we've seen, this Twins front office isn't going to trade guys they like just for the sake of doing so. Both Polanco and Kepler are coming off solid seasons and, more importantly, the free agent alternatives at their positions aren't very compelling.
The value Minnesota might get back in a trade for one or both of these veterans will be dictated by how much 2B/RF-needy teams are willing to give up, and that will be determined by how much more attractive Polanco and Kepler (and their contracts) are compared to signing a free agent for only money.
Here's a look at how both players would rank on against the free agent classes at their respective positions, to give you an idea of the options being weighed by these teams. 
Right Field: Max Kepler vs. The Market
Kepler's trade value: Following a breakthrough second half that re-established him as an All-Star caliber talent, Kepler has one remaining season under contract at $10 million. The short-term control could be viewed as a downside, but teams might also value the flexibility of a one-year deal versus locking into a 30+ year-old free agent for several years.
In listing its position-by-position free agents, MLB.com ranks players by fWAR over the past two seasons (2022-23), so we'll add Kepler into that mix using the same lens. What we find is that Kepler outranks every single free agent right fielder, and is also the youngest of the bunch:
Max Kepler (31 years old, 4.6 WAR)

Teoscar Hernández (31, 4.3)
Hunter Renfroe (32, 3.1)
Jason Heyward (34, 1.8)
Randal Grichuk (32, 0.4)
Wil Myers (33, 0.3)
Tyler Naquin (33, 0.1)
Kevin Pillar (35, 0.1)
Kole Calhoun (36, -1.3)
Only Hernández, whom MLB Trade Rumors projected to get an $80 million contract coming off a fairly underwhelming season, is even in Kepler's range in terms of value over the past two years. And that's with Kepler being quite disappointing offensively for a large stretch of that period.
The drop-off is especially steep for any team specifically targeting a left-handed hitting right fielder. Heyward, Myers, Naquin and Calhoun are not appealing targets at this stage of their careers – at least in anything resembling a full-time role. Kepler is the clear standout of the pack here.
Second Base: Jorge Polanco vs. The Market
Polanco's trade value: Polanco's contractual situation is even more favorable than Kepler's – he's controllable for two more years with a $12.5 million team option in 2025. Polanco has been an extremely consistent hitter, with an OPS+ of 110 or better in each of the past five full MLB seasons. 
Teams are sure to be wary of Polo's recent injury history, but a review of the free agent market at second base casts his risk level in a different light. Here's how Polanco ranks against this year's class by 2022-23 fWAR:
Elvis Andrus (35 years old, 4.6 WAR)

Jorge Polanco (30, 3.3)

Whit Merrifield (35, 3.0) 
Tony Kemp (32, 1.5)
Kolten Wong (33, 1.5)
Adam Frazier (32, 1.3)
Jonathan Schoop (32, 1.2)
Rougned Odor (30, 1.0)
Josh Harrison (36, 0.8)
Hanser Alberto (31, -0.7)

Leury García (33, -1.1)
Pretty much everyone below the Merrifield line is a clear-cut backup-caliber player at this point, and no one's idea of an assertive solution to a middle-infield need. So then you've got Polanco near the top going against two mid-30s players in decline. Andrus technically edges Polanco in fWAR, but that's mostly because of a random 3.5-WAR last season that's an outlier from everything else he's done in the past six years. Merrifield has more appeal as a flex player than a full-time second baseman.
No one in this class comes close to offering the offensive floor or ceiling of Polanco. With two reasonably priced years remaining under contract and a more consistent track record, I actually think he compares even more favorably against his class than Kepler against right fielders. Unsurprisingly, rumors are already circulating that the Twins intend to shop Polanco around this winter.
Ultimately, his value in a trade will be dependent on how confident the team acquiring him is that Polanco can stay healthy. The veteran infielder played in only 80 games this year due to injury issues, and often looked hobbled down the stretch, although he was able to play in every playoff game.
Even with the risk that comes attached to him, Polanco compares favorably to aging players like Andrus and Merrifield in free agency. Kepler's drawbacks are also healthily outweighed by his strengths in comparing him to the right field market. 
As the Twins reach the end of the road with these two long-tenured fixtures, they find a very favorable offseason environment for talking trade. Both players figure to be in high demand.