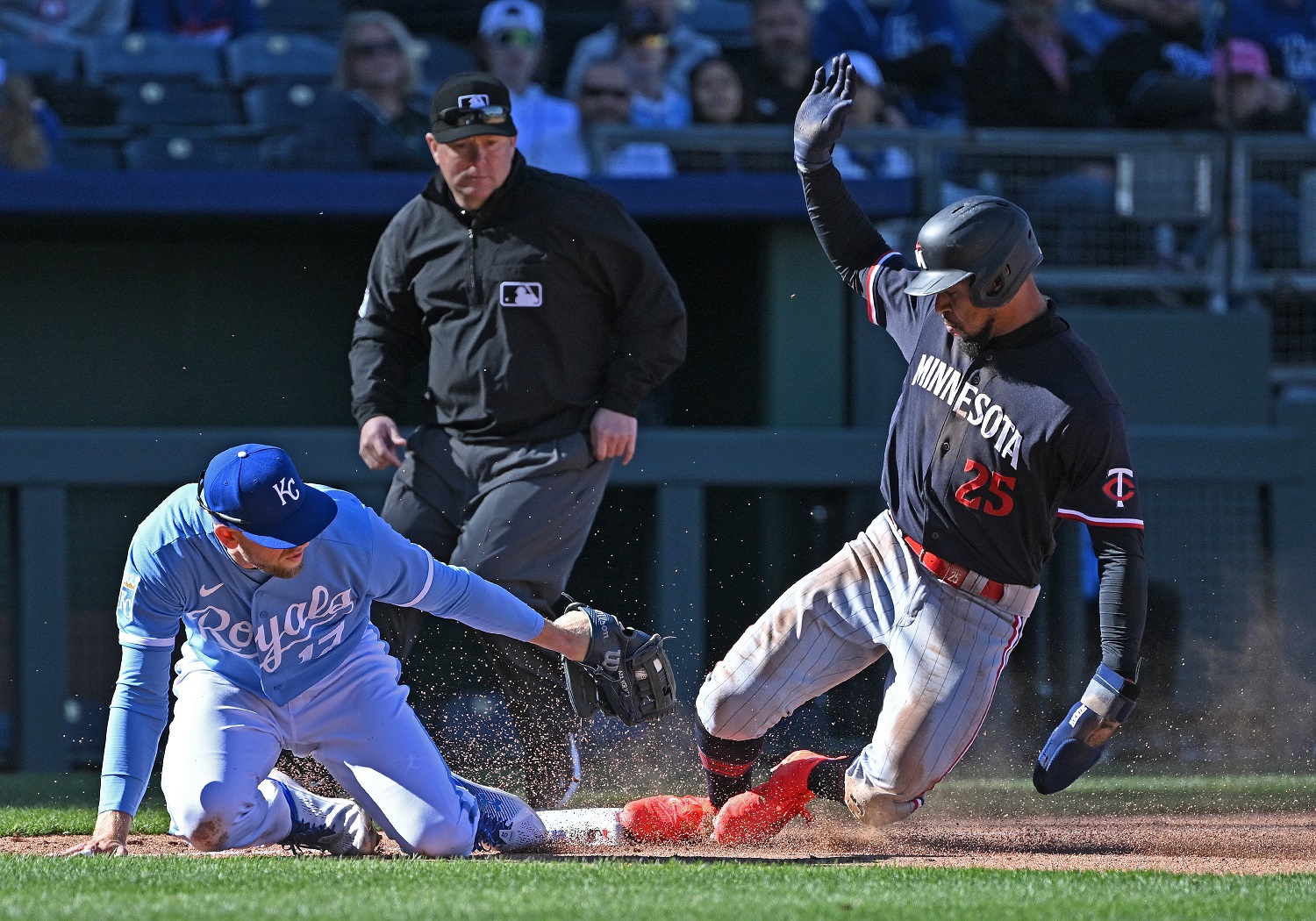 Image courtesy of Peter Aiken-USA TODAY Sports
Box Score
SP: Sonny Gray: 5 IP, 3 H, 0 ER, 4 BB, 1 K (83 pitches, 52 strikes (62.7%)
Home Runs: None
Top 3 WPA: Sonny Gray (0.306), Jose Miranda (0.120), Jorge Lopez (0.092)

Win Probability Chart (via FanGraphs)

Gray's Shaky Shutout
Coming off a headline-grabbing quote in which Sonny Gray expressed frustration with the leash afforded to Twins starters last year, the veteran was surprisingly shaky on a cool, windy day in Kansas City. He lacked fastball command, although his velocity was hitting 93 MPH regularly. In fact, his velocity ranged between 92.1 and 93.7 the whole game.
Gray countered this by throwing his full assortment of breaking pitches, many of which were left up in the zone with the Royals frequently making hard contact. Some key double plays and solid defense bailed Gray out. He was replaced to start the sixth inning, and although he likely did not appreciate that, Rocco probably did his ERA a favor in the end with the decision.
Twins not taking advantage of opportunities against Lyles
Jordan Lyles is the definition of a journeyman starting pitcher, pitching for his ninth organization in Kansas City. His career ERA+ is a deflated 83, meaning 17% below average. His only above-average stint was with Milwaukee in 2019, which tallied a total of 11 starts. Twins batters bailed Lyles out, chasing in hitters' counts and making mistakes on the bases. Thankfully, Byron Buxton was playing in this game.
Buxton's Scare in 1st Inning
After roping a line drive down the left field line in his first at-bat, Buxton raced for second and slid into the bag with a double. He slid awkwardly and was lucky to avoid injury. It was not only the impact of the belly flop at his top speed but of his helmet hitting his face on the ricochet and the throw from left field nearly beaning him, for good measure. Two games in, sales for blood pressure medication in Minnesota figures to spike. He stayed in the game and scored on a Jose Miranda single to center. 
Just as he was yesterday, Buxton was in the middle of the first two scoring chances for the Twins. In the fifth inning, he used his high baseball IQ (or, shhhh… really bat baserunning but great luck, and speed?) to create a second run. After reaching on a single, Buxton advanced to second base on a wild pitch. 
He advanced to third base on a very risky play. On a ground ball to shortstop Bobby Witt Jr., Buxton took off for third, a cardinal sin in baseball. Fortunately, for the Twins Witt appeared to panic. He rushed his throw to third, short-arming the throw and allowing Buxton to be safe. Kyle Farmer came in to face a lefty reliever. He hit a fly ball to center field. It wasn't deep and no one should try to score on that ball. But Buxton casually walked back to third base, took a few half-speed steps toward home, and then he took off. Vinnie Pasquantino cut off the ball, either thinking that Buxton wouldn't tag, or because Jose Miranda had returned to first and faked a tag to second base. Regardless, Buxton and his speed scored again. 
At the end of the day, Buxton scored both of the Twins runs on Saturday after he scored one of the two Twins runs on Thursday. His impact on this team has already been witnessed. 
Jorge Alcala Returns
Making his first appearance in nearly a year, Alcala relieved Gray to start the sixth inning and walked the now very un-imposing Franmil Reyes. Relying heavily on his slider, Alcala was fortunate to avoid damage when Hunter Dozier lined out and Kyle Isbel hit the ball hard but right to Nick Gordon who teamed with the strong-armed Carlos Correa to convert an excellent double play. Not the most encouraging performance, but he kept the Royals scoreless.
Thielbar gets the 8th Inning
Nursing a two run lead, the Twins turned to veteran Caleb Thielbar in the eighth inning, after using Griffin Jax in the same situation on opening day. Jax worked a perfect seventh t and pitched well to the 8-9-1 hitters. Thielbar gave up a single to Salvador Perez but followed that with swinging strikeouts on his fastball to Pasquintino and Reyes. He looked dominant, and it will be interesting to see who the Twins turn to in the eight going forward.
Lopez gets the 9th Inning and the Save 
In a mild surprise Jorge López pitched the ninth, perhaps since the Royals 6-7-8 hitters were coming up. He looked to be at his best. He threw strikes and induced a weak pop-up to Hunter Dozier. Then he struck out Kyle Isbel and got a soft line-out to pinch hitter Michael Massey.
What's Next? 
On Sunday, the Twins will send Joe Ryan to the mound for the third and final game of the series against Brad Keller. The Twins will be hoping to score more than two runs and complete the sweep in Kansas City. The game starts at 1:10 central time.  
Postgame Interviews
Bullpen Usage Spreadsheet
| | | | | | | |
| --- | --- | --- | --- | --- | --- | --- |
|   | TUE | WED | THU | FRI | SAT | TOT |
|   |   |   |   |   |   |   |
| Thielbar | 0 | 0 | 11 | 0 | 18 | 29 |
| Jax | 0 | 0 | 9 | 0 | 11 | 20 |
| Duran | 0 | 0 | 16 | 0 | 0 | 16 |
| López | 0 | 0 | 5 | 0 | 8 | 13 |
| Alcala | 0 | 0 | 0 | 0 | 12 | 12 |
| Sands | 0 | 0 | 0 | 0 | 0 | 0 |
| Moran | 0 | 0 | 0 | 0 | 0 | 0 |
| Pagán | 0 | 0 | 0 | 0 | 0 | 0 |