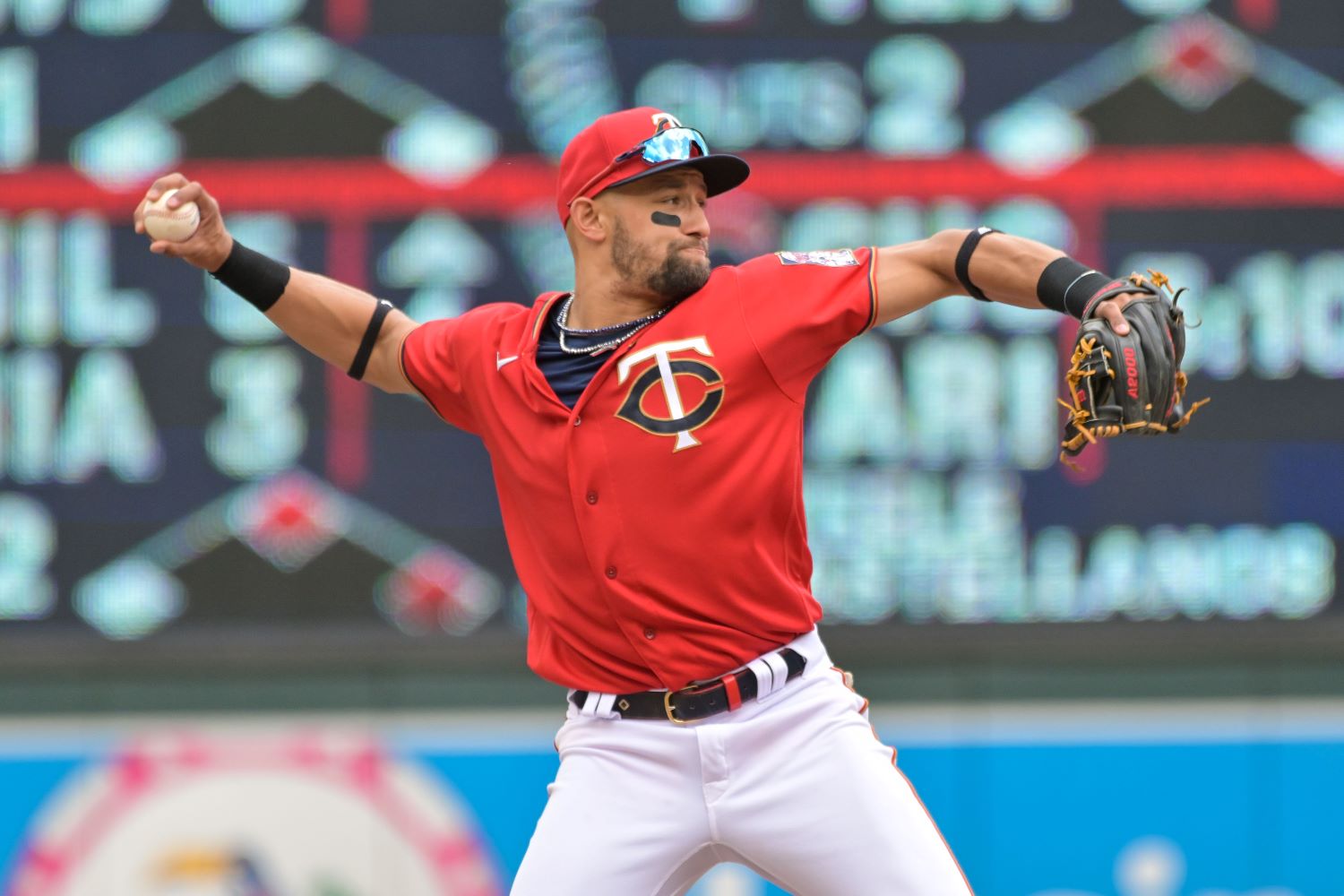 Image courtesy of Jeffrey Becker - USA Today Sports
Barring a dramatic third u-turn of the postseason, the Carlos Correa sweepstakes are over. Correa's free agency played out much like a 2022 Vikings game, the Twins coming from behind to win a contest they had no right to. Fans can't complain though, their team having linked the irresistibly charismatic duo of Correa and Byron Buxton together until at least 2028. Indications suggest Correa's physical shouldn't be a problem (Dr. Nick Riviera supervising).
Jokes aside, the addition creates a log jam for the Twins in the infield, with established big leaguers (Jorge Polanco, Nick Gordon, Luis Arraez ) and up and coming prospects (Royce Lewis, Brooks Lee, and Austin Martin) vying for at bats. How will the Correa signing impact the Twins high ceiling infield prospects?
Austin Martin
There are folks still high on Martin as a prospect. I am not one of them. The centerpiece of the Jose Berrios trade to the Blue Jays, Martin got off to a good start for the Twins, putting together a 122 wRC+ in his first 168 plate appearances at AA. 2022 was a struggle. In 404 plate appearances, Martin managed just an 89 wRC+, .315 SLG and committed 18 errors in 70 games at shortstop for AA Wichita, as a 23-year-old. Martin still has some value due to good on base skills and speed but he's at the bottom of the depth chart for Twins infield prospects. I think it's likely he's part of a trade package for a team that thinks they can help him get back on track.
Royce Lewis
How different might the Twins offseason have looked if Lewis had remained healthy in 2022? In a tantalizing 40 plate appearances, he mashed to the tune of a 146 wRC+ and .550 SLG. Unsustainable numbers, but they provided a taste of Lewis' incredible athleticism. Lewis also played better-than-expected defense and shortstop, managing 1 OAA in his 12 games. Projection systems like him for 2023, with Fangraphs predicting 2.3 fWAR in 330 plate appearances. The injury history is troubling, but Lewis still possesses the best athletic profile and some of the best speed in the organization. With Jose Miranda entrenched at third base, it's possible Lewis becomes a right-handed outfield option (but that's where he got hurt!), or he's traded to help balance the roster.
When asked about the signing of Correa, Lewis was his typically positive, effusive self.
Brooks Lee
The Twins couldn't believe their luck in the 2022 draft when Brooks Lee, a candidate to go number one overall, fell into their laps at number eight. Lee has dominated in his short minor league career, posting a 140 wRC+ at A+ before moving to AA at the end of the season for a handful of games. While Lee's defensive profile is not to stick at shortstop (he's likely a good defensive third baseman), the hit tool is legit. He should be pushing a .300 batting average in MLB as a switch hitter and likely makes his debut with the Twins in 2023. Lee could fetch a hefty return in a trade package, as he was seen as the safest high ceiling pick in the 2022 draft.
Clearly, Lee isn't overly concerned with where he plays for the Twins, as he recently passed on to Ted Schwerzler.
If you were in the hot seat, what would do with these three infield prospects? Move them to a different position? Trade them? Feel free to leave trade proposals or positional adjustment ideas in the comments.