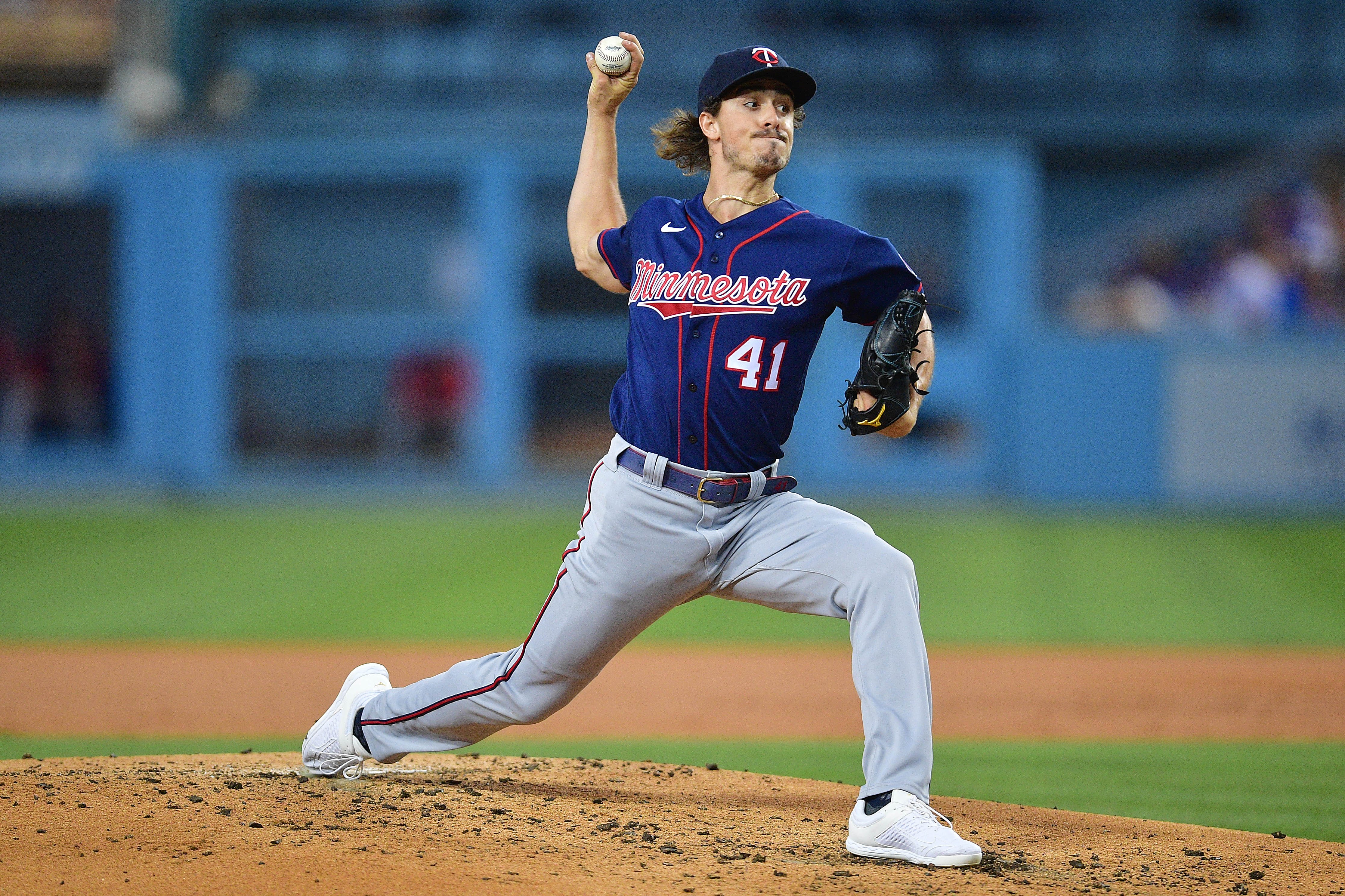 Image courtesy of Gary A. Vasquez-USA TODAY Sports
Box Score
Joe Ryan: 5 IP, 9 H, 5 ER, 1 BB, 4 K
Home Runs: Byron Buxton (27)
Bottom 3 WPA: Joe Ryan (-.378), Max Kepler (-.050), Jose Miranda (-.049)
Win Probability Chart (via FanGraphs)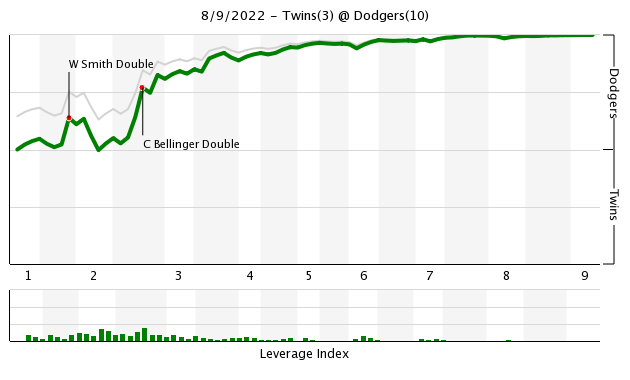 Individual games aren't usually supposed to mirror the greater spiritual struggle between two teams, yet here we are. The Dodgers crushed the Twins on Wednesday, never allowing a moment of doubt regarding who the better team was.
It started with Joe Ryan: the rookie righty repeated his past Southern California struggles, allowing an elite Dodgers lineup to ring extra-base hits across the outfield. Will Smith—allegedly going by W.D. Smith as he would rather others confuse him with a spray oil company than the actor—rifled an RBI double into right-center field to kick off the scoring. 
Ryan's life on the mound remained challenging; the technically worse "bottom-half" of the Dodgers lineup—which includes an All-Star and an MVP—knocked balls into the corner pocket in the 2nd inning, scoring a few more runs. Trea Turner, with some help from Gilberto Celestino not being Byron Buxton, blooped in a double to end the frame at four total runs for the Dodgers. Max Muncy homered in the 3rd. So it goes.
The Twins were not completely helpless during this onslaught; Gio Urshela muscled a triple into left-center field, and Celestino pulled him home with one of the shorter hits allowed by the rules. 
But they weren't much better than overpowered; Julio Urías worked through early rust to command the ball incredibly in a dominating start. Urshela's triple would be the only extra-base hit of the game off the Dodgers' lefty; four lonely singles constituted the remaining Twins' offense against him. While the Dodgers' bats parried efficiently, the Twins found no such luck against Julio Urías for the entirety of his seven-inning start.
The game slowly morphed into a countdown, with outs acting as a formality, not an accomplishment. Trevor Megill allowed two runs after the Twins attempted to extend him for a second inning; Emilio Pagán netted two outs to end that inning.
Buxton provided a jolt—a small one, yes, but one nonetheless. With a man on in the 8th inning, Buxton scraped a low slider off the bottom of the strike zone and deposited it just far enough beyond home plate to count for two runs. The game was still 8-3. A fan ran onto the field.
Even the joy from that play did not last long; the Dodgers immediately struck for two runs, hitting the double-digit threshold while claiming a seven-run lead.
What's Next?
The Twins and Dodgers will play again on Wednesday at 9:10 PM Central. Sonny Gray will take the mound for Minnesota while Ryan Pepiot will (probably) start for Los Angeles.
Postgame Interview 
Bullpen Usage Spreadsheet
| | | | | | | |
| --- | --- | --- | --- | --- | --- | --- |
|   | FRI | SAT | SUN | MON | TUE | TOT |
|   |   |   |   |   |   |   |
| Pagan | 0 | 0 | 19 | 0 | 32 | 51 |
| Sands | 0 | 0 | 51 | 0 | 0 | 51 |
| Megill | 0 | 12 | 0 | 0 | 35 | 47 |
| López | 30 | 17 | 0 | 0 | 0 | 47 |
| Thielbar | 13 | 0 | 21 | 0 | 0 | 34 |
| Fulmer | 15 | 13 | 0 | 0 | 0 | 28 |
| Duran | 17 | 7 | 0 | 0 | 0 | 24 |
| Jax | 11 | 11 | 0 | 0 | 0 | 22 |