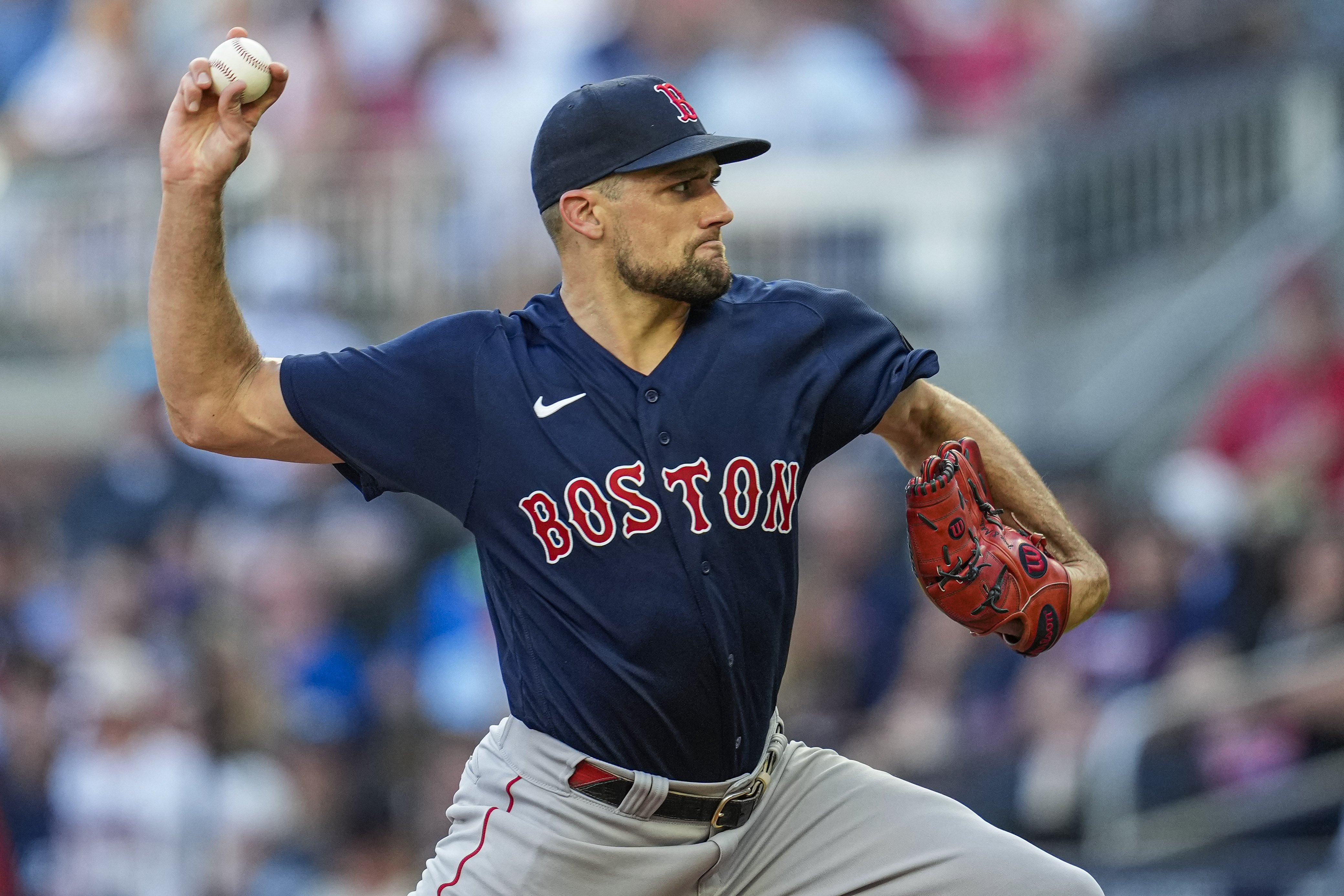 The Needs
This changes weekly (or even daily) as injuries and ineffectiveness ebbs and flows throughout a season. Even then, every team can get better in any area. The 2019 Astros had a rotation fronted by Gerrit Cole and Justin Verlander, the No. 1 and 2 finishers in Cy Young voting. That didn't stop them from trading with Arizona for Zack Greinke, who had pitched to a 2.90 ERA in 146 innings for the Diamondbacks. You can *always* get better. Knowing this, here are the needs I've identified for the 2022 Twins. 
1. Frontline starter
Nothing has changed here. As well as Twins starters have fared, they could use another frontline starter to pair with Sonny Gray and Joe Ryan. This starter doesn't necessarily have to cost a ton, nor do they have to be team-controlled beyond this season. 
Enter Nathan Eovaldi:
The Red Sox are off to a plodding start. The rotation has been shaky, the bullpen shakier, and the looming threat of Xander Bogaerts' impending free agency is hovering above it all. Not only is Bogaerts likely to opt out of his contract, their No. 1 starter, Nathan Eovaldi, is nearing the end of his four-year, $68 million contract. Eovaldi, 32, is emerging as a prime trade candidate as the Red Sox fall behind in a tough division. The American League East is a gauntlet, and someone has to finish fourth. 
Eovaldi has coughed up an MLB-leading 14 home runs in eight starts, including five in the 2nd inning of Tuesday's loss to the Astros. It's been a rough go, but one need not look far to find the appeal in the right-hander. He pairs an upper-90s fastball with a slider that produced a 35% whiff rate last season. His 2.95 FIP led the American League in 2021. Eovaldi is coming off two career years in one of the harshest pitching environments in baseball and he struck out eight Yankees in five-plus innings of one-run ball in the Wild Card Game. 
The Red Sox owe Eovaldi $17 million this summer, so any team he joins will take on the remaining salary (~$9 million at the deadline). The performances of both the Red Sox and Eovaldi over the next two months will dictate his trade value, but it's hard to imagine him costing more than a few mid-level prospects. Eovaldi is a viable game one starter if he's right and at least a mid-rotation starter if he's who he was before 2021. 
Other Red Sox to watch: DH/OF J.D. Martinez: another impending free agent who continues to produce. Imagine a lineup with righties Byron Buxton, Carlos Correa, and Martinez, flanked by Jorge Polanco, Luis Arraez, and a revamped Max Kepler. Sheesh. 
2. High-leverage reliever
Jhoan Duran has fully embraced his role in the bullpen and is currently must-watch TV. He's a legitimate weapon, but who else back there is? Emilio Pagán, while posting solid numbers, continues to tightrope trouble. Griffin Jax is an exciting development, but his command is spotty enough to wonder if he could handle high-leverage situations. The Twins could use a high-octane, late-inning option. 
Let me introduce Jorge López, who you may remember from the rival Royals. López posted a 6.42 ERA in 158 ⅓ innings as a hybrid starter in Kansas City. The stuff has always been there for the Puerto Rican, and now he's finally settled into a late-inning role for the Orioles. López, 29, averages 98 MPH with a turbo sinker, and opponents are having serious trouble hitting his high-spin curveball. He's missing barrels and forcing opponents to beat balls straight into the ground. Like most unestablished flamethrowers, López sometimes battles his control. When he's throwing strikes, López is shutting down both righties and lefties. 
Acquiring López would require a change in the Twins' style. They rarely commit to relievers past one year, and they've never broken the bank for one via trade. López is under team control through 2024, so a trading team would essentially get 2.5 years of his services. López and Duran would give the Twins two fire-breathing right-handers, with Jax, Pagán, Caleb Thielbar, and Tyler Duffey all moved down in the pecking order. 
Other Orioles to watch: OF Anthony Santander: an underrated switch-hitter who has learned how to draw more walks. A free agent after the 2024 season, Santander is not a particularly great defensive outfielder, but not a complete butcher. 
3. A big bat
The Twins are benefitting from improved depth. Gilberto Celestino has been a pleasant surprise in the outfield, and Gary Sánchez is driving in runs as the backup catcher and part-time DH. Luis Arraez spends his time at first base as Gio Urshela and José Miranda man the hot corner. Oh, and Royce Lewis is simmering at Triple-A. The offense isn't a weakness, but it could stand to get better. 
Nationals first baseman Josh Bell could be an excellent fit for the Twins. 
Bell, 29, traded to Washington in 2020, has been a solid contributor in more ways than one. Bell does a lot of things well. Through Friday, he's hit .273/.360/.472 (133 OPS+) with 31 homers in 182 games for the Nats. He's a switch-hitter who rakes from the left side. He's a serviceable right-handed hitter, but Bell's main utility for the Twins would be against right-handed pitchers. Bell has a career .845 OPS as a left-handed hitter, and his 2022 overall expected batting average ranks in the 93rd percentile. 
Bell is an average defensive first baseman and brings the experience the Twins are looking for at the position. Bell's career strikeout rate is sub-20%. He hits for average, he hits for power, and he's one of the more underrated players in baseball. He's an impending free agent, with the Nationals owing him $10 million in his final year of arbitration.
This is a fun lineup to dream on for the second half:

1. Byron Buxton, CF
2. Carlos Correa, SS
3. Jorge Polanco (S), 2B
4. Josh Bell (S), 1B
5. Luis Arraez (L), DH
6. Royce Lewis, 3B
7. Max Kepler (L), RF
8. Ryan Jeffers/Gary Sánchez, C
9. Trevor Larnach (L), LF
Other Nationals to watch: DH Nelson Cruz: Cruz could be hitting that 41-year-old sized wall, but his batted-ball data is still excellent. How about one final playoff chase with the Boomstick?
What do you think about these trade options for the Twins? Comment below!