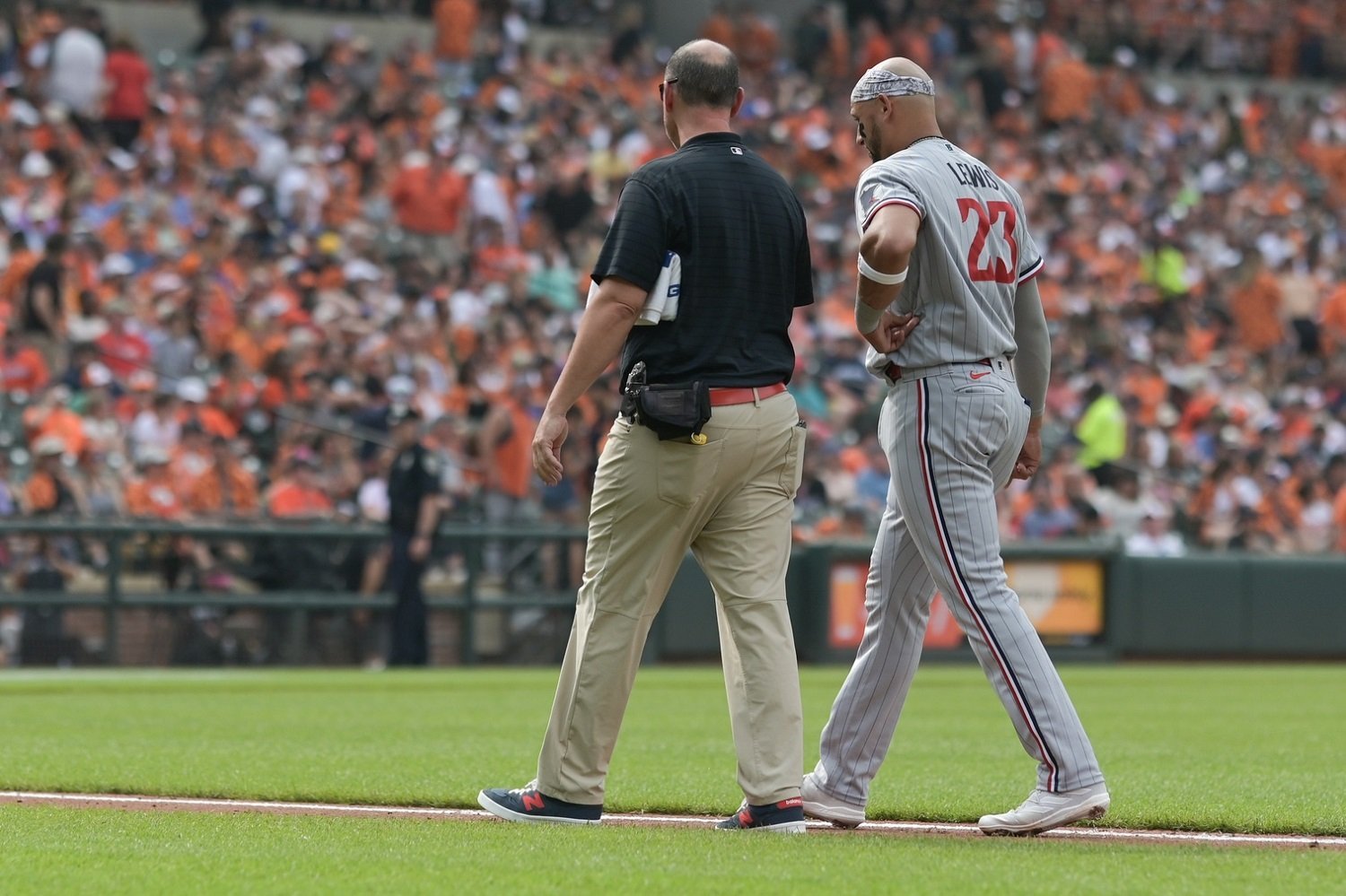 Image courtesy of Tommy Gilligan-USA TODAY Sports
Royce Lewis has been progressing steadily since going on the IL with a Grade 1-plus hamstring strain on September 21. It can take a player multiple weeks to recover from this level of hamstring strain, but the Twins seem confident that he will return to action for the Wild Card Series. There are a few different options for the Twins in how they handle Lewis in the season's most important games. Do they want to use him in the field when his injury is not fully healed? 
Lewis has been a revelation to the Twins lineup during his rookie campaign. In 58 games, he hit .309/.372/.548 (.921) with seven doubles and 15 home runs. Big moments also seemed to find Lewis as he hit four grand slams and finished second among Twins batters in WPA behind Willi Castro. The Twins know what he can mean to the lineup, and there's no question the team will find a way for him to impact the team in October. Here are three options the Twins can follow depending on how Lewis looks during the team's workout on Monday.
Option 1: Starting Third Baseman
Slow rollers at third base can be a challenging play for a healthy third baseman to make regularly. These types of plays can be even more challenging for a player recovering from a hamstring injury. Lewis has been participating in baseball activities at Target Field over the last week, so the team has a pretty good idea of what he will be able to handle on the defensive side of the ball.
Minnesota's optimal defensive lineup includes Lewis at third, Carlos Correa at shortstop, and Jorge Polanco at second base. Besides Lewis, there are injury concerns with Correa and what he will be able to do at shortstop. The Twins likely want to avoid two defenders on the same side of the infield with limited mobility. If that is the case, Minnesota might switch to one of the other options listed below. 
Option 2: Designated Hitter
There are multiple options the team can consider at designated hitter, but this might be the safest bet for Lewis. Putting him at DH allows the team to still have his bat in the lineup, and it allows him to rest his hamstring by not playing third base. In this scenario, the Twins would move Polanco to third base and Julien to second base. Polanco has looked fine in minimal action at the hot corner this season, and Julien continues to work to improve at second base. However, there are other ramifications if Lewis is the DH. 
Byron Buxton has also been working his way back from injury, but his inclusion on the playoff roster is much less certain. Minnesota could use Buxton as a big bench bat, and that might be the team's plan if the club can make it past the Wild Card round. He couldn't make many appearances during his rehab assignment because his knee continued to bother him. In his last two Triple-A games, he went 1-for-8 with three strikeouts. It seems more likely for Lewis to be the team's DH over Buxton. 
Option 3: Rest Him for Round 2
Minnesota will face off against the Toronto Blue Jays in the Wild Card Series, and the club's top starters are right-handed. Kevin Gausman, Jose Berrios, and Chris Bassitt will be the team's likely starters for the three-game set, but the team can also utilize Yusei Kikuchi, a left-handed pitcher. Lewis, a righty, posted reverse splits this season with a .962 OPS versus righties and a .787 OPS versus lefties. He got on base over 37% of the time, no matter the handedness of the pitcher, but 19 of his 22 extra-base hits came against righties. 
If the Twins leave him off the Wild Card roster, Lewis will get four extra days of rest because the team can reset their roster for each playoff round. With a Grade 1-plus strain, each extra day of rest can get him closer to being 100%. Minnesota hasn't won a playoff game in nearly two decades, so the team will want all hands on deck. 
Which option will the Twins pick? Which option would you pick? Leave a COMMENT and start the discussion.