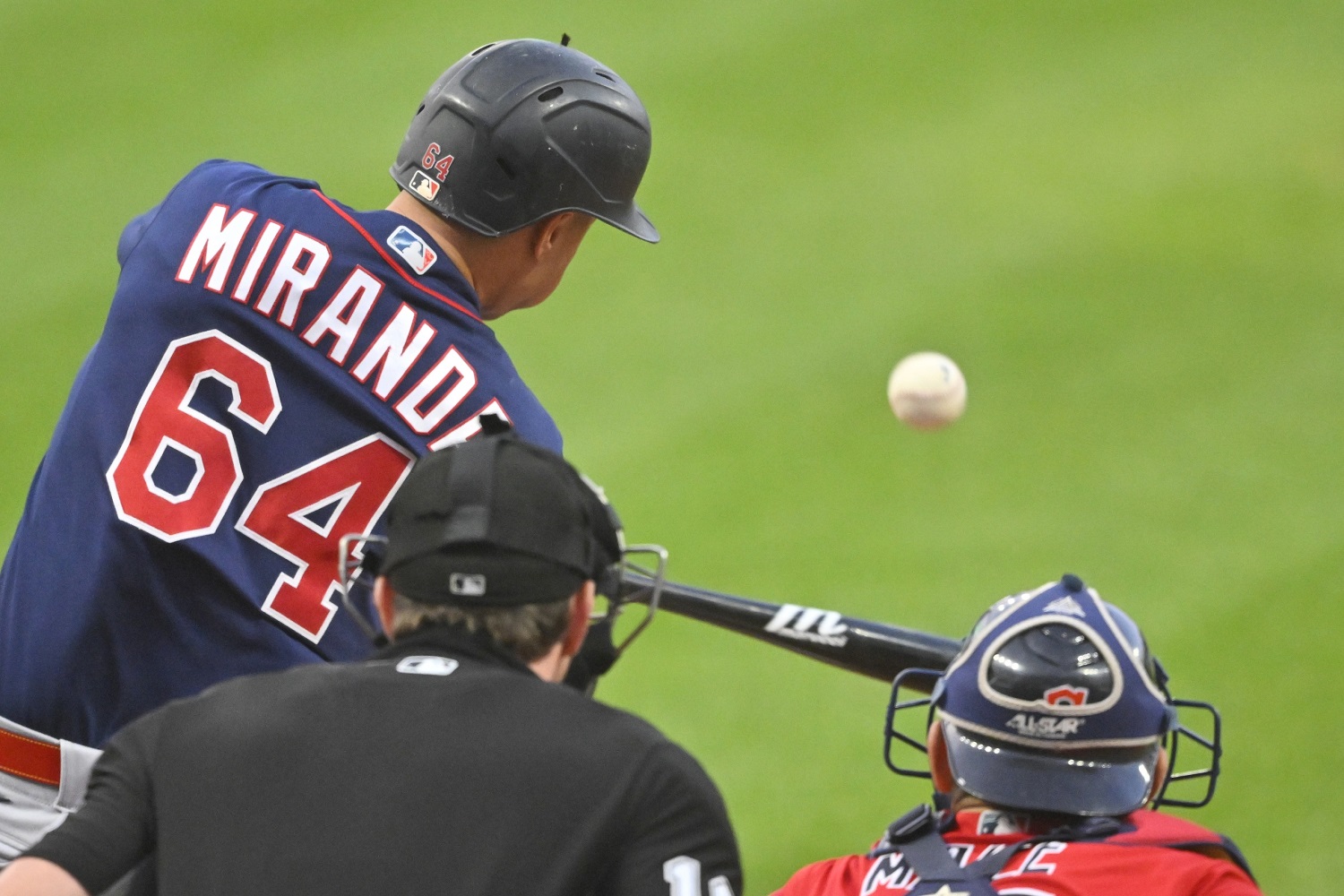 Image courtesy of © David Richard-USA TODAY Sports
We have a sound bite of the year candidate already. When asked about Jose Miranda recently, Carlos Correa declared, "Oh, he looks sexy." 
There is much to be excited about regarding the likely five-hole hitter in the Twins lineup. The big one: the guy flat-out hits. After his early season demotion, Miranda returned and showed everything we expected after his breakout campaign in 2021. He hit for power, drove in runs, handled the bat with two strikes, and, most importantly, he put his struggles in the review mirror quickly. He's a bat-first prospect starting to cement himself as a run producer in a good lineup. 
After showing huge upside, it appears the plan inside the organization is to trim him down and move him to third base long-term. I love his skill set at the plate, but I'm not sure this is the best move for Miranda or the Twins.
Miranda could have graded better as a defender, with well below average arm strength according to baseball savant and below average range. That information is readily available with one google search, what is our logic in limiting his power potential by trimming him down and trying to put a round peg in a square hole..? 
I'm genuinely asking because I don't quite get this move, and I don't understand how many widely accept it. The bat will make Jose great, and sacrificing a potential 30-homer, 100+ RBI guy's pop to play (likely) bad third base doesn't jive with me.
I could get behind Miranda being the stop-gap for the Royce Lewis return or the unlikely Brooks Lee sighting at third on a post-season team. Lee is a great player and will be great for us one day, but a mid-season call ups in a pennant race is hardly a move to rely on. 
That being said, if Miranda is the stop-gap, why are we trying to make him quicker and more streamlined? I want the focus to be on his development into a true four or five-hitter on any lineup in the big leagues because he's that good of a run producer. He doesn't have much swing and miss to his game either, especially by today's standard, very rare for a run producer. 
The Miranda move is not as egregious as putting Miguel Sano in right field. That was an actual fish-out-of-water scenario. However, this course of action can dampen what Jose does well and put him in a position where he is not likely to succeed based on the available metrics.
The unfortunate reality is that if the Twins make no other offensive moves this offseason, which is unlikely, the roster seems a tad unfinished. The man for the job was Gio Urshella. A solid stop-gap for Lewis to rehab or Lee to be inserted when he's ready rather than making him fit for the team's timeline and mess with his development/service clock. It's the one move that isn't making sense. It's Derek Falvey's and Thad Levine's one sore thumb this off-season that doesn't quite add up.
There's always a plan. All signs point to one or maybe two more moves on the offensive side. One thing I don't want to see is us limiting Miranda's offensive ceiling, his calling card as a player, to see him not have success at third base, along with no real future there. He's a great player, and I hope he stays a Twin for a long time, but he's a first baseman/DH. 
If no other moves are made, I hope he proves me wrong, plays replacement-level hot corner, and doesn't lose any power. Bigger isn't always better, but slimmer isn't always quicker. The sexiest thing Jose Miranda can do this year is hit .270+ with 30 homers and 100 RBI, regardless of where he plays or what he looks like.