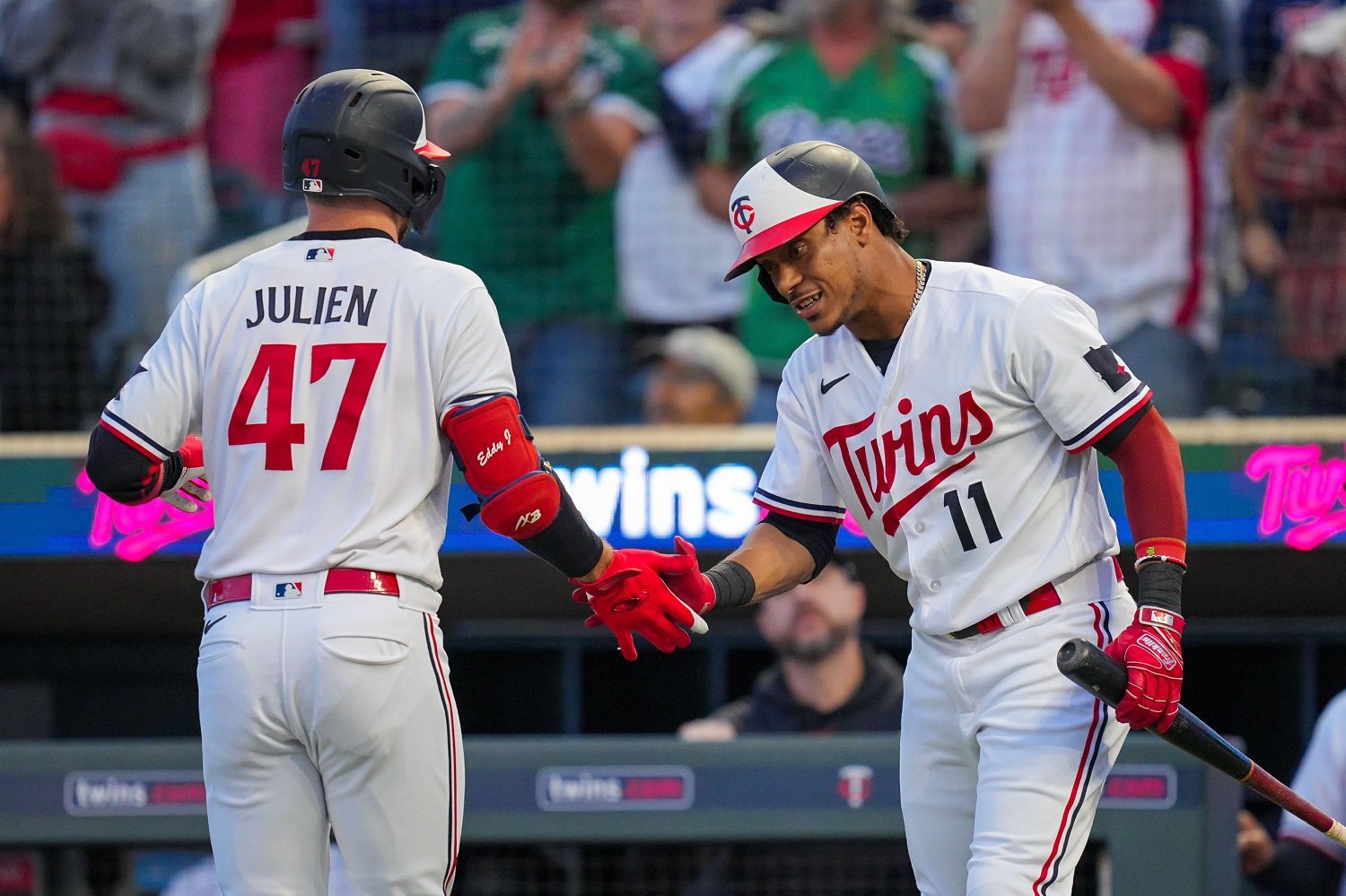 Image courtesy of Brad Rempel-USA TODAY Sports
Box Score
Starting Pitcher: Pablo López, 4.1 IP, 5 H, 3 R, 3 ER, 1 BB, 6 K (77 pitches, 53 strikes, 68.8%)
Home Runs: Edouard Julien (15), Ryan Jeffers (13)
Top 3 WPA: Trevor Larnach (.263), Ryan Jeffers (.228), Dallas Keuchel (.104)
Win Probability Chart (via FanGraphs)
With less than a week until the start of the postseason, Twins fans got a final look at Minnesota's potential Wild Card game-one starter in Pablo López, even if it wasn't for long. López didn't look so sharp to start the game, giving up a leadoff walk and a single, but responded by retiring six consecutive, five of them by strikeout.
The offense was also in business very early, with Édouard Julien jumping on Oakland's very first pitch of the game for his 15th home run of the season. Then, in the bottom of the second, Minnesota's secret weapon, Willi Castro, was once again a difference-maker. He got hit by a pitch, stole second (his 33rd stolen base of the year), then scored on a Kyle Farmer double that diving right-fielder Seth Brown failed to glove, making it 2-0 Twins.
López had a rather shaky third inning, starting with a leadoff double to Lawrence Butler. Despite retiring the following two batters on eight pitches, Pablo gave up an RBI single to Brown, who swung on the first pitch of the at-bat to drive in Butler. Old friend Brent Rooker kept the inning alive with a ground ball "single" to short. But after a challenge by the Twins, the call was overturned, and the inning was over.
It was expected that López's start wasn't going to be a long one. After delivering a 1-2-3 fourth, Pablo came back for the fifth with his pitch count nearing 70 pitches. After a groundout to open the frame, he lost Butler to a double and Ryan Noda to a single, prompting Rocco Baldelli to call on the bullpen. Caleb Thielbar took over, and the A's were able to push three runs across and take the lead on an Aledmys Díaz double and a Rooker single – both with two outs.
Despite the short start, López did throw six strikeouts, which got him to a total of 234 on the season, the most by a Twins pitcher since Johan Santana threw 235 in 2007. According to Do-Hyoung Park, those 234 strikeouts are tied with Dean Chance (1968) for the most by any Twins pitcher not named Johan Santana or Bert Blyleven.
Making the second big-league start of his career, rookie Joey Estes was never in big trouble while he was on the mound. But despite his low pitch count, he was pulled from the game in the sixth after giving up a one-out single to Max Kepler. Reliever Kyle Muller took over, and it didn't take long for the Twins to take advantage of the pitching change. Jordan Luplow struck out for the second out of the inning, but before Muller could get out of it, Ryan Jeffers made him pay by crushing a game-tying two-run shot to left.
Emilio Pagán didn't have trouble pitching through the sixth. He did give up a two-out triple, but he compensated that with three punch outs. Then, things got interesting. Baldelli made the unusual call to bring Jhoan Durán into the game to pitch the seventh. He did great, striking out the side for a 1-2-3 inning on 14 pitches. But this decision sure raises a lot of questions about how might Durán be used in the postseason. This has been the first time this season Durán has entered a game before the eighth inning, and the first time in his career since September 11, 2022.
The offense wasted a two-men-on and no-outs situation in the eighth, after Christian Vázquez and Julien hit back-to-back singles to open the inning, but got stranded. However, after Dallas Keuchel delivered a scoreless eighth on only nine pitches (seven strikes), the bats didn't miss their opportunity in the bottom of the inning.
Kepler hit a leadoff single, and with Andrew Stevenson as a pinch-runner, Trevor Larnach hit a long double to right that outfielder Esteury Ruiz had a really hard time playing, allowing Stevenson to score from first and give the Twins the lead. Larnach moved to third on a wild pitch, then he scored on a Jeffers sacrifice fly to make it 6-4 Minnesota.
Keuchel remained in the game for the ninth. He got the first batter to ground out quickly, but then surrendered a single and hit a batter. He was given the opportunity to get the second out, and he did so by striking out Noda. It wasn't a smooth at-bat, as he got ahead on the count 0-2, but allowed Noda to get back in it with a full count. Griffin Jax came in to try to get the final out, and after a hard-fought eight-pitch at-bat, he struck out Zack Gelof looking to end it.
Postgame interview
What's Next?
In their final home game of the regular season, Sonny Gray (8-8, 2.80 ERA) and the Twins take on the A's to close out the series tomorrow. First pitch is scheduled for 12:10 pm CDT, and Oakland will bring Luis Medina (3-10, 5.64 ERA) to the mound.
Bullpen Usage Spreadsheet
| | | | | | | |
| --- | --- | --- | --- | --- | --- | --- |
|   | SAT | SUN | MON | TUE | WED | TOT |
| Paddack | 0 | 0 | 0 | 40 | 0 | 40 |
| Pagán | 10 | 0 | 0 | 0 | 18 | 28 |
| Keuchel | 0 | 0 | 0 | 0 | 28 | 28 |
| Funderburk | 0 | 27 | 0 | 0 | 0 | 27 |
| Jax | 0 | 0 | 0 | 17 | 8 | 25 |
| Thielbar | 0 | 0 | 0 | 0 | 18 | 18 |
| Stewart | 0 | 0 | 0 | 16 | 0 | 16 |
| Varland | 0 | 15 | 0 | 0 | 0 | 15 |
| Durán | 0 | 0 | 0 | 0 | 14 | 14 |