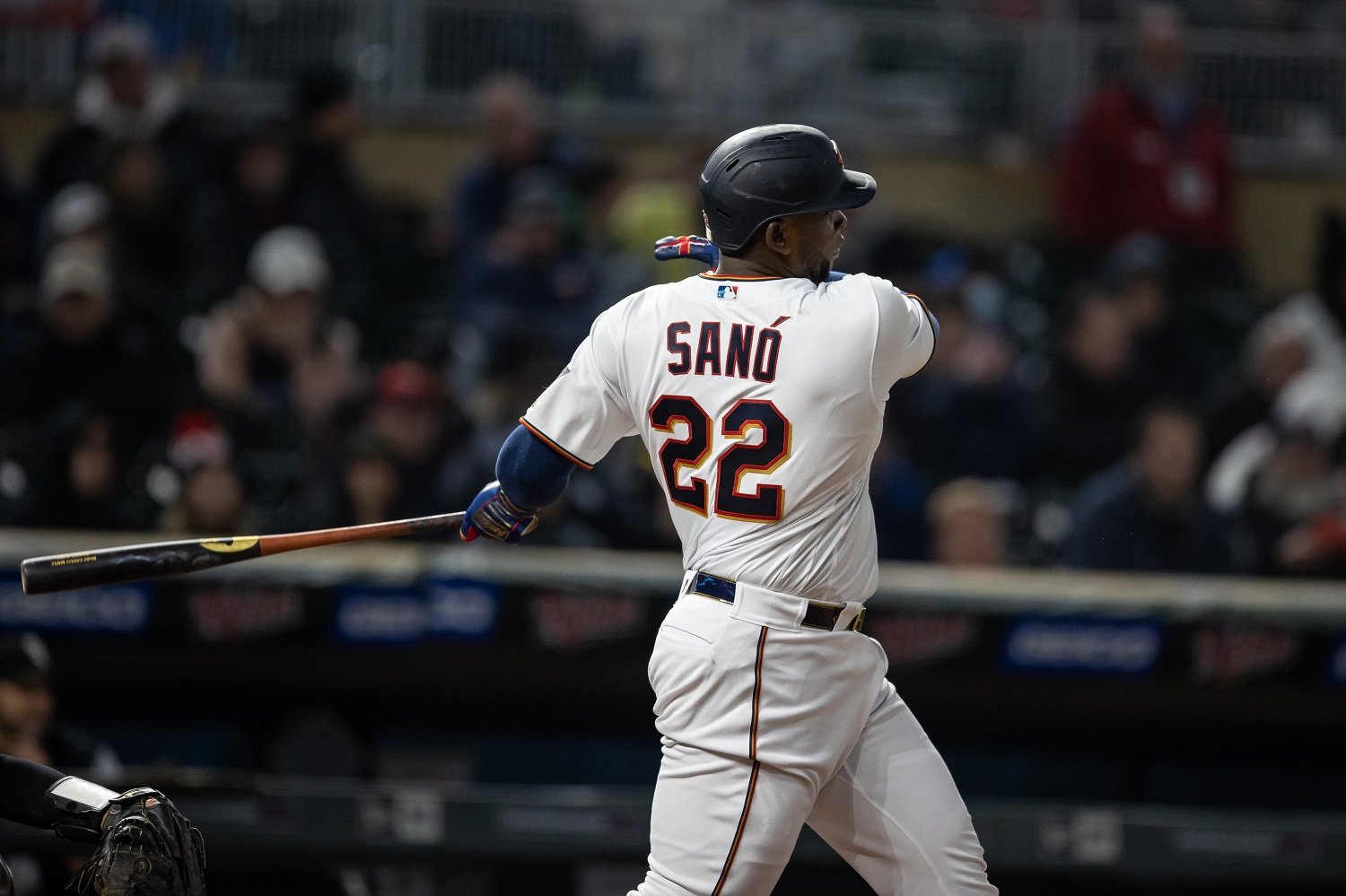 Image courtesy of © Jordan Johnson-USA TODAY Sports
Although Miguel Sano spent the maximum 20 days on the injured list, he played in just 12 games. The Twins curiously had part of his rehab assignment take place during the All-Star Break which ate up time that Sano could've gotten in at bats. Regardless, he performed extremely well on the farm, slashing .333/.422/.795 split across a few Complex League games and Triple-A.
Relegated to the back-end of Minnesota's lineup, Sano got in just six at-bats before returning to the injured list. Drawing two starts but playing just one complete game, it's clear Rocco Baldelli sees the slugger as little more than a revolving piece at this point. Sano was hitless in his return to action and posted four strikeouts without generating a walk.
There's no denying that the front office took as much time as they could to look at options before activating Sano. It appeared a possible DFA was on the table, and that would've left the Twins on the hook for the remaining $7 million or so on his deal. In a perfect world, they'd find a trade partner to offload his remaining commitment, but there's just little reason for anyone to pay for Minnesota's anchor of an expense.
So now it remains to be seen what an eventual timeline for a return to play looks like, but it's hard not to imagine this being the end of the road. We're into August and the 26-man roster needs to be best positioned for a Postseason run. Gilberto Celestino was optioned to make room for Sano initially, but it's hard to argue he's not of more value as a fourth outfielder. Even though Alex Kirilloff is hurt and that takes away an option at first base, the Twins have developed other depth there in the form of Jose Miranda and Luis Arraez.
If the timeline is short, and it probably won't be considering the previous handling of the same injury for Sano, a decision would need to be made as to how he factors back in. Another rehab stint could happen, but that would just be delaying the inevitable. If a return can happen in something like 10 days, Sano could find himself as an option given the health of the current roster. Even then, however, that DFA from before could again rear its head.
Maybe Minnesota would rather not end this era of such a highly prized prospect on a whimper, but it didn't seem to deter them before. Across 694 games with the Twins during his eight-year career in the big leagues, Sano has blasted 162 home runs. There's been highs and lows, but I think it's probably safe to assume this is where it ends.
Should he not play another game in a Minnesota uniform, what would register as some of your favorite memories for the Dominican product that sparked an entire documentary and put the Twins farm system on the map?