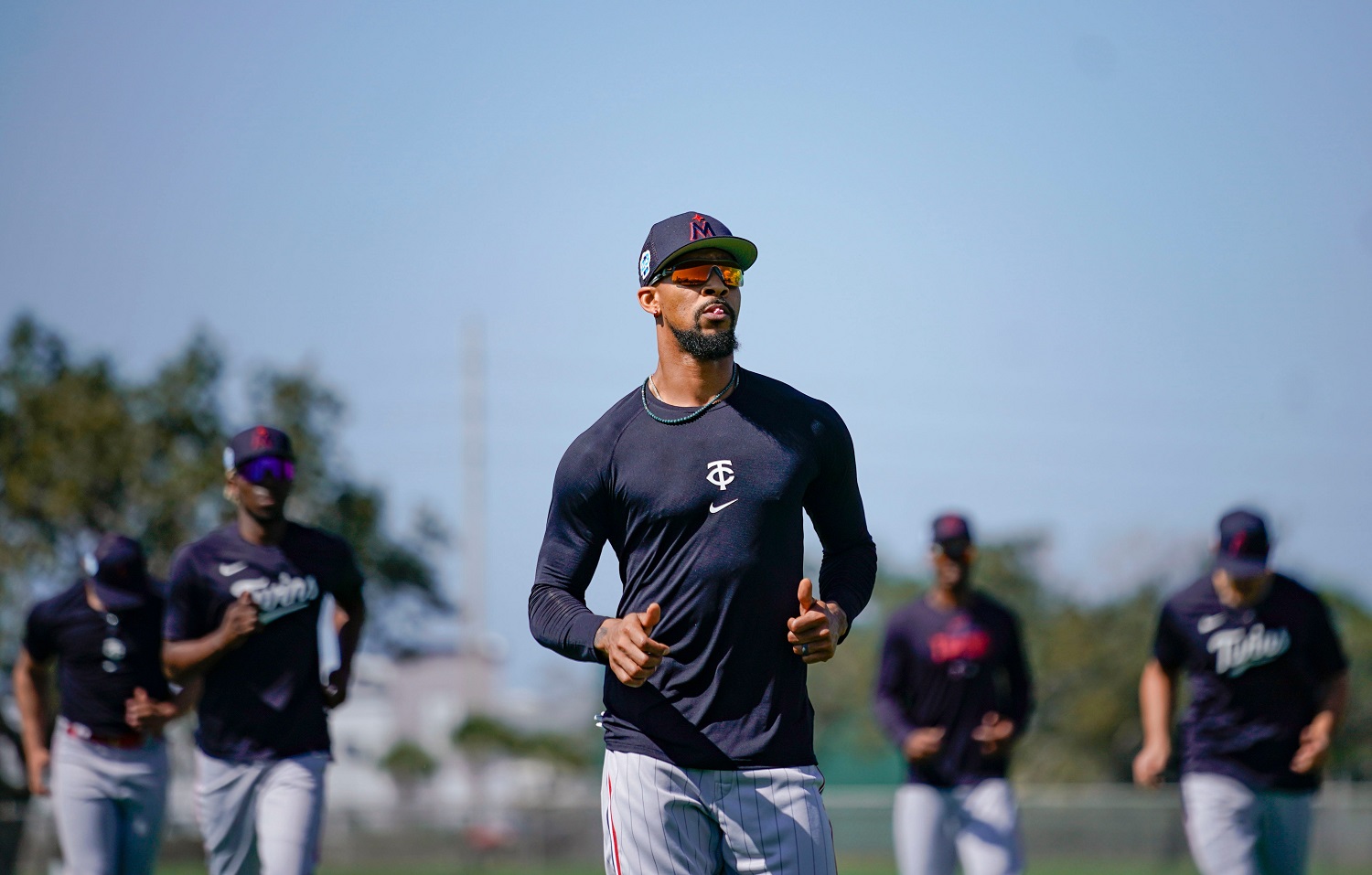 Image courtesy of Jonah Hinebaugh/Naples Daily News / USA TODAY NETWORK
Rocco Baldelli has been putting together lineups during 2023 spring training for over two weeks. We have seen Carlos Correa and new additions like Joey Gallo and Christian Vazquez. Notably missing from the lineups, however, have been the trio of Byron Buxton, Jorge Polanco, and Alex Kirilloff. They missed significant time last season and are returning from offseason rehab.
Having brought in a new head trainer in Nick Paparesta, Minnesota is looking to distance itself from injuries that all but sank their 2022 season. The Twins have held their key pieces out of action in practicing caution and looking to have them ready for Opening Day. Not all three of them are in the same place, though.
For Buxton, he is coming off of a knee surgery that addressed an issue sustained early on last year. Despite producing at an MVP level, he found himself constantly in the training room and needing fluid drained from his knee. Undergoing surgery and ultimately sitting out the end of the season, Buxton should be all systems go for 2023.
The hope with Buxton is that a lessened spring workload would give him the maximum amount of time to build strength and be available. However, a cautionary exercise is in play here, as his injuries have often been fluky. Buxton suffered his 2022 knee injury on a slide against the Boston Red Sox. There was nothing abnormal about the play, but it changed the entirety of his season. Minnesota's thinking in keeping him off his feet and working in multiple starts as the designated hitter in 2023 is reasonable. For now, it remains to be seen how it will work.
At second base, Polanco dealt with soreness related to tendonitis. He missed substantial time last year and lacked plenty of the power he displayed during the 2019 and 2021 seasons. Before the 2022 season, Polanco had largely been a pillar of health, and his tendonitis-related issue is unfortunate. With the reality that tendonitis can be consistently recurring, the goal is to strengthen the area to withstand the rigors of a season.
This is an important year for Polanco as he's in the last year of his contract extension. A vesting option is available should he hit plate appearance thresholds, but to do that, he must be both effective and healthy. All parties involved want to make sure the second baseman puts his best foot forward on Opening Day, and for Polanco, he'll need to stay ahead of the competition.
Brooks Lee, Royce Lewis, Edouard Julien, and a now-injured Austin Martin could all be potential replacement options. If Minnesota has Polanco healthy out of the gate, it gives him the best chance to sustain a high level of performance. Keeping the tendonitis at bay through a slowed process is a reasonable bet. This may be the most straightforward scenario regarding a delay in helping the cause.
For Kirilloff, things couldn't be worse over the past few seasons. He has been dealing with wrist issues for some time, drastically changing the production level he can contribute. A power hitter with a smooth stroke, Kirilloff has been neutralized at the plate. He may be a Gold Glove-caliber first baseman, but it isn't a position that can afford to have nothing come from the bat.
Undergoing a second, more drastic wrist surgery, Kirilloff is still not ready. In fact, despite not being shut down as he was last fall, Kirilloff is behind schedule. He was expected to be the club's Opening Day starter at first base, but it's looking like that could be manned by Gallo. Michael A. Taylor was brought in as outfield depth, but he could see starts pretty regularly if Kirilloff is going to miss time.
It's a disappointing outcome to again see Kirilloff's stock trending down. There had been so much excitement regarding his prospect status, and an injury that has yet to be alleviated continues to hold him back. Slow-playing this issue may help the long-term prognosis, but each time he ramps up, it reappears. How Kirilloff comes through this, and if he is ever effective, remains to be seen.
Regarding each scenario, caution could help but only to varying degrees of effectiveness. Polanco may only need a few game at-bats to be ready to go. Buxton should be near full strength, and avoiding flukes is pretty tricky to do. It's a waiting game for Kirilloff, and it's hard to see the end of the tunnel.