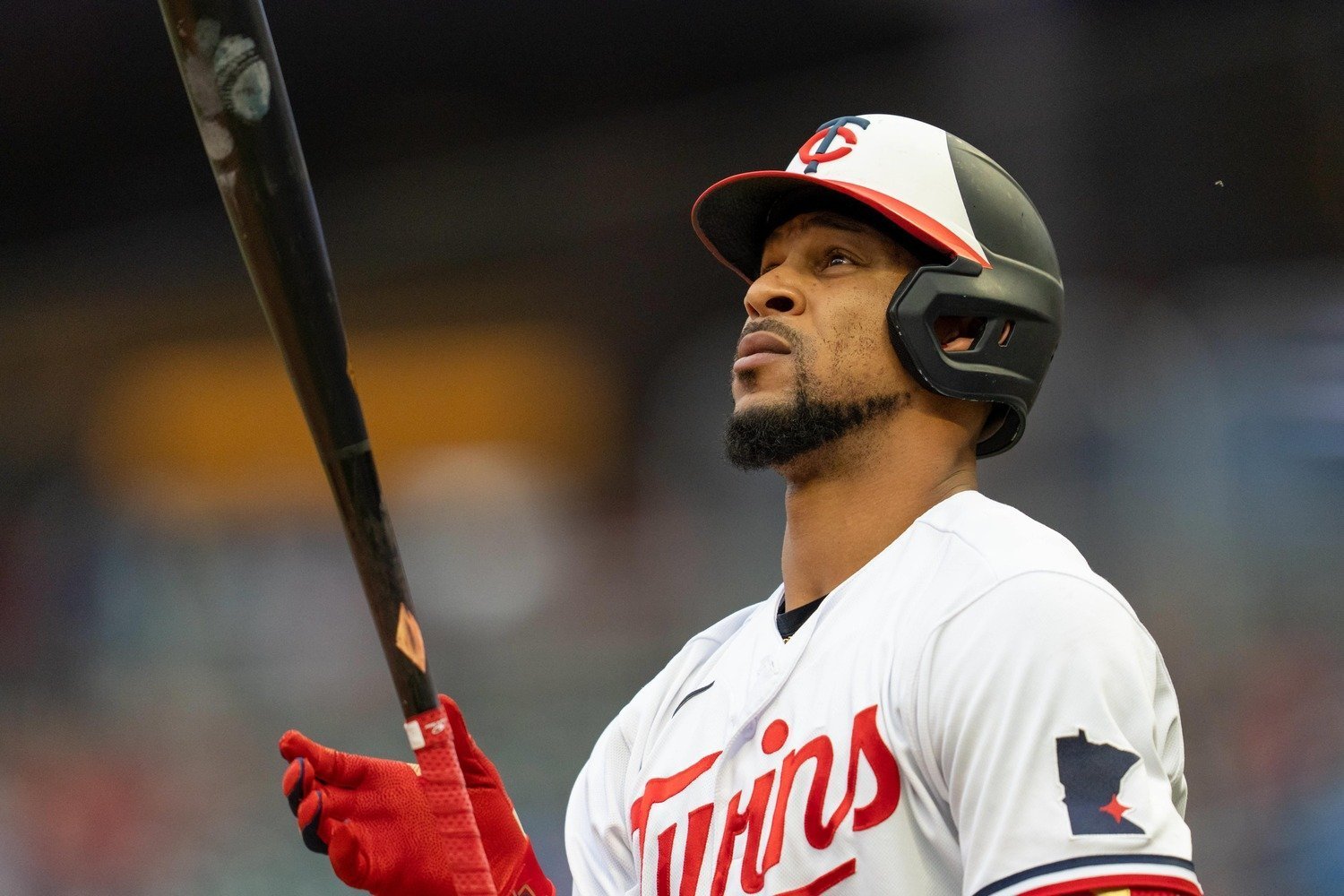 Image courtesy of Matt Blewett-USA TODAY Sports
Michael A. Taylor made himself a standout for the Twins in Buxton's absence this season. In the scenario that he doesn't re-sign, the internal organizational options don't pan out as well as having a semi-healthy Buxton or a returning Taylor. 
Willi Castro proved himself useful as a backup and left-handed hitting platoon in center with Taylor. But he would be very stretched as a starter and the Twins value his versatility.
Then there's Austin Martin. Martin ended the season strong with the St. Paul Saints and has set himself up well to make his MLB debut in 2024. But he's still a player who doesn't need to be rushed and still has elements of his game to iron out. It's hard to see him arriving before Memorial Day, at least as a full-time option, unless injuries force the front office's hand. 
Another option is Nick Gordon, who missed the majority of the 2023 season with a broken tibia. While Gordon looks to be healthy, his future with the organization is in question as Castro has overtaken him in the pecking order as the team's super-utility man. Gordon is arbitration eligible and out of options, which doesn't help his case.
Royce Lewis may be another option in center this upcoming season too. However, for now the Twins and Lewis both seem to be opposed to a return to the outfield, after his last start in center ended with a torn ACL.
While he did remain healthy with his knees upon his return on Memorial Day this season, Lewis still experienced some leg issues during the season, including a hamstring strain that forced him to finish on the IL. There are many who still believe his best-fit position is center field, but it's possible Lewis remains on the infield to ensure longevity in playing time versus risking another injury that puts him out for a long while. 
Removing Lewis as an option in center, that leaves Castro as the only man currently on the Twins' outfield depth chart that can hit from the right side of the plate. And the last thing the Twins outfield needs is another left-handed hitter, which makes a reunion with Taylor, or a signing like Kevin Kiermaier or Harrison Bader, the best outfield options in free agency.
If payroll limitations price these higher-end free agents out of  Minnesota's range, there are some lower-tier right-handed hitting center fielders that can work as a one-year deal, platoon options alongside Castro, Martin, or Lewis. 
Kevin Pillar, Jake Marisnick, and even former Twin Aaron Hicks are all suitable fallback options if Taylor signs elsewhere. 
Pillar played in 81 games with the Braves this last season. The Braves used him more frequently as a defensive option than for his offense, as he slashed .228/.248/.416 in 206 plate appearances. Pillar would remain that defensive-first, bat-second option to keep things afloat until the Twins line up their primary center fielder.
Marisnick played less than Pillar, showing up in 46 games between the White Sox, Tigers, and Dodgers this year. Marisnick had a .228/.248/.416 triple slash in 83 plate appearances. The limited playing time and injuries this season do show a decline in his performance, but Marisnick will only be 33 and has shown the ability to mash lefties.
Speaking of players who showed they still have something left in the tank, former Twin Aaron Hicks. After being released by the Yankees on May 26th, Hicks revitalized his career with the Orioles on May 30th. Hicks played in only 65 of the remaining 106 games on the season but he had his best stretch of games at the plate since 2018.
Hicks posted an .806 OPS in 236 plate appearances with the Birds. The switch-hitter has always been more effective swinging from the right side, and that was definitely true in 2023. He may not be the player he once was, but he's likely the best fallback of this group if the Twins miss out on the top CF names in free agency. It bears noting that Hicks rarely played center down the stretch in Baltimore, more often starting in the outfield corners.
The offseason is still young and the options in centerfield outside of Buxton are still plentiful. However, with the Twins likely to move slow and facing payroll constraints, it behooves us to become familiar with the lower tier of free agents.