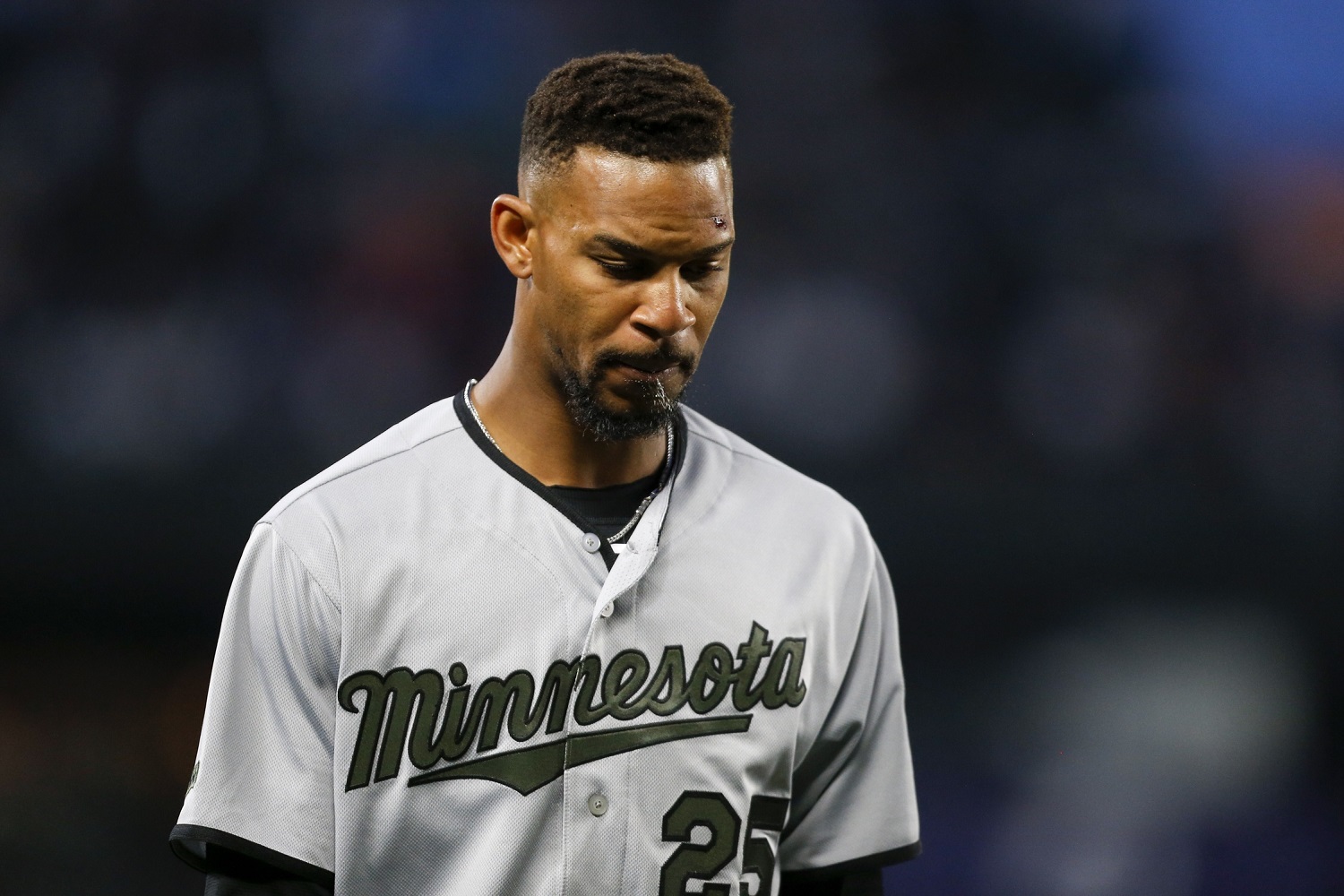 Image courtesy of © Joe Nicholson-USA TODAY Sports
The human brain is fantastic, but it doesn't have the power to consider everything. For example, before you read this sentence, you ignored that you could see your nose. Your mind had been ignoring that because it's not essential.
Cognitive psychologists refer to our brains' shortcuts as heuristics or cognitive biases. There's nothing wrong with them, but they're important to remember. They play a part in the way we watch sports.
There are popular shortcuts that many people know about, such as anchoring, where we tend to base our opinions on something more in a first impression than information we learn later. I won't name names, but some schmucks may still think Miguel Sanó could be an MVP based solely on his 2015 rookie campaign.
Confirmation bias leads us to latch on to evidence that supports our preconceived notions over evidence against them. Perhaps another person supports their disdain for Miguel Sanó because of his many strikeouts, ignoring his 500-foot moonshots.
If this stuff interests you, check out this very approachable list of a few dozen different biases and heuristics). There's a well-known bias that explains what I'm going to discuss, so I'll dip into developmental psychology for this discussion.
Two episodes from the last year or so stand out to me when I think about how our brains consume sports, not so much because of what happened, but because of people's reactions.
1. After a disappointing 73-89 2021 season, owner Jim Pohlad gave the front office an A+ grade. 
2. During the 2022 season, the Twins were not completely transparent about Byron Buxton 's schedule as he worked through knee pain.
In both episodes, fans and media were in the streets wailing and gnashing their teeth. Both instances were frustrating, but were they worth the consternation they received?
One of the points in an infant's growth that developmental psychologists have identified is the development of object permanence. If you've ever played peek-a-boo with an infant, you will have seen it in action. When the adult's face hides behind the hands, then reappears, the infant gets excited because, before the face reappears, they didn't think it existed anymore.
Infants struggle to understand that things they don't see can still exist. It is a bit wild to think about. Sometimes I'm, as an adult, convinced that I don't own buffalo sauce until my wife points out the bottle in the fridge and the bottle next to it from the last time I didn't think we had any.
But enough about buffalo sauce, how does object permanence pertain to what I'm talking about here?
In the first example, many fans took Jim's comments to mean that he genuinely had no issues with how the season went and was perfectly pleased. Because this was, for the most part, the amount of information fans had to go off of, it seemed like his complete thoughts on the topic.
We, as fans, are not privy to the conversations behind closed doors between an owner and upper management of the team. Heck, others in baseball operations aren't made aware of every conversation. We can forget that.
Instead, we latch on to the soundbite and forget that the group is constantly communicating for the other 364 days a year, working toward their shared goals. Because we don't see it, though, it doesn't exist.
Please don't read this as me saying that there shouldn't be criticism of the group. We sometimes pay too much attention to the tiny bits of interaction with which we are privileged.
The second example, regarding Bryon's knee, is a bit more egregious. Following his knee flair-up in Boston last April, his presence in the lineup was a bit scattershot, which was obviously frustrating for fans—if for no other reason than that fans want to see the best players play.
However, there was a common attitude that Byron's seemingly haphazard presence in the lineup was evidence that there was "no plan" for him to play. Why? Because the team did not make any statement on his status on a day-to-day basis.
In reality, the team was monitoring his knee and its pain and range of motion daily—adjusting whenever needed. It makes sense that no team personnel would make an official statement regarding his expectations because the situation was developing.
This lack of information led some fans to see the handling as incompetent, and they believed that the team lacked a plan for getting him back out there.
Instead, behind the scenes, Buxton spent hours every day working on getting his body ready to compete. His situation was fluid, and the team was adapting to new information daily. But we, as fans, had no explicit information telling us this, so instead, because we couldn't see it, our brains told us that nothing was happening.
Perhaps there's an argument that teams should be more forthcoming with information so that fans can make more informed reactions. Still, we would have blind spots that our brains would fill in.
It's important to remember that pro sports are filled with professionals working full-time jobs. The people on the other side of the glass spend their entire days making decisions about the team that we watch for four hours a day with a rain delay. They want to win more than you want them to (with minimal exceptions).
If we fall into the trap of believing that what we see in press conferences or public statements is the entirety of the situation, our opinions can become relatively uninformed.
Some people may be incompetent at their jobs and worthy of criticism, but that criticism should be based on what we can observe rather than the gaps our brains fill in. Remember that even if we don't see it, things are happening.