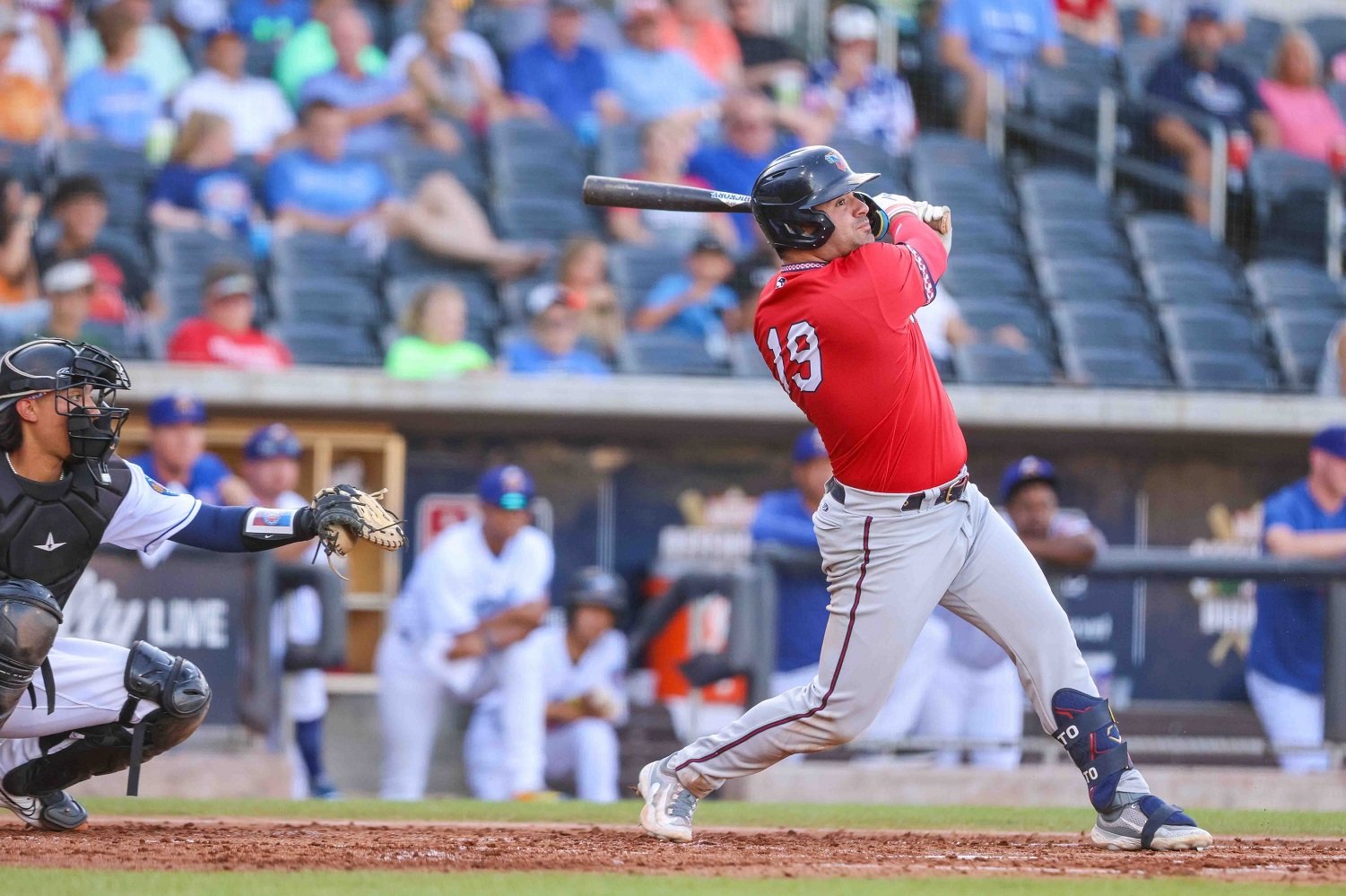 Image courtesy of Ed Bailey, Wichita Wind Surge
Aaron Sabato has been a polarizing player since the Twins drafted him with their first-round pick in the 2020 MLB Draft. Like all drafted players that year, the college slugger saw his season cut short due to the pandemic. The Twins front office had a late first-round pick and decided to select the University of North Carolina product. At the time, Minnesota called him a "steal," and some compared him to Pete Alonso. He was a first baseman or DH, and that player type needs to compile big offensive numbers on the way to the big leagues. Unfortunately, struggles have followed Sabato during his professional career.
Sabato made his professional debut during the 2021 season, and the Twins had him spend time at Low- and High-A. In 107 games, he hit .202/.373/.410 (.783) with 18 doubles, 19 home runs, and 149 strikeouts. He was showcasing his powerful swing, but there was a lot of swing and miss for a player who spent most of the season facing younger competition. There was still hope for him to figure it out as he moved up the organizational ladder. 
In 2022, Sabato spent most of the season at High-A before finishing the year at Double-A. He was over a year younger than the average age of the competition in Wichita. In 103 games, he hit .215/.336/.438 (.774) with 17 doubles and 22 home runs while striking out 142 times. His statistical output was similar to his professional debut, with him making inconsistent contact but showing the ability to draw walks and occasionally hitting for power. The 2023 campaign would be critical to deciding Sabato's future with the organization since the Twins needed to decide whether or not to add him to the 40-man roster and protect him from the Rule 5 Draft. 
The Twins sent Sabato back to Double-A for the 2023 season, but injuries limited him to 77 games. He hit .221/.329/.430 (.759) with 19 doubles and 12 home runs with 103 strikeouts in 272 at-bats. Sabato has the second most strikeouts in the Twins organization since debuting in 2021. The Twins decided to send Sabato to the Arizona Fall League since he missed time during the regular season. Would he do enough to warrant the team protecting him from the Rule 5 Draft?
The AFL can be a favorable hitting environment because many teams don't send their best pitchers after completing a season's worth of innings. Sabato is near the top of the AFL leaderboard in home runs (7 HR in 18 games), and he will represent the Twins in the league's home run derby this weekend. However, he hasn't made consistent contact (.215 BA), and he continues to strike out at a high rate (27 Ks in 65 AB).
"I think right now I'm pretty locked in," Sabato told MLB Pipeline. "The biggest thing has just been in the cages, just try to take my intent down so that I can control my body a little bit better. And then in the box, really, it's just how long can I stay on the ball while being as quick as possible in order to rotate. I feel like before that, I kind of would get a little big and my movements would get a little bit excited or jumpy. I'm not using the ground as much. And when we use the ground, we can stay on pitches for a longer amount of time. We can see the ball a lot longer. And so that's really been the biggest thing."
Despite his AFL performance, the Twins will likely leave Sabato unprotected for the Rule 5 Draft. A rebuilding organization might look at Sabato's first-round pedigree and prodigious power and select him in the draft. He would need to be used as a right-handed platoon player, and that's a role that doesn't currently fit into Minnesota's plans.  
Do you think Sabato will be protected from the Rule 5 Draft? What kind of big-league career can he sustain? Leave a COMMENT and start the discussion.