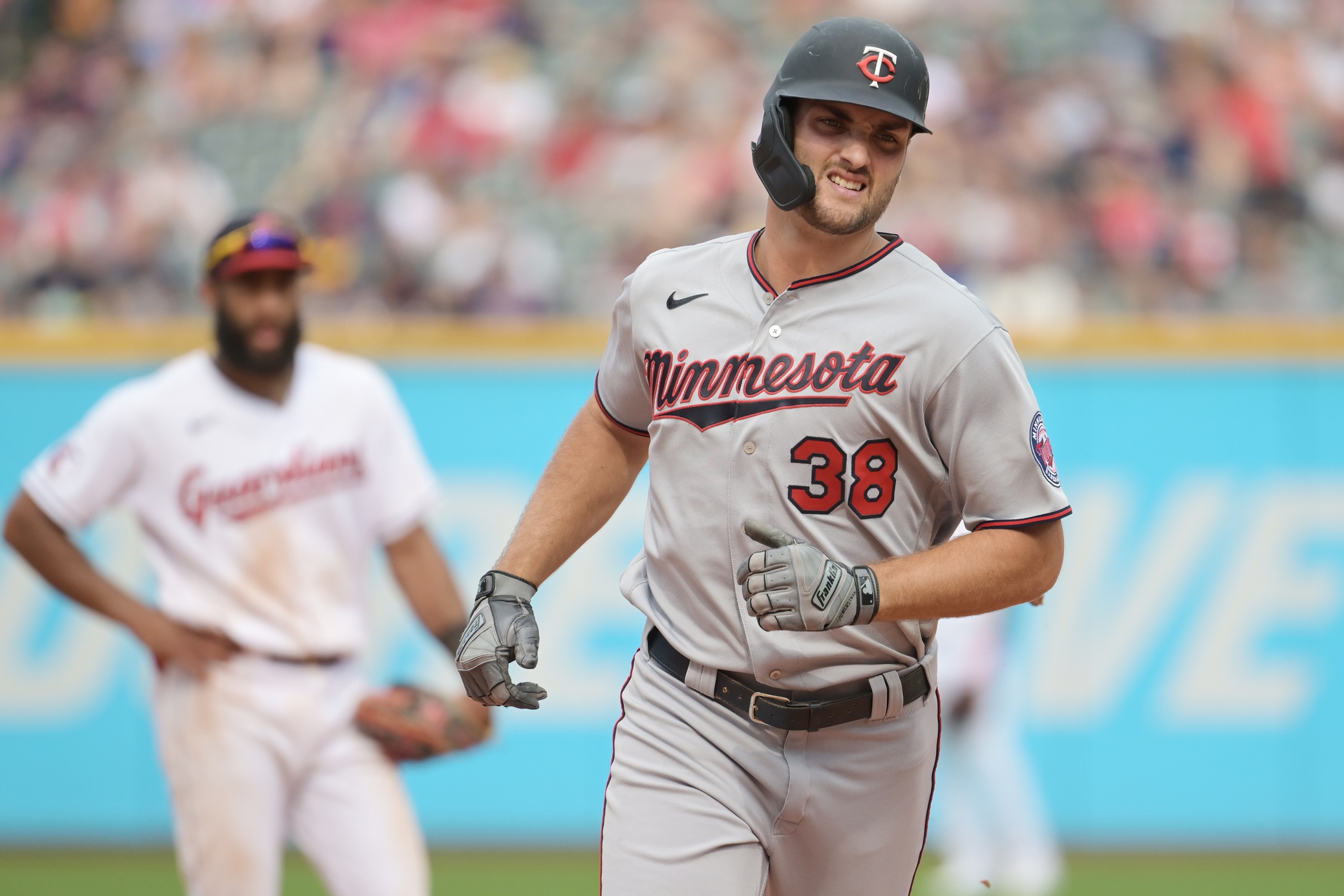 Image courtesy of Ken Blaze, USA Today Sports
Yesterday we assessed the damage from the most upsetting negative developments in the Twins system this year, with three of the organization's top six prospects experiencing calamitous setbacks that have sent them spiraling out of the Twins' plans. 
As a chaser to cleanse all those bad vibes, today we'll highlight some hugely positive developments on the farm, each propelling ascendent prospects more directly into the team's future. Best of all, we couldn't limit this list to just three.
These five players have tremendously improved their stocks this year, setting the stage to potentially help the major-league team in the very near future (if they haven't already).
Louie Varland backs up a big year.
We've already seen the early returns on this breakout prospect star. Varland didn't exactly come out of nowhere – he was named the organization's minor-league pitcher of the year in 2021 – but there was still an air of skepticism around him, a former 15th-round draft pick out of a D-II college. Sure, he was amazing in A-ball last year, but plenty of collegiate draft picks have dominated those low levels only to get a reality check in the high minors.
For Varland, that check never came. He translated his excellence to Double-A without missing a beat, earning a late-season promotion to Triple-A that quickly turned into a major-league debut. Stepping out under the lights of Yankee Stadium, Varland excelled and made a big impression. Things didn't quite as well his next time out, in Cleveland on Saturday, but this is a guy whose stated goal for this year was to reach St. Paul.
He blew past it, and as a consequence, will find himself squarely in the MLB depth picture heading into next season.
Matt Wallner mashes past his contact issues.
Wallner is another prospect whose monster campaign has already paved the way for a sooner-than-expected MLB debut. And like Varland, he's a local kid, native to Forest Lake, MN. 
Unlike Varland, Wallner was not a late-round draft pick who emerged from low expectations to achieve top prospect status. He was a bona fide stud coming out of college, selected 39th overall in 2019. But he had his own set of doubts coming into this season, relating mainly to his contact and discipline issues. Even for someone with as much raw power as Wallner, it's really tough to project big-league success for a bat-first player who strikes out 33% of the time and barely walks – at Single-A as a 23-year-old, no less. Would upper-level pitchers chop him to bits?
Turns out, it's been the other way around. Wallner obliterated Double-A pitching, posting a .299/.436/.597 slash line with 21 homers in 74 games. That earned him a trip to the Futures Game and a promotion to Triple-A soon after. 
Wallner got off to a slow start with the Saints, batting .105 with zero extra-base hits in his first 10 games. Then he flipped a switch. Since the beginning of August he's slashing .289/.414/.564. Walks are up, strikeouts are down, and that has a been an overall trend for him this year as he's shown the ability to actively improve his strike zone control and evolve his game.
The huge breakout season, combined with desperation for help at the big-league level, led to Wallner getting called up in Cleveland this past weekend. He homered off Shane Bieber in his first MLB game.
Wallner felt like a bit of a longshot at this time last year, but now looks like a guy you can confidently write into the team's plans going forward. The idea of both he and Varland, as hometown boys, turning into fixtures for the Twins over the next five years is pretty fun. 
Simeon Woods Richardson shows his true colors.
A former second-round draft pick of the Mets, Woods Richardson has widely been viewed as one of the more prestigious pitching prospects in the minors, making both Baseball America's and MLB.com's Top 100 lists in 2020 and 2021. The Twins were thrilled to get him alongside Austin Martin in the trade that sent José Berríos to Toronto last summer.
Looking at his 2021 season in isolation, fans might have been asking ... why? He had a 5.76 ERA in 11 starts with the Blue Jays' Double-A affiliate, and then put up a 6.75 ERA in a brief eight-inning September stint with Wichita. It was a weird year that saw him get aggressively assigned to Double-A at age 20, then take a bunch of time away from his team for the Olympics, where he didn't even pitch.
The 6-foot-3, 210 lb right-hander has fully gotten back on track this year. He didn't allow a run in his first four starts en route to a 2.92 ERA over 71 innings at Wichita before moving up to St. Paul in mid-August. There he has continued to excel with a 2.55 ERA in 24 ⅔ frames. Between both levels, Woods Richardson has averaged well over a strikeout per inning, cut down significantly on the walks, and allowed only six home runs in 21 outings. Opponents have batted .206 against him. He's about three years younger than the average player at Triple-A.
This reaffirming turnaround from Woods Richardson has been huge for two reasons, both tying to yesterday's article. First, it keeps the Berríos trade looking like a winner even with Martin falling off, and second, it keeps another high-caliber and near-ready pitching prospect in the wings even with Balazovic getting derailed.
Emmanuel Rodriguez blossoms into prospect stardom.
Unlike the others highlighted in this article, Rodriguez is probably not in line to make an MLB debut in the especially near future. He's a teenager who hasn't appeared above Low-A and his timeline was further delayed by a season-ending knee injury suffered in June. 
In spite of all that, his performance prior to that injury was so magnificent, and so incredibly encouraging, that he has to be included in this piece. 
Rodriguez ranked 15th on our preseason top prospects list, characterized as an intriguing yet distant international talent coming off an impressive showing in rookie ball. His follow-up at Single-A left no doubt as to the outfielder's sky-high potential: in 47 games before going down, he slashed .272/.493/.552 with nine homers, 11 steals, and 57 (!) walks. Yes, you read that right – nearly a .500 OBP and more walks than games played from a 19-year-old in the pitcher-friendly Florida State League.
Realistically, even if he comes back with gusto next year, Rodriguez is probably looking at a 2024 debut at the earliest, but his spectacular first half puts him in the "blue chip prospect" conversation and that's a hugely positive development for this system.
Brooks Lee arrives and thrives.
I honestly believe this will go down as THE biggest boost to the farm system over a span of many years: Lee, widely viewed as one of the premier talents in this year's MLB draft, somehow sliding to the Twins at No. 8 overall, where they were more than happy to take him. They may have landed a new franchise player.
Quickly signed to a $5.7 million bonus, Lee has handled every assignment so far with aplomb. He went to rookie ball briefly where he batted .353 to earn a promotion to Single-A. Five weeks at Cedar Rapids was enough to convince the Twins he was ready for the next level, so over the weekend, Lee was called up to Wichita, reaching Double-A exactly two months after he was drafted.
Touted for his "otherworldly bat-to-ball skills," Lee was one of the top hitters in college, an exceedingly advanced talent, and the Twins could barely contain their excitement when he fell into their laps. "It's hard to say who made who fall to our pick," said scouting director Sean Johnson, "but regardless of who caused it, [for] the domino to trickle, we're ecstatic."
Their actions have backed up their words. Advanced talent or not, pushing a player to Double-A two months after drafting him makes an aggressive statement. Presumably billed to open back at Wichita in 2023, Lee will be in position to make a case for a big-league promotion next summer. It's almost as if the Twins are planning around that possibility.