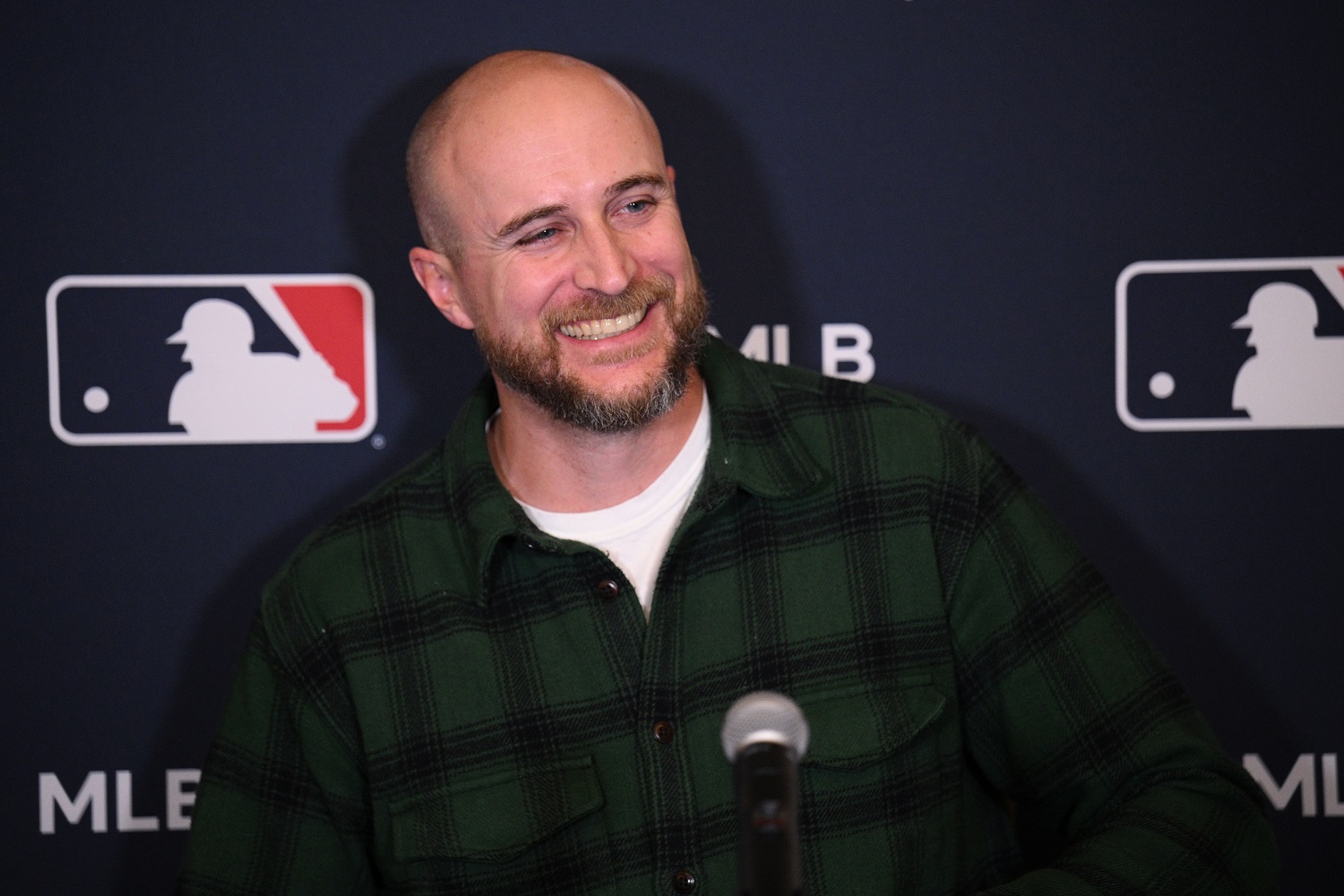 Image courtesy of Orlando Ramirez-USA TODAY Sports
The Winter Meetings are upon us. While lots of roster cleanup has happened since the World Series ended about a month ago, the offseason really begins with these meetings. To this point, a couple of the top free agent starting pitchers have signed huge deals while several veteran, fifth starter types have signed with new teams. One of the Big Four shortstops has signed. 
Aaron Judge may or may not show up in San Diego on Tuesday after watching Tom Brady and the Buccaneers get a final-minute win in Tampa. Will he sign? Will he just meet with people? Could he possibly get 10 years and $400 million? Is that really possible? 
Here are a few themes that I thought of on Day 1 of the Winter Meetings: 
The Twins Aren't (and Shoudn't) Sign Carlos Rodon
The Twins clearly want to add a starting pitcher, a veteran who is as good or better than Sonny Gray and Tyler Mahle. Carlos Rodon fits that category and the Twins have certainly shown interest in the former White Sox southpaw. So why won't he sign with the Twins?
Why? 
Let me count the ways. First, Jacob deGrom inexplicably got a five-year deal with the Rangers for $185 million despite missing more than half of his starts the past two seasons. That said, if he's healthy, he is baseball's best pitcher. On Sunday, news broke that Justin Verlander was signing with the Mets for two years and $86 million.
The Twins weren't going to be in on either of them. However, certainly in part due to those contracts and especially the length of deGrom's deal, Carlos Rodon is reported to be looking for six or more years and $30-35 million per season. He's right to ask for it, and he will likely get it. The fact that there are reportedly at least eight teams that have had conversations with Rodon's team (including the Twins), the number will jump up. 
So are Jose Quintana and Andrew Heaney in play for the Twins? Maybe. It was reported on Monday night that Heaney has several three year deals on the table, so now he's looking for four years. You hate to see it, but maybe @Matt Braun was correct. Andrew Heaney may just be the best the Twins can do, and I personally don't think that's a bad thing. 
We have written for months that the Twins should no longer be signing fifth starter types. And as we have seen this offseason, the money veteran fifth starters are getting is a bit silly. Mike Clevinger signed with the White Sox for $12 million guaranteed. Matthew Boyd somehow got $10 million to return to the Tigers. And over the weekend, former Twins right-hander Kyle Gibson got $10 million from the Orioles. 
With all that in mind, I'll still say that the Twins would be wise to keep focusing on pitcher development. Instead of signing those guys (like Archer, Bundy, Happ, Shoemaker and many more before that), they should give guys like Louie Varland, Josh Winder, Simeon Woods Richardson, Cole Sands, Jordan Balazovic and others. 
All-Rise...
So, how are the Twins going to go about getting a high-quality, ace-like starting pitcher? Well, Twins fans won't want to hear it, but first thing on Monday morning, Dan Hayes posted an article indicating that Luis Arraez's name has been discussed in trade talks for pitching. 
Arraez is coming off of a(nother) breakout season. He was an All Star, won his first batting title, won a Silver Slugger and received MVP votes. But again, if we are talking about acquiring a pitcher who would jump right into the top spot in the Twins rotation, they're going to have to give up a painful amount. 
Also of note, this is approximately the third straight offseason where the Twins have been rumored to be willing to trade Arraez, and as you are fully aware, they are yet to do it. 
Catching Up... 
The Twins are reportedly looking for a catcher who can share time with Ryan Jeffers who is currently the lone catcher on the Twins 40-man roster. Two tidbits on that search from Day 1 of the Winter Meetings include: 
Ken Rosenthal reported that the Twins are one of six teams who that are "in on" Christian Vasquez. The long-time Red Sox backstop was traded to the Astros at the trade deadline and teamed with Martin Maldonado. 
There were rumors circulating that A's catcher Sean Murphy might be traded early in the Winter Meetings. It hasn't happened yet. Frankly, it sounds like there are so many teams in on Murphy that the cost probably doesn't make any sense for the Twins. 
Correa Stuff
The A-talker of the week for Twins fans is Carlos Correa. Will the Twins be able to bring him back? This is going to be interesting. 
On Monday, the Phillies grabbed Trea Turner in a deal that will guarantee him $300 million over the next 11 seasons. Why is that noteworthy to Twins fans? Because most evaluators would put Turner and Correa very close to each other in terms of value so this is a good deal to kind of establish a market for Correa. 
Correa is a year younger than Turner, so is it possible that he could get a 12 year deal, maybe even 13 years? And how much beyond $300 million will Scott Boras help Correa attain. In his press conference on Monday, manager Rocco Baldelli said that he believes that the Twins are well positioned to bring back Correa. He noted that he had a dinner with Correa (and also Xander Bogaerts and Carlos Rodon, all Boras clients) that was very nice. 
data:image/gif;base64,R0lGODlhAQABAPABAP///wAAACH5BAEKAAAALAAAAAABAAEAAAICRAEAOw==
Darren Wolfson found out that the Twins are willing to offer 10-year deals and include multiple opt-outs. The Twins may have to get creative to make it work, but potentially adding the extra years also brings down the AAV (Average Annual Value). 
There is a lot of competition. The Cubs are certainly interested, and they reportedly had a meeting with Correa on Monday. There were also indications that the Cubs might try to sign two of the Big Four (3 remaining) shortstops. After losing Turner, the Dodgers likely will want a shortstop. Would the Dodgers bring in Correa after their players and fans, made him the lead target of their post-2017 World Series angst? The Cardinals are rumored to be pursuing Dansby Swanson. If he signed elsewhere, would Atlanta really be willing to go with Vaughn Grissom at shortstop?  
In reality, it seems to be that if the San Francisco Giants don't sign Aaron Judge, they'll throw all their eggs into the Correa basket. If Judge signs with the Yankees, I do believe that the Twins have at least a real opportunity to bring back Correa. 
To be honest, this is all on Correa's timeline. He's the lead player available at shortstop and he can play the proverbial field, maybe even encouraged to do so by Boras. Do the Twins need to establish a deadline for Correa before moving on to Bogaerts or another option? Probably not since Boras Agency represents both. 
And the Twins met with Carlos Correa according to a 2 am Jon Heyman tweet. 
Draft Lottery
For the first time in baseball history, MLB will have a Draft Lottery and tonight at 7:30 on MLB Network, we will find out if the Twins will be able to move up in the draft. The NBA has done this for a long time. 
The 18 teams that did not get into the playoffs will all have a chance to move up to the #1 spot in the draft. However, the worse the team's record, the less likely they get the top pick. In an attempt to have teams not intentionally tank for the worst record, the bottom three teams will each have a 16.5% chance of getting the top pick. The Twins odds of jumping to the #1 spot is just 0.9% Yes, I'm saying there is a chance!  The lottery will determine the top six picks of the 2023 draft. Can the Twins jump into the Top 6, or will they stay at the #13 pick? 
Keep up with Twins-related rumors at our Twins Rumors page here.