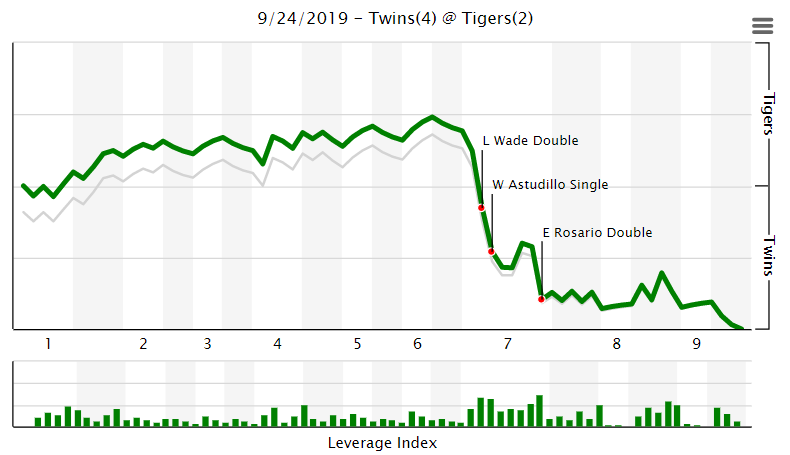 Image courtesy of FanGraphs
Odorizzi: 6 IP, 2 H, 1 ER, 1 BB, 7 K, 64.5% strikes (60 of 93 pitches)
Home Runs: None
Multi-Hit Games: Cave (2 for 4), Wade (2 for 3, 2B)
WPA of +0.1: Wade .207, Odorizzi .180, Rosario .160, Astudillo .108
WPA of -0.1: Sano -.179, Polanco -.157
Jake Odorizzi did an excellent job keeping the Twins in the ballgame, as the bats struggled to come through in the early innings. After a Detroit double and single led to a run in the first inning, Odorizzi allowed just one more baserunner, on a walk, while striking out six more hitters. He did come back out to pitch in the bottom of the seventh, but was pulled during his warmups when Rocco Baldelli noticed something was off. The report was Odorizzi was lifted with hamstring tightness, so hopefully this shouldn't be much of an issue for him as we move into postseason play.
It took a while, but the Twins bats finally woke up in the seventh inning against Spencer Turnbull. Jake Cave led off the inning with a sharply pulled single into right field. LaMonte Wade Jr. followed that up with an excellent at-bat that resulted in a double down the third base line, and suddenly the Twins were in business with runners on second and third, with nobody out. This prompted Tigers manager Ron Gardenhire to go get Turnbull, and bring in David McKay to face Willians Astudillo. This proved favorable for the Twins, as Astudillo came through with a base hit up the middle to give the Twins their first runs of the game.
https://twitter.com/Twins/status/1176656690734862336
After a Jason Castro hit-by-pitch and a Nelson Cruz intentional walk, Eddie Rosario came to the plate with the bases loaded and two outs, and he came through with a ringing double that made its way to the wall in left, scoring Astudillo and Castro, giving the Twins a 4-1 lead.
Following Jake Odorizzi's six innings, Kyle Gibson came into the game to try to protect the Twins three-run lead. Gibson gave up a couple of singles in the inning, but struck out the other three batters he faced, popping as high as 96 MPH on the radar gun. He came back out in the eighth, and after the Tigers cut the lead down to two, thanks to a couple of doubles, things suddenly looked very interesting. However, after a visit to the mound, Gibson settled in to get the final two outs of the inning. Taylor Rogers came on in the bottom of the ninth and pitched an easy 1-2-3 inning, picking up his 29th save of the season.
Bullpen Usage
Here's a quick look at the number of pitches thrown by the bullpen over the past five days:
Next Three Games
Wed at DET, 5:40 pm CT (TBD-Norris)
Thu at DET, 12:10 pm CT (TBD-Zimmermann)
Fri at KC, 7:15 pm CT (TBD-TBD)
Last Game
Twins Game Recap (9/22): Twins Offense Erupts for Twelve Runs Over Royals