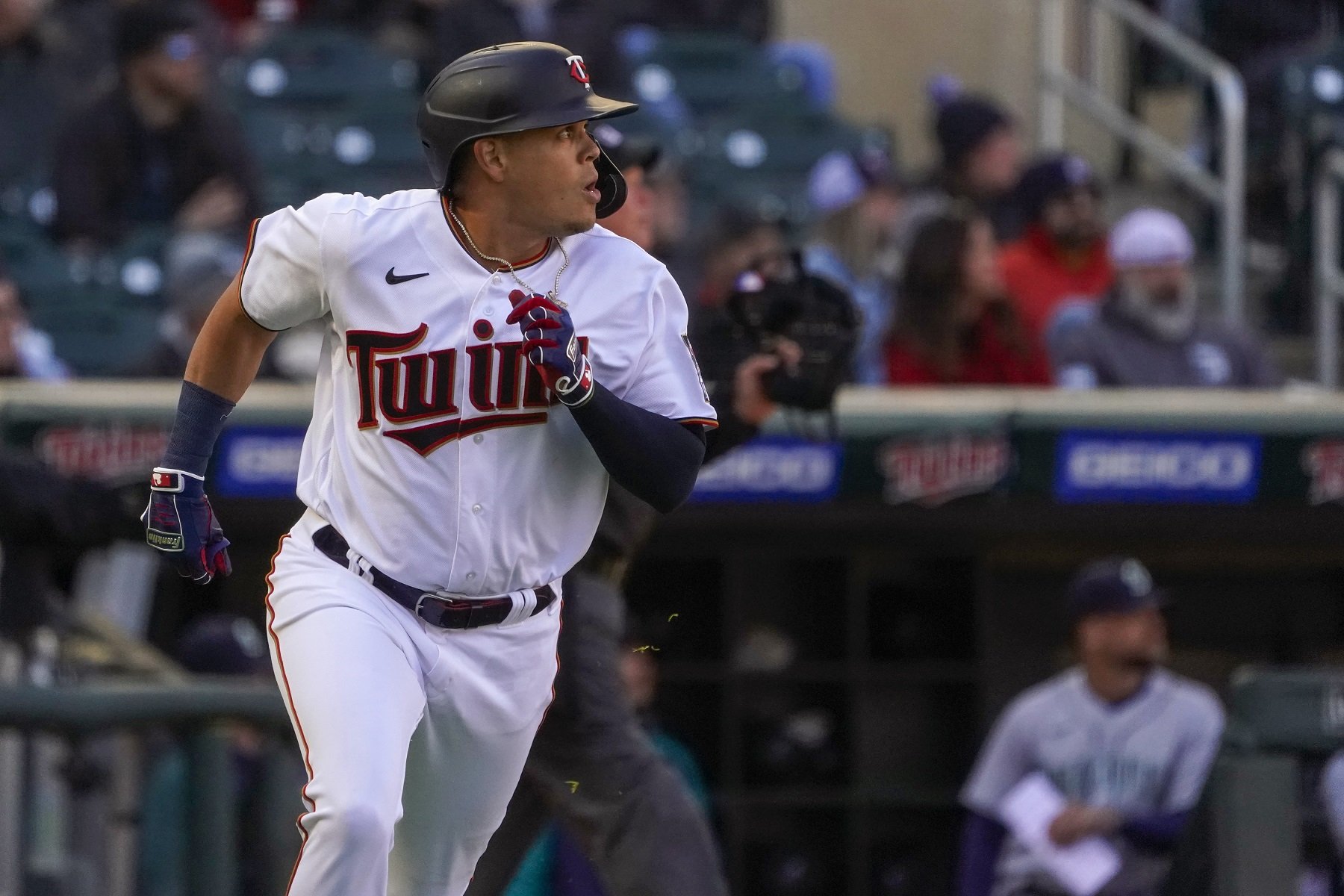 Image courtesy of Nick Wosika-USA TODAY Sports
Minnesota's front office got a few of these decisions out of the way early by waiving Jake Cave (claimed by Baltimore), Danny Coulombe, and Cody Stashak. All would have been eligible for arbitration, albeit with fairly modest projected salaries. 
They also took care of business already with Kyle Garlick, agreeing on a one-year, $750,000 contract. It's barely above the league minimum, but the move to strike an early deal does signal at least some level of intent for the Twins to stick with Garlick as a right-handed complement to their LH-heavy corner outfield mix. 
Eight players remain who are in the designated service-time range – between three and six years – where they can start to negotiate their own salary. On Friday the Twins will need to commit to tendering a contract and keeping them for 2023 (barring a trade) or letting them go.
Here's a case-by-case breakdown, starting with the easiest of easy decisions. (Salary projections courtesy of MLB Trade Rumors.)
8. Luis Arraez, 1B
Year 2 of 4 in arbitration

Projected 2023 Salary: $5 million
The reigning All-Star and batting champ is a lovely bargain in the $5 million range. He still has three years of team control remaining so the Twins do have some leverage for extension talks, but there's not a ton of incentive to pursue one for a 25-year-old with bad knees.
7. Jorge Alcalá, RHP
Year 1 of 3 in arbitration

Projected 2023 Salary: $800K
The right-hander technically accrued a year of service in 2022 while making only two appearances due to an elbow issue that never got right. He didn't need surgery and is expected back at full strength next spring, so there's no reason to think twice about bringing back Alcalá, owner of a career 3.39 ERA and 1.06 WHIP through 87 ⅔ MLB innings, at essentially the league minimum.
6. Caleb Thielbar, LHP
Year 2 of 3 in arbitration

Projected 2023 Salary: $2.4 million
You don't see many guys entering their second year of arbitration at the age of 35. But then, you don't see many stories like Caleb Thielbar. His mildly escalating cost is the only reason you'd have slight pause in extending a contract, but $2.4 million is a paltry sum for the kind of performance Thielbar provided last year. He'll be a cost-efficient centerpiece of bullpen planning.
5. Jorge López, RHP
Year 2 of 3 in arbitration

Projected 2023 Salary: $3.7 million
Here's where the decisions start to get a little thornier. I'm not going to say keeping López is a tough call, because they'll do it without hesitation, but nearly $4 million could be viewed as a hefty price tag based on what he did for the Twins (4.37 ERA) and in his career prior to 2022 (6.04 ERA). Alas, his first spectacular four months in Baltimore compelled the Twins to part with three prospects for him at the deadline, and will compel them to tender a contract – especially since he has another year of team control in 2024.
4. Tyler Mahle, RHP
Year 3 of 3 in arbitration

Projected 2023 Salary: $7.2 million
It's hard to imagine how Mahle's post-trade time with the Twins could've gone worse in 2022. If he merely performed badly, you'd chalk it up as a rough second half or adjustment to new scenery, and hope for a rebound to previous form. If he tore a labrum in his shoulder or elbow ligament, you'd non-tender without a second thought. Instead, his mysterious recurring shoulder fatigue kept him from being able to pitch at all, leaving the front office with no choice but to gamble $7 million on this issue disappearing in the offseason. They'll do it, especially because of what they gave up to get him, but it's really hard to plan confidently around him at this point.
3. Emilio Pagán, RHP
Year 3 of 3 in arbitration

Projected 2023 Salary: $3.7 million
I'm not saying this decision should be remotely difficult. But ... there's a reason the Twins kept Pagán around all year despite having ample reason to jettison him. The guy has legitimately excellent stuff. He averaged 12 K/9 with a 14% swinging strike rate. But he also got crushed, for a third straight season, because he has shown no ability to consistently execute. With such a long-running sample of failure, the choice to move on at almost $4 million should be obvious. But I don't get the sense it's viewed that way.
2. Chris Paddack, RHP
Year 2 of 3 in arbitration

Projected 2023 Salary: $2.4 million
The righty's past standing as one of the game's better young pitchers, and his three remaining seasons of team control, were key reasons the Twins pulled the trigger on a deal that brought him over alongside Pagan in exchange for Taylor Rogers just ahead of Opening Day. Paddack only lasted five starts before his partially torn UCL gave way, requiring a second Tommy John surgery that will knock him out for almost all of next year.
Essentially, the Twins would be paying about $2.5 million for the opportunity to try and get one more season out of Paddack, in 2024 when he'll be in his final year of arbitration. That's probably worth it, but hardly a lock, especially when you consider the opportunity cost of needing to dedicate a 40-man roster spot all winter before you can move him to the 60-day IL next spring. While the upside was once easy to see, you now really have to squint: he's got a 97 career ERA+ and in 2024 he'll be a 28-year-old coming off his second TJ surgery. The track record for pitchers who've undergone it twice is not promising.
1. Gio Urshela, 3B
Year 3 of 3 in arbitration

Projected 2023 Salary: $9.2 million
A funny story: In mid-September I tweeted a 2023 roster projection that didn't include Urshela, and Athletic beat writer Dan Hayes challenged me by saying the veteran third baseman should be considered a lock for at least a tender. Dan tends to be pretty plugged into what's going on and instinctually sound, so I started to adjust my thinking. I even came around on the idea as Urshela finished strong with a .333/.404/.425 slash line in the final month while Jose Miranda failed to impress much at third base.
Then, after the season ended, Dan informed me he'd softened his stance and was no longer so sure Urshela would be tendered. (He expressed this view on a recent Gleeman and the Geek appearance.) It seems the consensus on Urshela is that while he's a good and desirable player, that price tag is a tad more than you'd like to pay when you've already got some options. 
For the Twins, this decision hinges on a few factors. Are they confident enough in Miranda and his defense (or the depth behind him) to commit as a full-time third baseman? Do they have other offseason plans, like signing Brandon Drury or Jose Abreu, that would negate any need for Urshela on the roster? Does the front office believe they could tender and trade him, to keep their options open?
I lean toward the last one, so I do think he'll be tendered. But it's far from a lock.