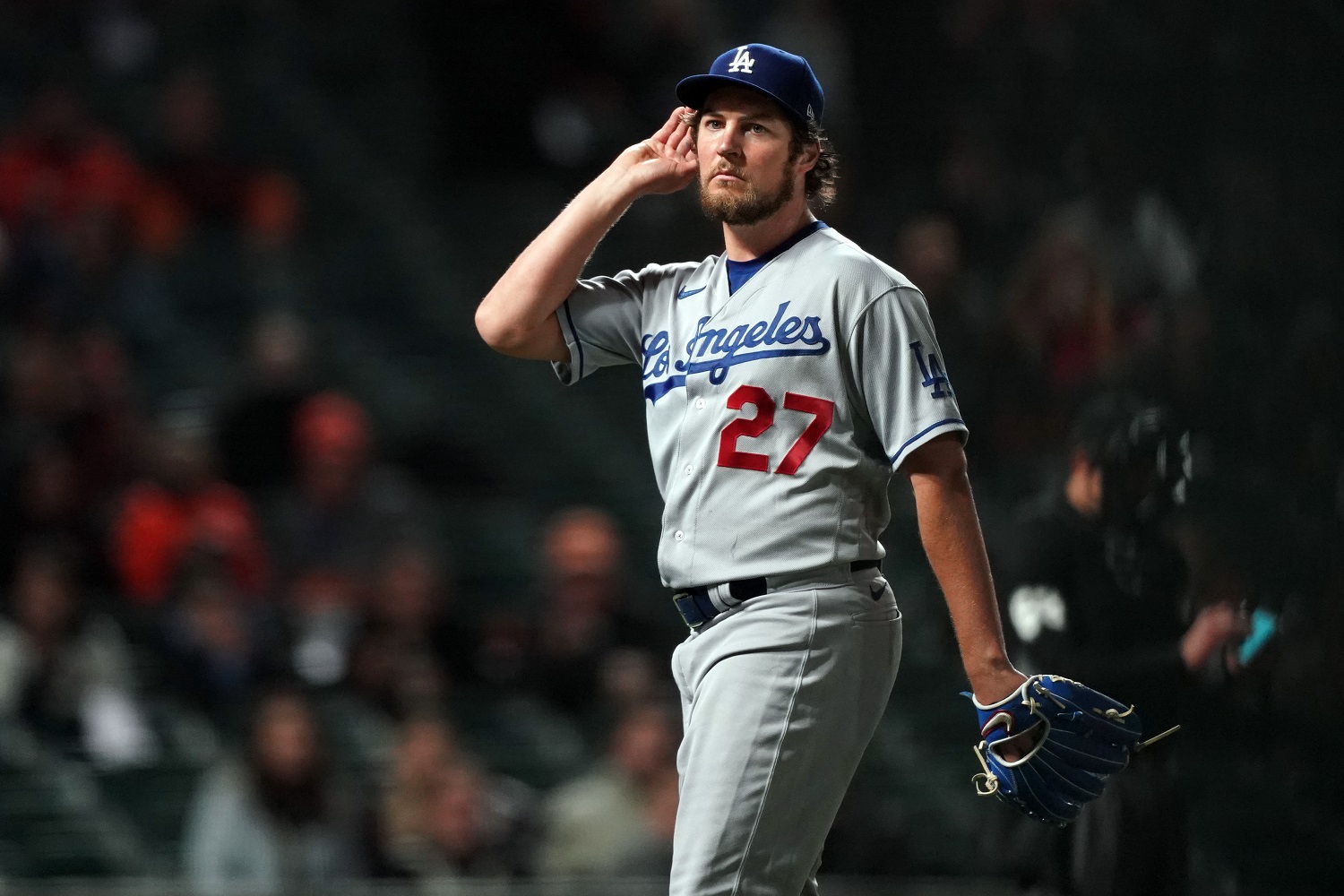 Image courtesy of Darren Yamashita-USA TODAY Sports
(Content warning: This story includes allegations of sexual assault that may be difficult to read and emotionally upsetting.)
Unwilling to entertain his presence on the team, the Los Angeles Dodgers still owe Bauer an additional $22.5 million for the 2023 season, making him officially free to play for any team interested in paying the league minimum salary ($720,000) to sign him. The Dodgers will be on the hook for the rest. Many fan bases across baseball have speculated on what he might bring for a rotation. However, no consideration of stats should erase the obvious: Bauer's presence on the Twins would be bad for the team, bad for fans, and bad for baseball.
Trevor Bauer signed as a free agent with the Dodgers in 2021 on a creative three-year deal. However, in July of that year, allegations of sexual misconduct came to light after a woman filed a restraining order that detailed two separate incidents. In his own legal filings, Bauer did not deny some of the particularly brutish details of the victim's injuries but claimed they were entirely consensual.
The Dodgers, acting slower than what many fans expected, placed Bauer on administrative leave pending a further investigation from MLB. During that process, the Washington Post published two separate stories following allegations that claimed similar violent behavior by Bauer during his time with Cleveland. 
After completing their own investigation, MLB announced a suspension of Bauer for violating the league's domestic violence policy – a record 324 days. Bauer appealed, and after a second extensive investigation by an independent and binding arbitrator, the sentence was reduced to 194 days, making him eligible to play at the beginning of the 2023 season. That sentence, however, was still noted as the longest in MLB's short history of domestic violence enforcement.
Although Bauer has disputed some of the facts of the original allegations, and the LA district attorney declined to file criminal charges, there are a number of other key elements to consider with the pitcher. He has been vocal on social media, attacking numerous media members and especially female-identifying fans, targeting them for harassment. He has voiced anti-Semitic conspiracy theories, attacked trans individuals, and generally brought negative attention to himself on a regular basis. Bauer was considered "MLB's most hated man" long before all of this transpired.
Through the allegations and investigations, Bauer has remained vocal in trying to put himself back in the spotlight and shown little to no remorse. In fact, he still has a case open for defamation against former beat writer Molly Knight for publishing details about the case (a similar suit against The Athletic was dismissed). Unlike other cases of players who served sentences and have at least done their best to center on the game, Bauer has demonstrated an interest in creating more hassle and negative media buzz for any team interested in bringing him aboard. In fact, in his statement about his release, Bauer poisoned the waters by claiming the Dodgers allegedly told him they wanted him to play for the team as late as the day before his release. 
Different from the "let the kids play" mentality of the younger generation of baseball players, he has also occasionally made a mockery of the game and sportsmanship, particularly an incident in Cleveland where he refused to give up the game ball and tossed it into the centerfield bleachers. Bauer relished playing the villain in the Dodgers uniform and doing everything to make opposing fans boo him. Stories quickly arose after Bauer's suspension from teammates in Los Angeles who felt his negativity not just on the field but within the clubhouse. At least one Dodgers pitcher—former Twins prospect Brusdar Graterol—almost immediately liked the Dodger's Instagram post announcing the release.
Twins fans already saw what happens when one player tries to make themselves an MLB villain a few years ago with the signing of Josh Donaldson. Though he played two above-average seasons for the Twins, the apparent animosity he created between himself and other players no doubt did not bode well during their frustrating 2021 season. Although never openly stated, the discussion of "better vibes" in 2022 from a number of Twins players became quickly clear that many felt the trade with the Yankees was for the better. Bauer's laundry list of behaviors would be a more extreme version of Donaldson in a Twins clubhouse. 
Most importantly, Bauer's signing would show a sign of entire indifference toward a wide swath of Twins fans. For many Dodgers fans, Bauer in a uniform demonstrated the worst of MLB's attitude toward an entire gender of fans of baseball, at a time in which the growth of female fans has pointed a better direction for the sport. The fact the Dodgers took a month to decide what should have been obvious was a blow to fans frustrated at the team's callous care toward payroll or winning. As Ken Rosenthal pointed to in his own column on the subject, "Some decisions, though, are so necessary, so important, they should not require much thought."
It's hard to ever think baseball will ever love you back, but there's at least a version without Trevor Bauer's hands bringing both old and likely new behavior behavior to Minnesota. No matter the value he might bring on the mound, Trevor Bauer is not worth it.