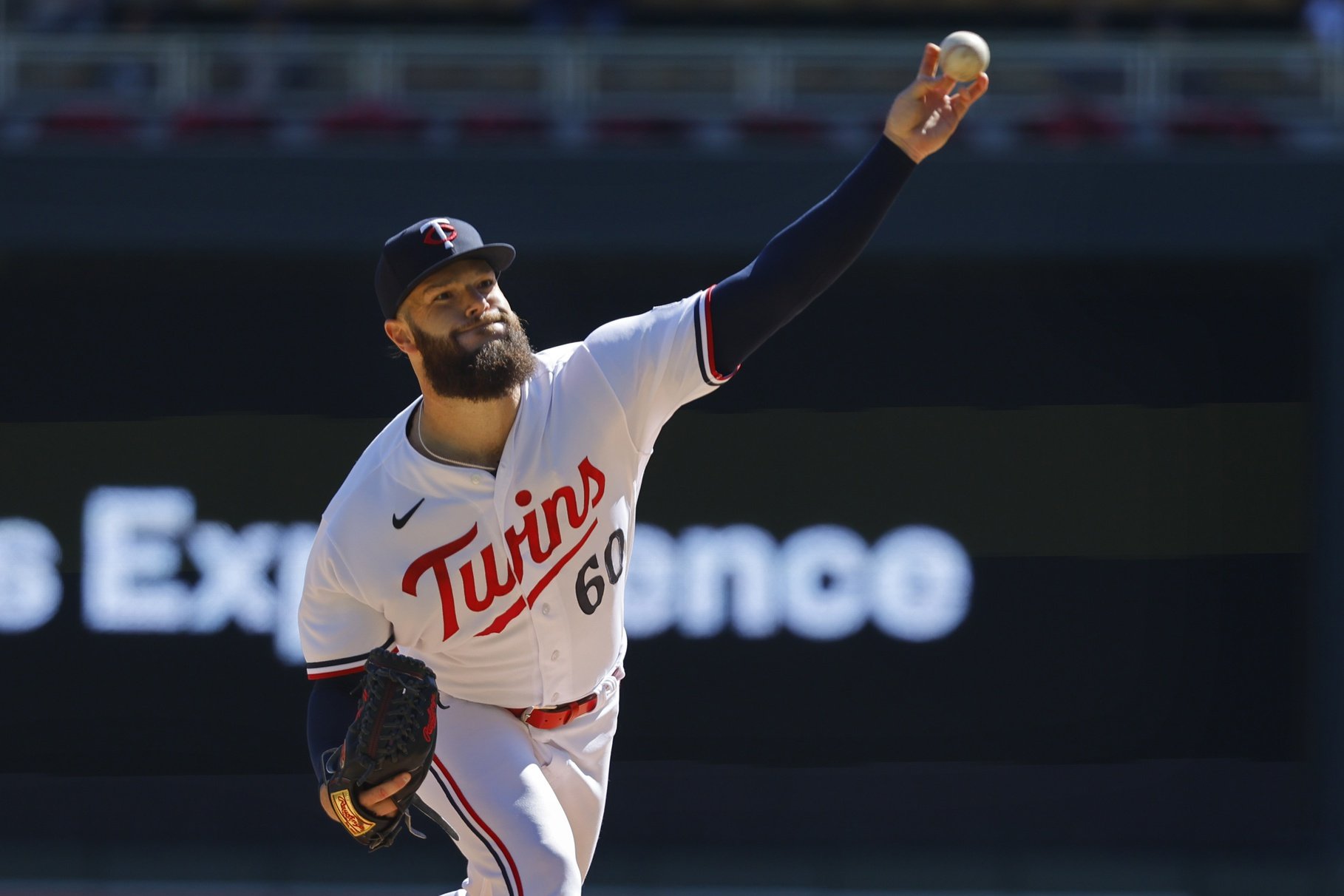 Image courtesy of Bruce Kluckhohn-USA TODAY Sports
Box Score
Starting Pitcher: Dallas Keuchel, 4.0 IP, 6 H, 4 R, 4 ER, 3 BB, 3 K (78 pitches, 47 strikes, 60.3%)
Home Runs: Matt Wallner (12), Kyle Farmer (10)
Bottom 3 WPA: Griffin Jax (-.306), Dallas Keuchel (-.282), Royce Lewis  (-.181)
Win Probability Chart (via FanGraphs)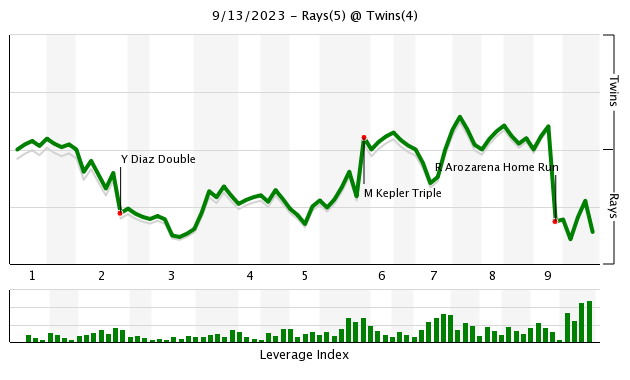 Keuchel gives up four early runs
Things looked really promising for Dallas Keuchel to begin this game, as he got two quick outs on only six pitches. He got Yandy Diaz, Tampa Bay's leadoff hitter, to strike out with a couple of nasty swings and misses, including an 80.1 mph changeup that called Rob Friedman's attention. But that was pretty much all the "Vintage Keuchel" Twins fans would witness, as things took a turn for the worse.
Not only did Keuchel stop missing bats, but Rays batters also began barrelling his pitches. He didn't give up a run in the top of the first, surrendering merely a two-out double, but in all three times Tampa Bay's hitters got to make contact during that inning, it was hard contact – nothing below 97.5 mph exit velocity.
The Rays scored three runs in the top of the second. Curtis Mead led off the inning with a triple that left his bat at 100 mph, then scored on a fielder's choice a couple of at-bats later. Tampa Bay continued to push, and with two on and two outs, Díaz got his revenge on Keuchel by hitting a long double to deep center to score both runners.
With the Twins offense not putting up a big fight, Tampa Bay managed to add on in the top of the third. Keuchel gave up a one-out walk to Isaac Paredes, who scored on the next at-bat on another Mead extra-base hit, an RBI double, making it 4-0 Rays.
Twins tie it up, both starters depart the game
Minnesota couldn't get anything going in the first two innings of the game, being limited to a lone walk. But things quickly changed in the bottom of the third. Matt Wallner jumped on the first pitch he saw to crush a leadoff home run to deep center, putting the Twins on the board. Kyle Farmer was exactly as aggressive and also took Taj Bradley deep in the next at-bat.
The Twins continued to threat in the same inning, with Jorge Polanco smacking a one-out double, but Bradley managed to put the fire away. After Keuchel delivered his first 1-2-3 inning of the afternoon in the top of the fourth, the offense took one more shot at Bradley in the home half, with Ryan Jeffers hitting a one-out double. This time, though, the Twins were unable to capitalize.
Keuchel returned for the fifth, but his day was over before he could record an out. Harold Ramírez hit a leadoff single, which was followed by a walk from Paredes. Rocco Baldelli decided to pull him and bring in Dylan Floro, who successfully took care of the mess on 13 pitches. Fortunately for the Twins, Keuchel wouldn't be the only starter to depart the game in that inning.
The bottom of the fifth began tremendously well for Minnesota, with Farmer making Bradley fight hard for a strikeout after a 16-pitch at-bat. The Twins went on to draw back-to-back walks, then both runners moved up on a wild pitch. Bradley was pulled after getting the second out, but it was no use: against reliever Jake Diekman, Max Kepler hit a triple to right to drive in both runners and tie the game.
The bullpen looks great… for the most part
Floro did a great job not allowing his two inherited runners to score in the fifth. But Emilio Pagán, who took over after him in the sixth, was perhaps even more impressive. He delivered two scoreless frames after retiring the side on 15 pitches in the sixth and surviving a jam in the seventh. Díaz and Randy Arozarena opened the inning with back-to-back singles, but Pagán was able to retire the next three batters on eight pitches to end the rally.
Caleb Thielbar tossed a scoreless eighth on Tuesday night's win, and he was brought into this game to make his seventh appearance on no day's rest this season. Not only was he trying to keep this a tied game, but he would also try to preserve his 0.00 ERA pitching on back-to-back days this season. Spoiler alert: he did a phenomenal job! He retired the side on 17 pitches, closing out the inning with an absolutely filthy 71.5 mph curveball for a punchout.
Then, it was Griffin Jax's turn to keep the Rays from scoring in the top of the ninth. Things started out great for him, who retired the first two batters on only six pitches. But when Arozarena stepped up to the plate, Jax was doomed. His command was a little off, and Arozarena got ahead 0-2. Jax managed to even the count, but a couple of pitches later, the Rays' outfielder crushed him for a third-decker, making it 5-4 Tampa Bay. Jordan Luplow worked a one-out walk in the bottom of the ninth to make things interesting. Andrew Stevenson came in to pinch-run for him, and he stole second. But ultimately, it was no use, as the Rays bullpen held on tight.
Postgame interview
What's Next?
The Twins head to Chicago, where they'll start a four-game set against the White Sox. The series opener is scheduled for 6:40 pm CDT on Thursday (9/14) at Guaranteed Rate Field. Chicago's starting pitcher has yet to be determined, while Kenta Maeda (4-7, 4.65 ERA) is expected to take the mound for Minnesota.
Bullpen Usage Spreadsheet
| | | | | | | |
| --- | --- | --- | --- | --- | --- | --- |
|   | SAT | SUN | MON | TUE | WED | TOT |
| Varland | 20 | 0 | 0 | 31 | 0 | 51 |
| Floro | 11 | 0 | 24 | 0 | 13 | 48 |
| Headrick | 0 | 0 | 47 | 0 | 0 | 47 |
| Jax | 0 | 24 | 0 | 0 | 16 | 40 |
| Winder | 0 | 0 | 38 | 0 | 0 | 38 |
| Thielbar | 10 | 0 | 0 | 11 | 17 | 38 |
| Pagán | 0 | 0 | 0 | 0 | 29 | 29 |
| Funderburk | 15 | 0 | 0 | 0 | 0 | 15 |
| Durán | 0 | 0 | 0 | 10 | 0 | 10 |