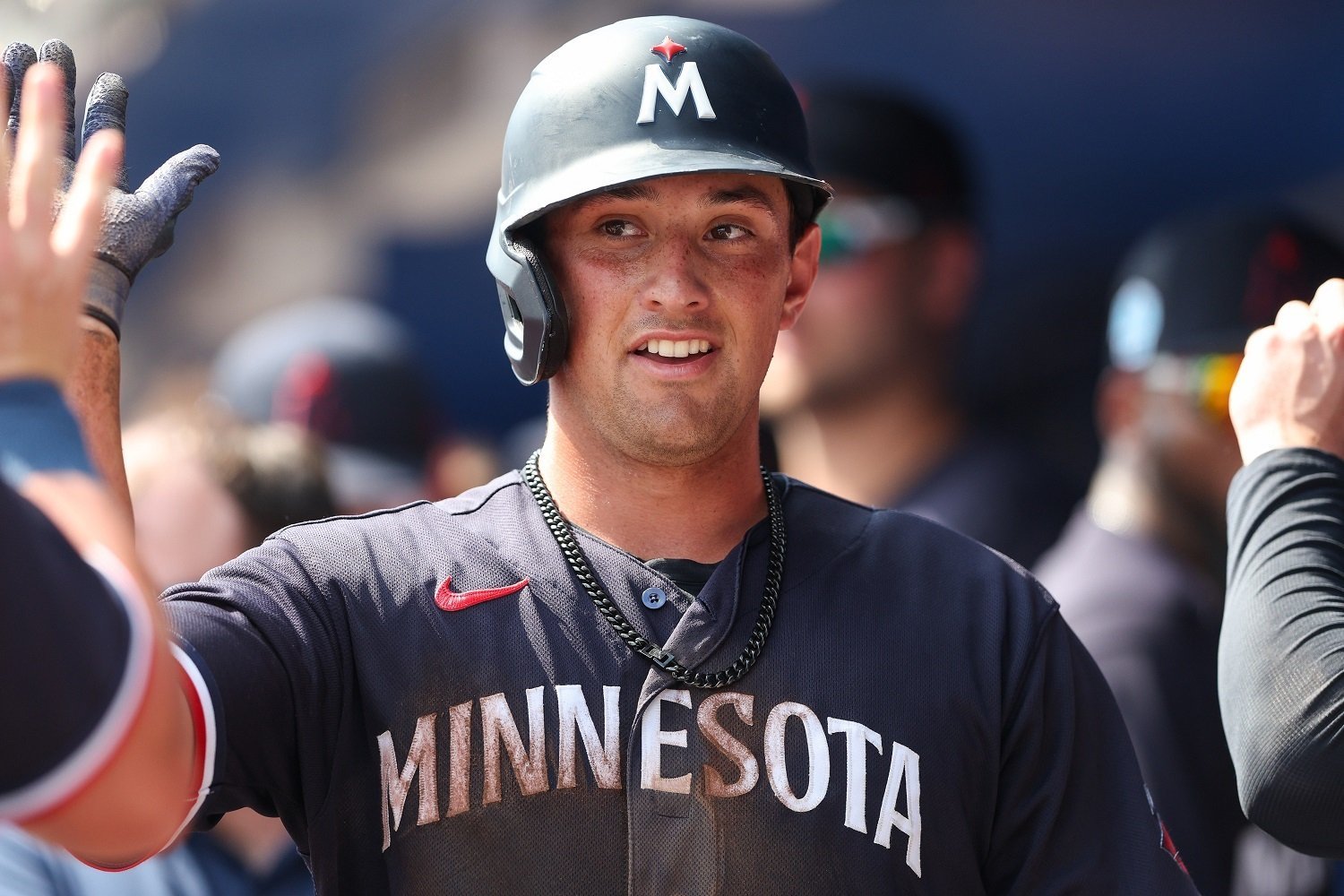 Image courtesy of Nathan Ray Seebeck-USA TODAY Sports
Pump the brakes on Brooks Lee. For that matter, the same applies to Austin Martin, Yunior Severino, Jair Camargo, Chris Williams, and DaShawn Keirsey. Lee is the third baseman of the future, hopefully. Martin, Severino, Camargo, Williams, and Keirsey will all likely appear in games for the Twins at some point during 2024, but we don't need to put the cart before the horse.
The Twins have a number of decisions to make with an already crowded infield, a questionable mix at first base, a backup catcher making $10 million in both 2024 and 2025, a hole in centerfield, and an unclear budget for making additions. Many of the aforementioned names could be written in as key contributors in those spots.
However, none of those players are beating down the hatches. Lee has 60 games at AAA with a mediocre August and a solid September. Martin similarly has 59 games and one outstanding month in St. Paul. Severino and Keirsey have even less than that. Williams and Camargo are both in their mid-20s coming off great offensive years, but they still haven't gotten a single plate appearance in MLB.
None should be the answer to any question at the beginning of 2024. It would put the Twins in a very difficult spot. If Martin or Keirsey are your personal long-term answer in center field, you're welcome to that. You might see Camargo as a long-term backup catcher, replacing Vazquez.
Forcing that to happen in March is a problem.
The recent success of rookies Royce Lewis, Edouard Julien, and Matt Wallner has been incredible, but it's important not to expect that level of production to be the norm, even for prospects at the top of organizational rankings. It's not normal. Their success was exceptional. They themselves may struggle to find the same level of success going forward.
So often prospects, even those who are hyped and go on to have great careers, struggle in their early stints. Names like Torii Hunter or Michael Cuddyer come to mind, struggling for years to find their footings before becoming mainstays in the Twins lineup for a decade.
Other prospects don't manage to get their footing at all, such as more recent examples like Stephen Gonsalves, Alex Meyer, Oswaldo Arcia, or Joe Benson. It's difficult to project success, even in players at the upper levels of the minor leagues.
Both Jose Miranda and Trevor Larnach have shown flashes of being very good players, but they have also gone through extended stretches that cast a cloud over their long-term outlook—and both were Opening Day starter in 2023. If that's not the organization showing a reliance on them, I'm not sure what is.
Fortunately, Miranda and Larnach were able to be replaced by Lewis and Wallner, respectively, but it would be foolish to assume that that outcome was always a given. What if the team didn't open the season with Lewis and Wallner in reserve as alternative options? What if they were going to sink or swim with Miranda and Larnach?
They would have been in trouble. Likewise, starting 2024 with upper minors depth in key roles is asking for the same.
The Twins clearly have a philosophy in this type of situation, and it's probably the right one—they want depth. That's exposed in the acquisitions of players like Michael A. Taylor, Joey Gallo, and Donovan Solano. Granted, not all of these types of acquisitions are beneficial, but that's kind of the point.
They want options.
Do those options sometimes block our favorite prospects on the depth chart? Sure. But it also allows those prospects to be a short-term backup plan, protecting them and the team. Blocking prospects is the cost of bringing in big league depth.
Beginning the year with some sort of big leaguer in those roles ensures better talent is in the organization. Those same big leaguers wouldn't take a minor league deal to serve as a backup to the prospects. The decision is effectively between bringing in an MLB veteran and having a top prospect as a backup or having a top prospect with a minor league veteran as a backup plan.
One of those plans has a better rate of success. It's risky business trusting a big league role to someone who's never seen an MLB pitch, and it can go wrong in any number of ways, be it performance or injury. Sure, the MLB veteran could struggle or get injured too, but it's much more comforting to be able to turn to a top prospect than a career minor leaguer in that event.
If any of the aforementioned players do break camp with the team, it's not the end of the world. They all have the potential to be competent pieces at minimum. It just shouldn't be what any of us are clamoring for. They'll be here when it's time. Right now, the Twins have a division to win.