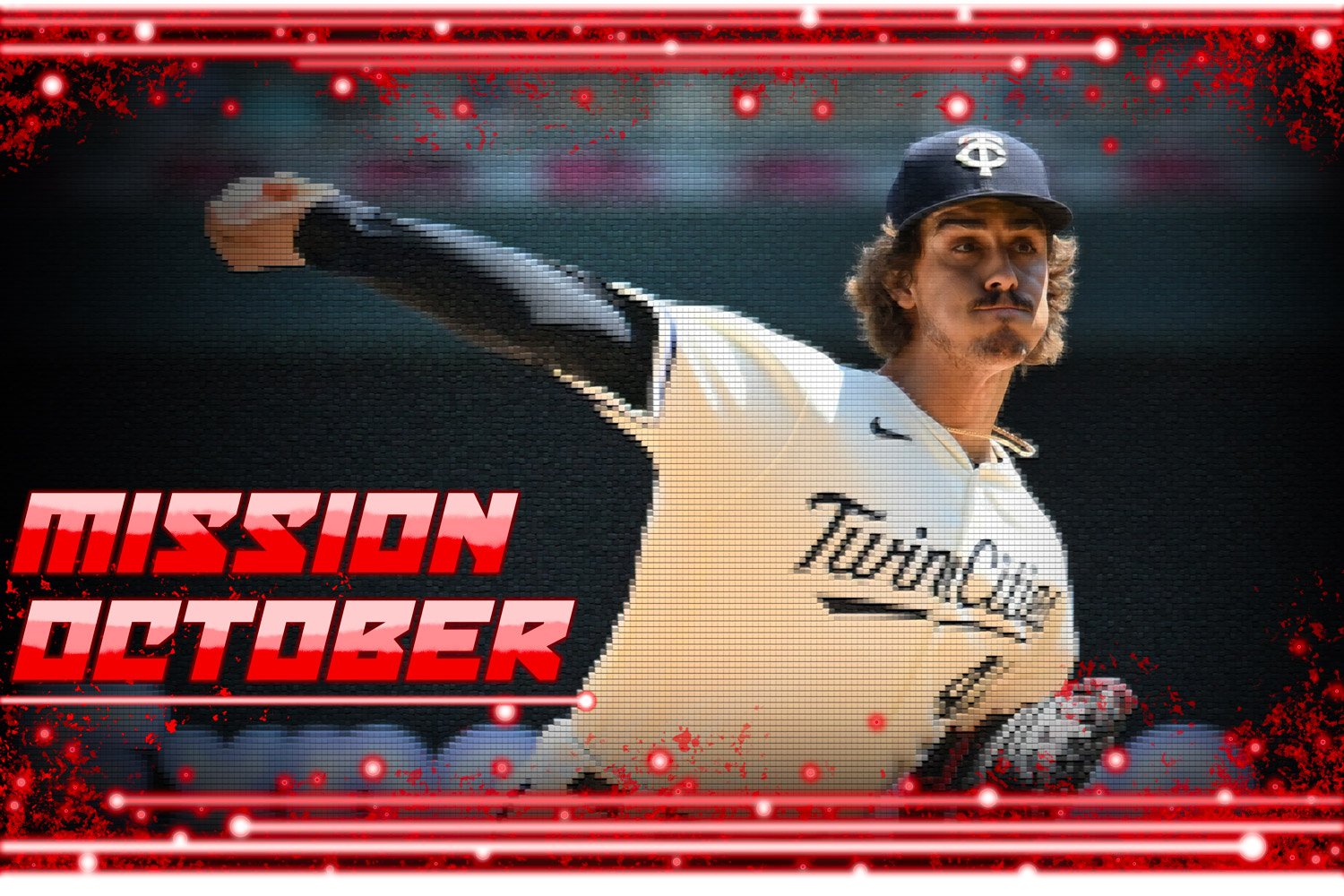 Image courtesy of Brock Beauchamp & Twins Daily
After giving up seven earned runs on August 2 against the St. Louis Cardinals in Busch Stadium, many thought something was wrong with Twins starting pitcher Joe Ryan. Why is he regressing so quickly? Has he lost his touch? Have hitters figured him out? Many ruminated, but very few knew why Ryan was struggling until it was announced on August 3 that he would be heading to the 15-day IL with a left groin strain. 
Upon Ryan's placement on the 15-day IL, those who follow the Twins soon found out that Ryan sustained the injury while stretching before pitching against the Atlanta Braves on June 27.
Ryan hid his injury from the Twins and subsequently went on to have the worst stretch of his young Major League career. Over the next seven starts after injuring himself while stretching, Ryan gave up 48 hits, ten walks, 17 home runs, and 31 earned runs over 32 1/3 innings pitched and 157 total batters faced. 
Ryan's injury greatly affected his ability to pitch, and while publicly endeavoring through injury to help the team is typically admirable (i.e., Carlos Correa and his bout with plantar fasciitis), hiding an injury while you and your team suffer is anything but.
Nonetheless, the Twins finally got an answer for Ryan's struggles. Although the reason behind Ryan's struggles was unexpected, the team and Ryan could march forward knowing what was wrong and how to address it appropriately.
In the 24 days between starts for the Twins, Ryan made one rehab start for the Triple-A St. Paul Saints on August 18, allowing one earned run on one hit, a home run, over four innings pitched. Ryan also walked two batters and struck out seven. 
During his rehab start, Ryan had appeared to regain his pre-injury form, and the Twins reinstated him from the 15-day IL on August 26 to make a start at Target Field against the Texas Rangers. 
In Ryan's return from the 15-day IL, he pitched five innings, allowing one earned run on a one-run home run to former Twin Mitch Garver and five hits while walking two and striking out seven over 20 total batters faced. 
In Ryan's start against the Rangers, he generated an average Exit Velocity (EV), which is the ball's speed as it comes from the hitter's bat, of just 86 mph over 11 batted balls. To put this into perspective, the league average for EV off starting pitchers is 89 mph, so Ryan generated three mph less than the league average. 
Although this finding was encouraging, labeling Ryan as "back" after just five successful innings would be inappropriate. Luckily, Ryan has made three more starts since his initial return from the 15-day IL, and the FanGraphs Statcast numbers are encouraging. 
To begin, it is essential to set a performance standard, so here are Ryan's FanGraphs Statcast numbers from April 2 to June 22, also known as the time before he sustained his left groin strain. 
April 2 to June 22

 - 249 batted balls, 89 mph EV, 116 mph maxEV, 20.3-degree launch angle (LA), 11 barrels, 4.4% barrel%, 100 HardHit, and 40.2% HardHit%
Now that a performance has been set, here are Ryan's FanGraphs Statcast numbers from when he was pitching injured from June 27 to August 2 compared to when he returned from the 15-day IL on August 26 to September 12: 
June 27 to August 2

 - 92 batted balls, 92.4 mph EV, 113.1 mph maxEV, 22.4-degree LA, 16 barrels, 17.4% barrel%, 45 HardHit, 48% HardHit%

August 26 to September 12

 - 49 batted balls, 90.6 mph EV, 114.4 maxEV, 17.6-degree LA, five barrels, 10.2% barrel%, 17 HardHIT, 34.7% HardHIT%
Ryan has undoubtedly pitched better since returning from his left groin strain. While the idea of "regaining form" is subjective and hard to pin down since human beings and performance are fluid and static in nature, it appears Ryan has regained pre-injury form. 
Using the Fangraphs Statcast statistics provided above, Ryan's performance has improved by lowering his barrel% and HardHit% once again. 
Now, Ryan isn't back to his astounding 4.4% barrel% that he generated from April 2 to June 22, but he has lowered his HardHit% from 40.2% to 34.7%, which is encouraging. 
With other playoff starting options Kenta Maeda, Bailey Ober, and Dallas Keuchel either struggling at the moment or just not being playoff-caliber starting pitchers, Ryan's regaining of form has propelled him into being the Twins' third starting pitching option for the playoffs.
Ryan's performance over his next two or so starts will dictate whether this notion will sustain itself, but for now, Ryan looks to have returned to the debatably All-Star Game-worthy pitcher he was pre-injury. 
Do you think Ryan has solidified himself as the Twins' third starting pitcher for the playoffs? If not, who should be the Twins' third starting pitcher in the playoffs? Comment below.