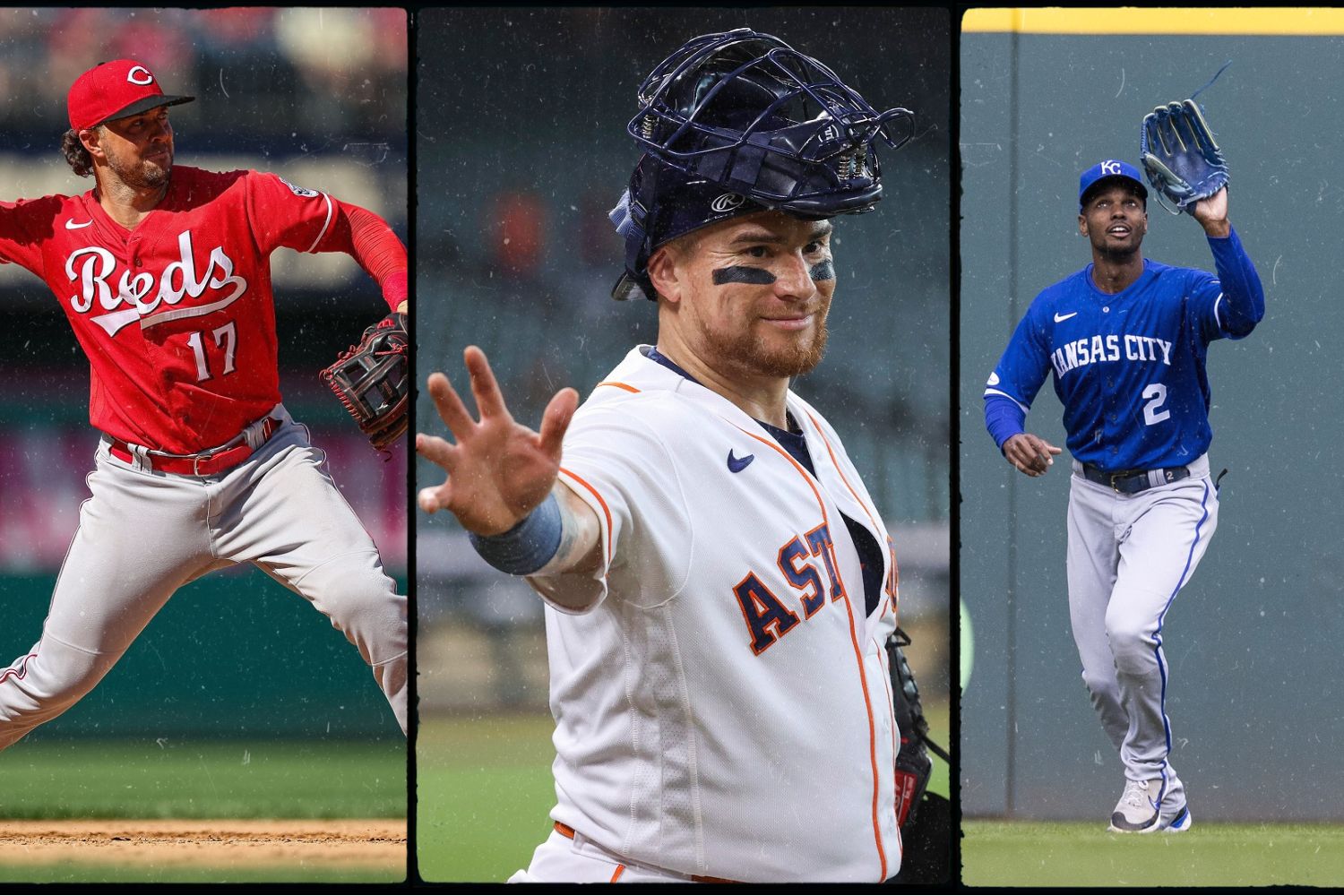 Image courtesy of Scott Taetsch, Troy Taormina, Scott Galvin –USA Today Sports
Reviewing the Twins offseason up to this point after a flurry of January activity, some notable trends and focal points emerge. In sizing up the front office's moves this winter, it strikes me that there was a clear intent to address six key areas that factored into last year's fade, starting with the biggest one: 
Better physical outcomes with a new head trainer.
One of the first moves the Twins made this offseason was replacing head athletic trainer Michael Salazar with Nick Paparesta, a reputed leader in the field who'd spent the past 12 years in Oakland with the A's.
It was a fitting top priority for the front office coming off a season that was completely wrecked by injuries, with unending recovery timelines and frustrating setbacks decimating the roster. The Twins were not a flawless team, as we'll cover below, but the level of physical attrition and number of days lost gave them no legitimate chance to hang on.
To a large extent, injuries are uncontrollable. Training staffs tend to become scapegoats in circumstances where sheer bad luck is the prime culprit. But that's the nature of the beast, and as bad as things got last year, it can't hurt to bring in a fresh – yet seasoned – perspective.
data:image/gif;base64,R0lGODlhAQABAPABAP///wAAACH5BAEKAAAALAAAAAABAAEAAAICRAEAOw==
Better pitching depth from the start.
The pitching staff was definitely hurt by injuries last year, but not to the same degree as the lineup. No, the problem with the Twins' pitching staff last year was more foundational: On Opening Day, they had Dylan Bundy and Chris Archer as members of the starting rotation. On Opening Day, they had Tyler Duffey, Joe Smith, Jharel Cotton, Jhon Romero, and Josh Winder – owner of zero major-league innings – all as part of the bullpen. 
This year the Twins will be much more structurally sound from the start on the pitching side. The return of Kenta Maeda, along with the acquisitions of Tyler Mahle and Pablo López, have surrounded Sonny Gray with a bevy of proven veterans. Joe Ryan and Bailey Ober, who both pitched very well last year, push the rotation to six deep, while Louie Varland and Simeon Woods Richardson have both proven ready to step in. Randy Dobnak is a wild card. 
On the bullpen side, Jhoan Durán emerged as a force last year while Caleb Thielbar and Griffin Jax are both coming off outstanding seasons. Jorge López, if he returns to form, can give the Twins an unparalleled 1-2 punch alongside Durán in the late innings. Jorge Alcalá is back after missing almost all of last year, joining middle-relief options like Trevor Megill, Jovani Moran, and Danny Coulombe. Your mileage may vary on Emilio Pagán but he's a high-upside piece they don't need to rely on.
I wouldn't be surprised to see another addition on the relief side (Michael Fulmer, come on down?), but as things stand, the 2023 Twins are in a much better position on pitching stability. 
Dynamic contingencies and depth in the position player corps.
If you want to stir up some bad memories, I've got a recommendation to fulfill your sadistic urge: go back and pull up a random Twins starting lineup from last August or September. The club's utterly ravaged position-player corps regularly left Rocco Baldelli submitting sad lineups with little hope to compete. 
Nick Gordon and Gio Urshela trading off at cleanup. Jake Cave and Mark Contreras starting against lefties. Gilberto Celestino hitting fifth or sixth, repeatedly. It was ugly, and something none of us want to experience again. The front office is doing everything it realistically can to prevent it.
Kyle Farmer and Michael A. Taylor are borderline starting-caliber players and top-shelf backups. They both provide experience, flexibility, and defensive prowess to help keep things chugging along in a variety of injury scenarios. The Twins are stacked with options in the corners and that's before you account for their prospects nearing readiness. 
Presently, it's kind of hard to see how someone like Gordon or Trevor Larnach is even going to find his way to steady at-bats. Things will change, as we know, but the Twins are well prepared for that eventuality. Even with their 2022 leader in plate appearances gone, Minnesota is very strong on depth across the board. 
Improved hitting against left-handed pitchers.
Southpaws were a perpetual pain point for the Twins last year, holding the team to a .240/.310/.391 overall slash line while regularly shutting down poorly optimized lineups. This owed partially to injuries, especially later on, but was also a result of poor planning. Kyle Garlick can mash lefties and is a nice piece to have on hand, but you don't want to be primarily dependent on him in that role as they were last year. 
This year, Garlick will likely open in Triple-A as ready-made depth for the same role. Meanwhile, the big-league club is significantly more balanced on the bench. Taylor could hardly be described as a "lefty masher" but he's solid against them, and should reduce the need for lefty-hitting outfielders to start against same-siders.
The big add here is Farmer, whose defensive flexibility will allow him to plug in all over and start against almost all left-handed pitchers, against whom he has a .288/.345/.492 career slash line (including .309/.380/.568 last year).
Run prevention via defensive improvements.
You might feel the Twins were not emphatic or aggressive enough in their approach to upgrading a pitching staff that ranked 14th in runs allowed and remains plagued by question marks. You'd have a fair point.
But the name of the game isn't pitching well – it's preventing runs. While performance on the mound obviously plays a major role, defense is also a big factor in this equation. The Twins weren't necessarily bad in this area last year, ranking 12th in the majors in Defensive Runs Saved thanks in large part to CF/RF, but they could stand to get better. 
In 2023, they're poised to field one of the best defensive units in the league. Buxton and Correa return as elite up-the-middle defenders, and are joined by glove-first catcher Christian Vázquez. Newcomer Joey Gallo adds a standout fielder to the corner mix. Max Kepler provides another top-shelf glove if he sticks around, and if he goes, Larnach's a very good defender in his own right. 
Alex Kirilloff is a superior first baseman to Luis Arraez (Gold Glove hub-bub aside), and we won't see Arraez's sub-par defense at second or third, which is a benefit through this lens. 
Even beyond the starting lineup, we find defensive strength in the Twins' depth. Taylor is a great center fielder whose range is elite in the outfield corners. Farmer is a capable shortstop who excels at the infield corners. Jeffers is a glove-first backup to a glove-first starter. 
Greater catching stability.
Speaking of Jeffers and Vázquez, the presence of these two puts the Twins in a much better position behind the plate than they were last year, when Minnesota backstops collectively posted a .629 OPS and just 1.8 fWAR. 
Dealing away Mitch Garver and Ben Rortvedt left the Twins woefully short on high-level catching depth. When Jeffers went down, they were forced to lean on Gary Sánchez as a starter before turning over the reins to no-hit veteran Sandy León after grabbing him from Cleveland's Triple-A club. 
Bringing in Vázquez makes a profound difference in this regard, giving the Twins two starting-caliber catchers to buttress against an injury to either. The addition of Tony Wolters on a minor-league deal also supplies the Twins with some experienced depth at Triple-A; Wolters has played more than 400 games in the majors, albeit only 16 since 2020.
Additions like Vázquez and Wolters might not be the most exciting, but like many of the other moves mentioned above, they had strategic underpinnings geared toward shoring up the weaknesses that brought down the 2022 Twins.