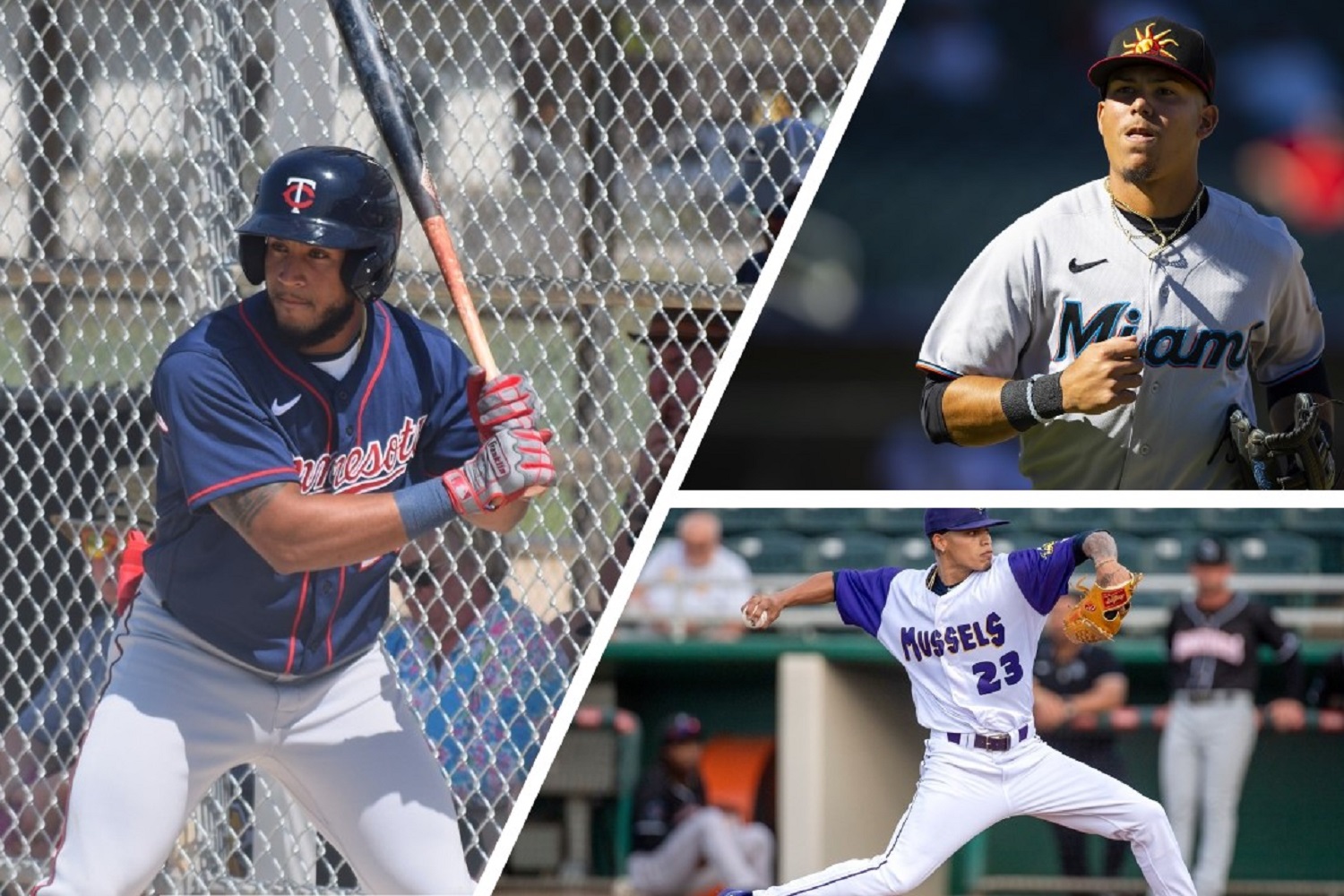 Image courtesy of Steve Buhr (Rodriguez), William Parmeter (Raya), Mark J. Rebilas-USA TODAY Sports (Salas)
Minnesota's farm system has some strong players at the top, but not all of them will still qualify as prospects over the next two years. Last year at this time, I projected the team's top-5 prospects entering the 2024 season, and so far, those rankings are doing reasonably well. A lot can happen in one year for a team's farm system, so who will be the Twins' top prospect in 2025? 
1. Emmanuel Rodriguez- OF
Current TD Ranking: 3
ETA: 2025
Rodriguez topped this list at the same point last season, and he's only solidified his prospect status over the last year. He's a Top-100 global prospect, and there was a good chance he would have moved higher on the list if he hadn't been injured last season. He has one of the best power bats in the Twins system, and there is a chance he will move into the top 10 on national prospect lists with another strong year. During the 2023 season, Rodriguez should spend most of the year at High-A, where he will be younger than the average age of the competition. He should be on track to debut in 2025 if he continues on his current development path.
2. Marco Raya- SP
Current TD Ranking: 4
ETA: 2025
Raya has pitched 65 innings in his professional career, but Baseball Prospectus has him ranked as baseball's 53rd overall prospect. He was three years younger than the average age of the competition at Low-A last season while posting a 3.05 ERA and a 73-to-23 strikeout-to-walk ratio. He has one of the highest ceilings of any pitching prospect to come through the Twins system in quite some time. However, he is a long way from Target Field, and a lot can go wrong with a pitching prospect on their way to the big leagues. Raya can be the team's top prospect entering next season if he puts together even better numbers at High-A. 
3. Connor Prielipp- SP
Current TD Ranking: 7
ETA: 2024
Prielipp is one of the most intriguing pitching prospects in the Twins system, even though he has yet to make his professional debut. He was in the conversation for being selected near the top of the 2022 MLB Draft, but he fell to the second round after undergoing Tommy John surgery. He pitched in pre-draft workouts leading into the draft so teams could see how his rehab was progressing. MLB.com already has Prielipp ranked as the team's top pitching prospect. There is no reason to rush him next season, but there is a chance he will pass Raya over the next two years. 
4. Jose Salas- INF
Current TD Ranking: 8
ETA: 2025
Salas was one of two prospects in the Pablo Lopez and Luis Arraez trade earlier this winter. He was considered one of the Marlins' top prospects at the time of the trade. Last season, he hit .250/.339/.384 (.723) with 20 doubles, four triples, and nine home runs in 109 games. He only had one at-bat versus a younger pitcher last season, and Miami sent him to the Arizona Fall League as a 19-year-old. He likely spends most of the year in Cedar Rapids with a chance to reach Double-A by the season's end. 
5. Yasser Mercedes- OF
Current TD Ranking: 12
ETA: 2026
Mercedes was one of the top international prospects available during the 2022 signing period, and he showcased his skills during his professional debut. Minnesota sent him to the Dominican Summer League, and he hit .355/.421/.555 (.975) with 13 doubles, three triples, and four home runs in 41 games. He was also a threat on the bases by going 30-for-35 in stolen base attempts. It seems likely for him to make his stateside debut in 2023, and he could have an Emmanuel Rodriguez-style breakout if everything goes well. 
The Twins have a top-5 draft pick in 2023, so that player will also likely be in the mix to be at the top of this list. Who do you think will be the team's top prospect in 2025? Leave a COMMENT and start the discussion.