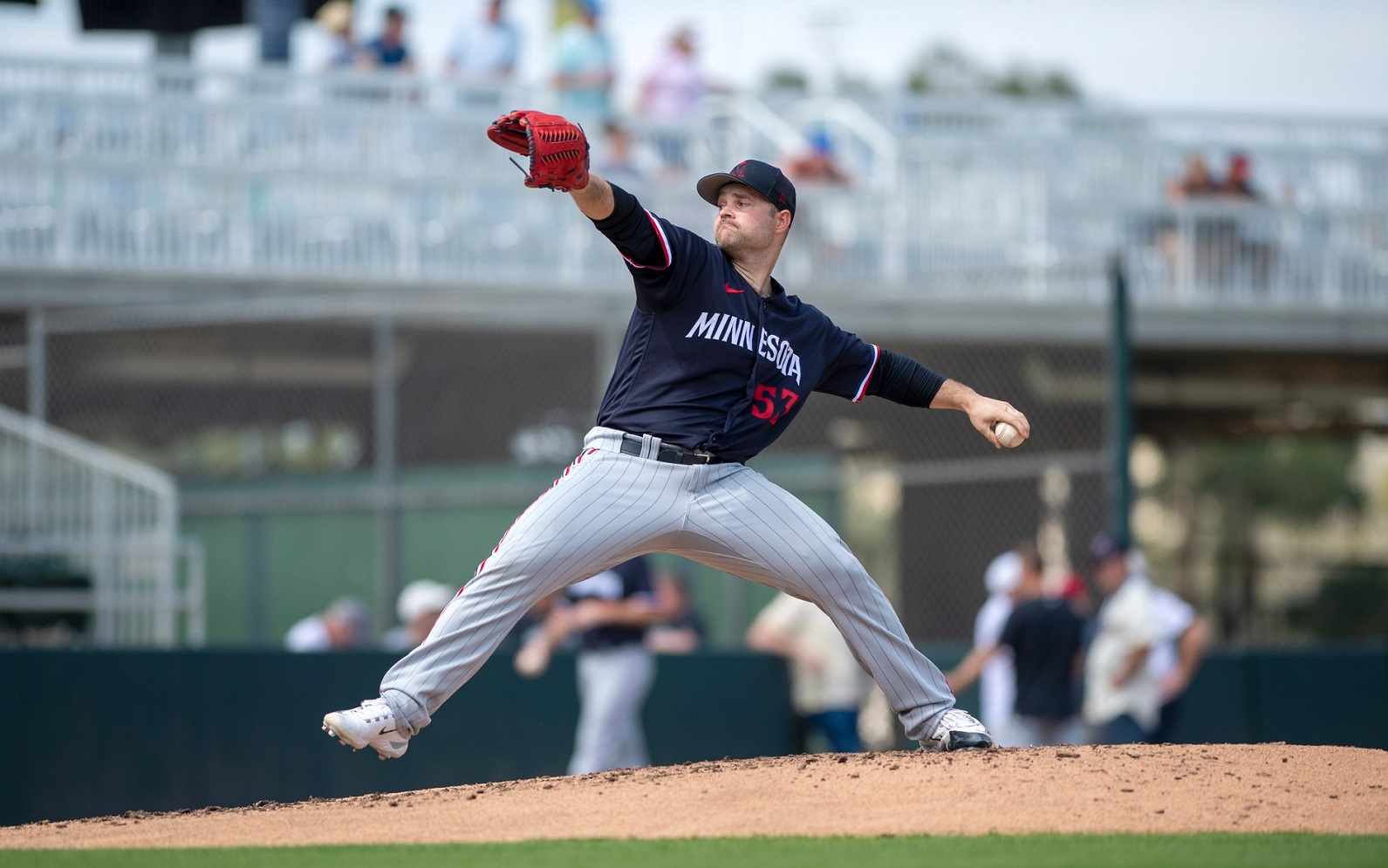 Image courtesy of William Parmeter
One thing that the Twins have added to their organization this past offseason is depth, and depth all over the diamond. That included left-handed relief pitching, at least until Monday afternoon. 
As Darren Wolfson first reported, the Twins have lost veteran Danny Coulombe to the Baltimore Orioles. 
data:image/gif;base64,R0lGODlhAQABAPABAP///wAAACH5BAEKAAAALAAAAAABAAEAAAICRAEAOw==
Coulombe had a tremendous spring for the Twins again this year. He struck out 13 batters over ten innings and gave up only an unearned run. However, with lefties Caleb Thielbar and Jovani Moran around, Coulombe was reassigned to minor-league spring training on Sunday. He deserves to be in the big leagues, so in reality having an arm like that at Triple-A provided the organization with depth. 
According to Orioles' beat writer Dan Connolly, Coulombe was able to opt out of his Twins deal if there was "a team willing to give him a 26-man roster spot. And it appears the O's are willing to do so."   
data:image/gif;base64,R0lGODlhAQABAPABAP///wAAACH5BAEKAAAALAAAAAABAAEAAAICRAEAOw==
The O's will have to make a move. It was announced that former Twins farmhand Tyler Wells would be in the Orioles' starting rotation rather than the bullpen. 
data:image/gif;base64,R0lGODlhAQABAPABAP///wAAACH5BAEKAAAALAAAAAABAAEAAAICRAEAOw==
Because of the agreement, when Coulombe and his representatives learned that the Orioles were interested, they were able to opt-out. In other words, the Twins will not receive any compensation in return for Coulombe. 
In addition, it is assumed that right-hander Jeff Hoffman will invoke the opt-out clause in his contract on Tuesday and become a free agent. Hoffman, who signed as a minor-league free agent just a month ago, flashed a strong fastball in his outings, but he was reassigned to minor-league camp last week. 
That potentially means two veteran relievers with a lot of big-league service time lost. However, that doesn't mean that the Twins are in a bad place in terms of depth. Cole Sands is starting the season as the long reliever (pending any deals, of course). Josh Winder and Ronny Henriquez will start the season on the Injured List but could be ready for a bullpen role in the near future. Trevor Megill is at Triple-A as are non-roster options such as Jose De Leon, Randy Dobnak, Austin Schulfer, Aaron Sanchez, Oliver Ortega, Brock Stewart, Patrick Murphy, Dereck Rodriguez, Blayne Enlow, and several of the starting pitchers in Triple-A if needed. As for left-handers, the options would include Sean Nolin and Jordan Brink, as well as a sleeper contributor for 2023 (in my opinion), Kody Funderburk. Brent Headrick could get bullpen looks if needed. 
Two tough losses, but depth is good. And frankly, Jovani Moran needs to get this opportunity. If you are looking for any positives to this transaction, I guess it could be that after the next Gleeman and the Geek episode or two, we won't have to hear the Twins Geek mispronounce his last name anymore. #LittleThings
What are your thoughts on the loss of Danny Coulombe, and potentially Jeff Hoffman too? Leave a COMMENT below.