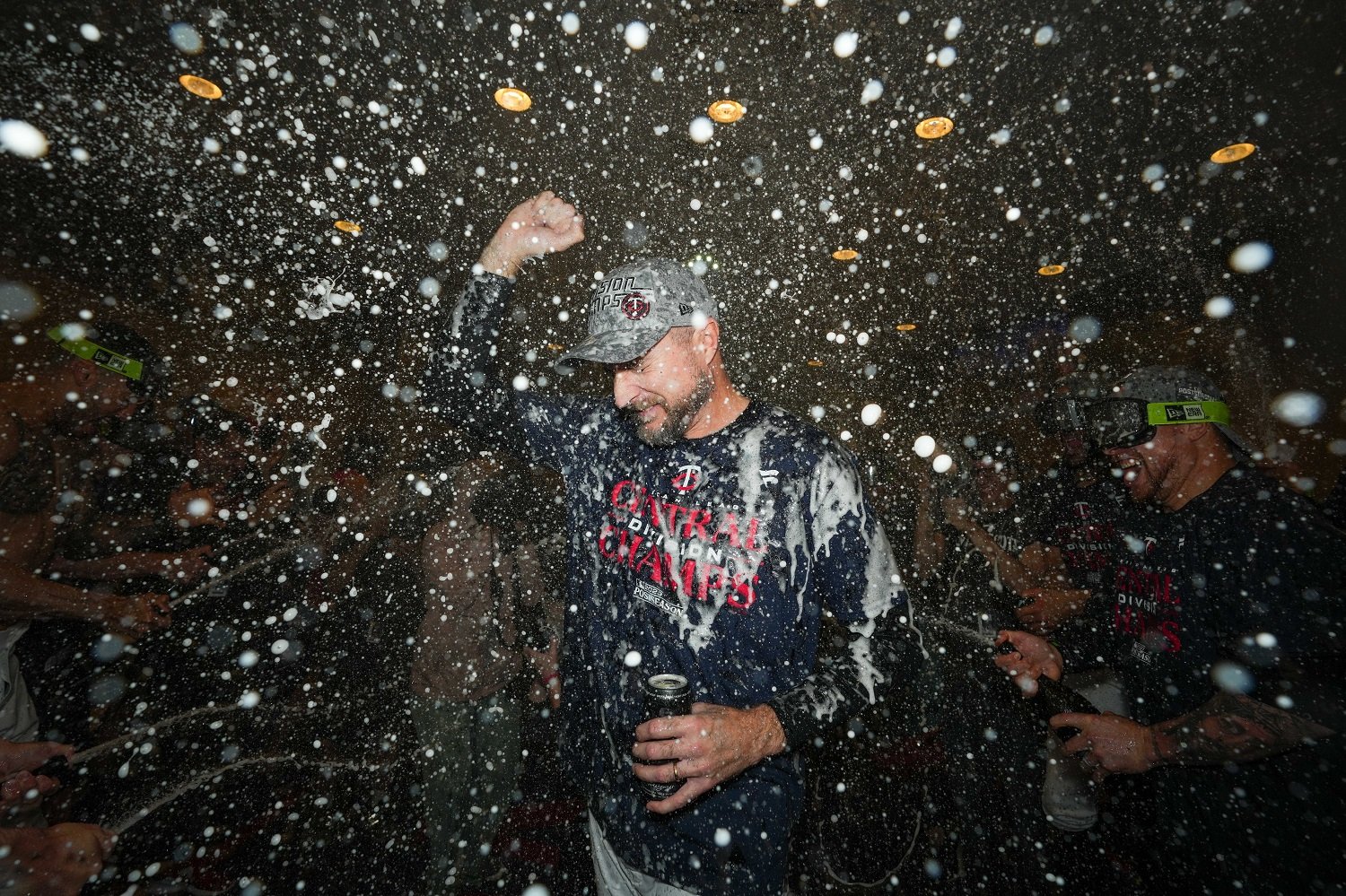 Image courtesy of Jordan Johnson-USA TODAY Sports
Box Score
Pablo López: 6 IP, 5 H, 3 ER, 1 BB, 7 K
Home Runs: Alex Kirilloff (10)
Top 3 WPA: Kyle Farmer (.165), Alex Kirilloff (.147), Louie Varland (.094)
Win Probability Chart (via FanGraphs)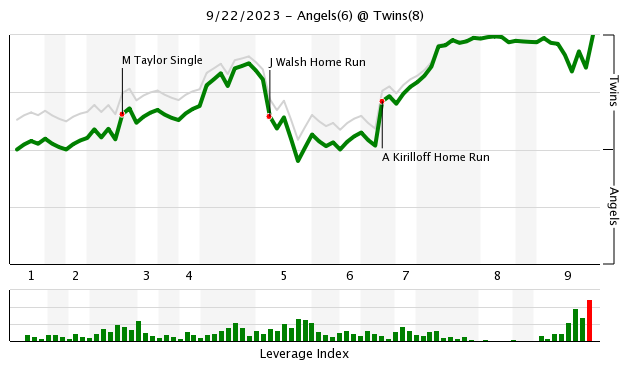 It was perhaps the most raucous night in Target Field history. With a playoff magic number down to 1, the Twins no longer had to TV-watch in the hopes that some other team could help their fortunes; they now commanded the situation, making a potential victory on Friday a clinching occasion. 
And, it was fitting that the man looking to lead Minnesota was the starter they acquired in an eternally controversial trade.
Pablo López appeared dominant. He diced through the Angels early, either eliciting a strikeout or a groundout as LA's hapless lineup fell over themselves with glee to get out. They were caught looking; they went down swinging. Even the one time they got on base was a 70 MPH lazy fly too lethargic to reach an outfielder. In every sense, they were overwhelmed. 
Minnesota's offense, however, was energetic. From the beginning, there was a buzz surrounding their bats, fueling them; firing them up even after a quiet 1st. 
Silent no more, they took an inevitable lead when Michael A. Taylor shot a single into center field.
So they added on in the 4th; Willi Castro blasted a triple out to left, and he would eventually be knocked in… with a walk. Unusual as it was, LA's new bulk man—Davis Daniel—couldn't find the strike zone if Vegas-style neon signs guided him to the plate. Balls begat walks; walks begat runs. Matt Wallner plated a run with a free pass before Alex Kirilloff knocked in a second one with a sacrifice fly. The three-run lead seemed a fortress. 
A baseball game can turn quickly, though, and an Angels offense that seemed impotent and stale suddenly turned. Jo Adell walked, setting up Jared Walsh to punish a López fastball thrown into the heart of the plate. If that were it, Minnesota would have still claimed the lead; but LA tacked on, riding López's sudden lack of command for a trio of singles, turning the game tied when Nolan Schanuel's opposite-field single fell safely into left. 
It was a sudden shock to the Twins' system. The team appeared so in control of the game but found themselves tied with a squad only competent in half an inning.
While Minnesota couldn't answer in the 5th, they did in the 6th; Alex Kirilloff plastered a high-and-tight fastball deep enough into right to clear the overhang. The Twins had the lead again. 
It soon became a bullpen game. López fires off a scoreless 6th, giving way to the relief buzz saw that is Louie Varland in the 7th. He barely broke a sweat with a perfect inning. 
Instantly cooling was a breakthrough 8th—the kind of frame that decides the game and puts a manager at ease. Minnesota pummeled Jhonathan Diaz, sticking four runs on the lefty through a variety of methods. Most notably: yet another bases-loaded situation that turned into bonus runs. 
(This is quite the game to give a detailed playback if you didn't notice).
Somehow the runs didn't discourage the Angels, though, as they struck back in the 8th with a two-run shot to slice the lead to three—making Jhoan Duran the likely candidate to end the game.
If you thought that would be it, then you don't know Twins baseball.
Duran indeed entered the game, but he soon labored. The strike zone was nebulous; his control sparse. He struck out the opening batter before entering into a prolonged Cold War, walking and allowing singles with un-Durian flair. Finally, after throwing God knows how many pitches, Duran coaxed the game-winning groundout, fielded by Edouard Julien, and transforming the Twins into the 2023 AL Central division champions. 
Notes:
Alex Kirilloff's homer gave the Twins 12 players with at least 10 homers on the year, a club record (the 2019 team had 11; Jake Cave was two away from being the 12th). 
Minnesota's 10 walks on Friday give them 557 on the year, good for the 12th most in franchise history. 
Pablo López's seven strikeouts pushed his season total to 228, tied with 1972 Bert Blyleven for the 9th-most in team history. 
Post-Game Interview:
What's Next?
The Twins and Angels will play the second game of their weekend series on Saturday; Sonny Gray will take the mound with first pitch coming at 12:10 PM.
Bullpen Usage Spreadsheet