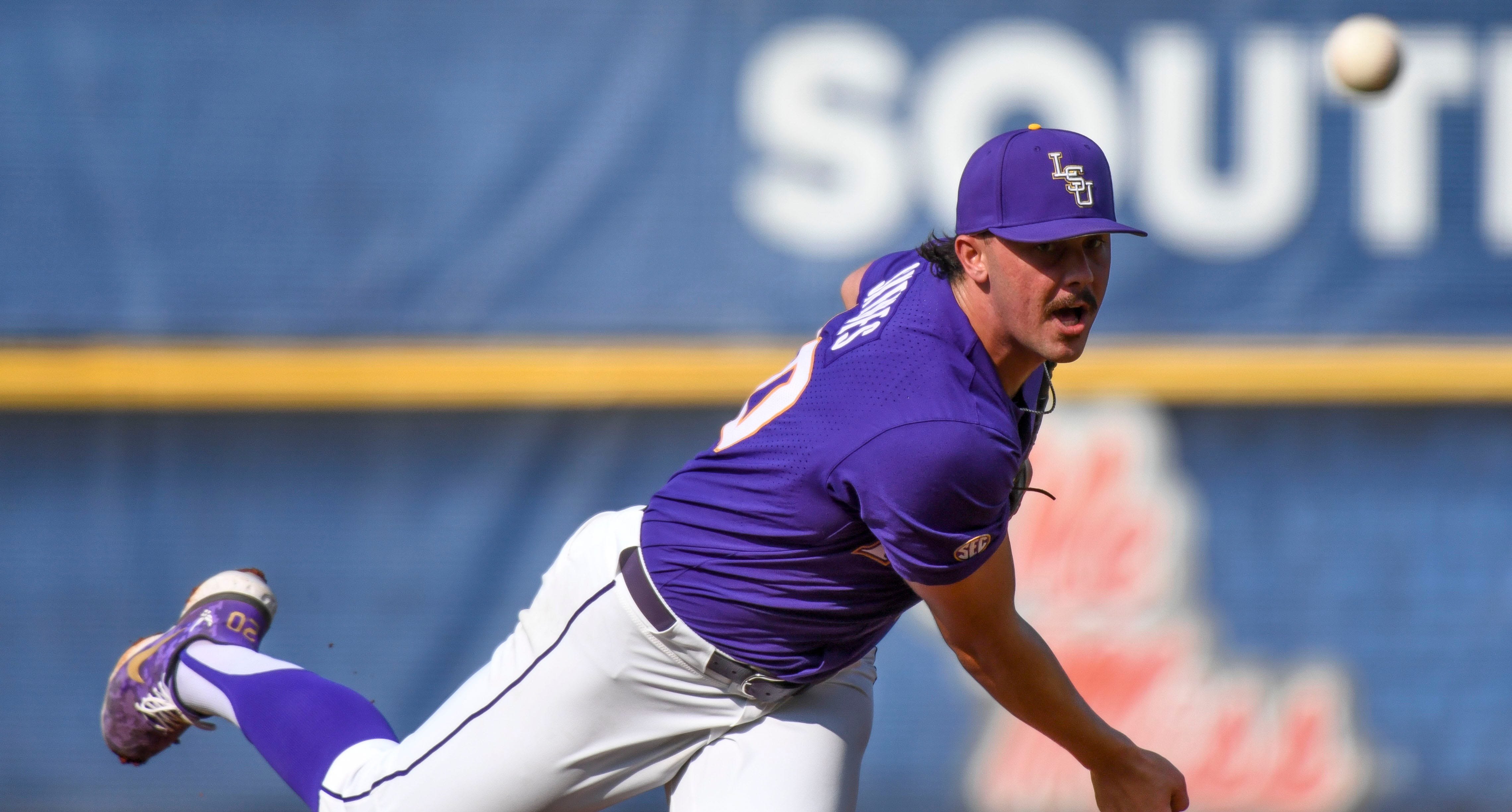 Image courtesy of Gary Cosby Jr. - Tuscaloosa News
Kiley McDaniel is ESPN's resident baseball draft expert and his entire mock draft sits behind a paywall so we're not going to give up too much of his article. But we're going to focus on two things... and they present both the good and possibly ugly possibilities of the upcoming draft.
First off, McDaniel presents a scenario where the Pirates don't take the player most project to go first overall, LSU's Dylan Crews, and instead take prep outfielder Max Clark. In turn, the Pirates will save some money and be able to throw Top 15 money at a prep pitcher with their second pick (at 42 overall).
However the dominos fall after that, there will still be one of the Top 5 unselected when the Twins come on the clock  - remember, there are five big names in this draft - and in this iteration, it's Paul Skenes of LSU who is available. Skenes is the best college pitching prospect in recent memory and there is belief that, if a team desired, Skenes could make his major-league debut this summer.
McDaniel mocks Paul Skenes to the Twins. This would be very, very good for the Twins.
---
But here's where the ugly comes in.
Quote

I actually had two sources confidently tell me that in this scenario, the Twins would take Jacob Gonzalez over Skenes due to the hitter preference of their draft model.
This is not the first suggestion that the Twins prefer a college bat. College shortstops Jacob Gonzalez and Jacob Wilson both are names that have been suggested. McDaniel also suggests the Twins are high on top prep pitcher Noble Meyer.
So why would the Twins pass on one of the top five to take someone else? I'll give you a few reasons.
Teams stack boards differently. The "Top 5" is where the prognosticators have settled. But it's certainly not a consensus among the 30 major league teams. It's possible the Twins Top 5 are just different. I'd confidently say that Crews and Wyatt Langford are probably 1 and 2 on the Twins board. After that, though, it's anyone's guess. (And I'll make my guess later.)

The Twins are privy to far more information than any expert. Area scouting, as it's been described to me, has a very similar feel to college recruiting. The team is going to get as much information as they can on every potential pick and part of that information includes how much it's going to take to get a signature on the dotted line. And the reality is if a team thinks similarly of Player A and Player B, and Player B is going to sign for $500,000 less, the team is taking Player B. What gets more interesting is when a team likes Player A a little bit more than Player B and Player B a little bit more than Player C. And Player C is going to cost $1 million less than Player A and $500,000 less than Player B. Because now you can get Player C and turn around and with the savings draft Player D, who you also covet. 

Maybe the Twins simply just love hitters. Both Gonzalez and Wilson have great hitter profiles. And it's worked for them. It's a little different at #5, but drafting the Spencer Steers and Christian Encarnacion-Strands of the world have given the organization great trade assets.
But my question is this... if drafting solid hitters give you the best chance at collecting tradable assets, at what point do you realize that Paul Skenes (or whoever falls to #5) has the most value to the rest of the league and is the best tradable asset you could acquire? 
I think that it might be true that the Twins do have Jacob Gonzalez in their Top 5, but at the expense of Max Clark, not Paul Skenes. I'd stack the "here's my guess at the Twins draft board" like this:
1) Crews
2) Langford
3) prep outfielder Walker Jenkins
4) Skenes
5) Gonzalez
What do you think? (Aside from "I think the Twins are overthinking this"?)