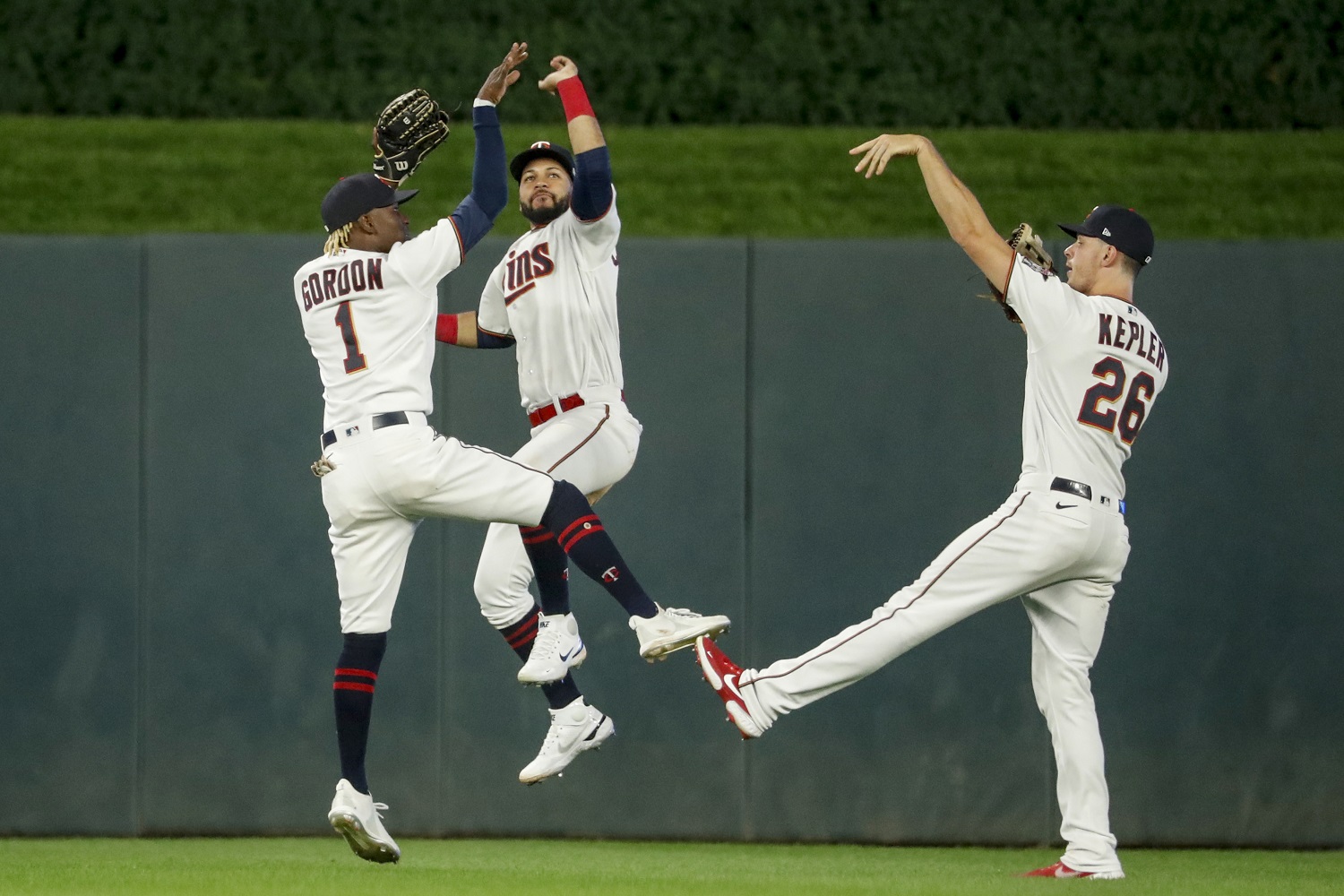 Image courtesy of © Bruce Kluckhohn-USA TODAY Sports
For the past year or so, the Twins' outfield has remained in flux behind the starters. Last year left field was a question mark more often than it wasn't, and Byron Buxton's latest injury left him out of centerfield more often than not. Plenty of guys were given chances, and while some are now gone (thanks for the memories, Tim Beckham), the group still has too many mouths to feed.
I'd expect the Opening Day roster to have five outfielders, but a few have positional flexibility. Looking at the nine names currently categorized by the 40-man roster, here is a probable path for them in 2023.
Byron Buxton
This one should be straightforward. If he's healthy, he plays. Last season the Twins got nearly 100 games out of Buxton despite him battling a significant knee injury early on. Many of his injuries in the past have been fluky, but let's dream of a world where Nick Paparesta and a new training staff focus on giving us what we've all been waiting for. He's among the best in the game, and Rocco Baldelli's team is much better when he takes the field.
Gilberto Celestino
Right now, I'm not sure what to think about Celestino. He has been called on in trade discussions and is a guy I'd prefer not to see the front office move. Last year was a good year of development, and still young; there is plenty of room for him to grow. As a right-handed bat, he has that going for him, and defensively he's an ideal backup option behind Buxton.
Joey Gallo
Signed to a one-year deal, there is no doubt that Gallo is making the 26-man roster. He'll play plenty of corner outfield and can play center as well. I wouldn't be shocked to see Minnesota have him ready at first base, and despite the bat being his calling card, his athleticism and glove are equally as impressive.
Nick Gordon
Listed as an outfielder by the Twins roster designation, Gordon filled into a utility role well last year. The bat played more, and although he's limited on the infield, he played outfield well. Gordon looked the part of a centerfielder at times, and more reps could make that even more fluid. He should be a relative lock for the Opening Day roster and will again play all over the field.
Max Kepler
If there is a guy to bet on being traded this offseason, Kepler is it. He bats left-handed as too many of his counterparts do, and Gallo wasn't signed to be a redundant form of what the German brings to the table. There has been plenty of interest in the strong defensive right fielder, and it should be a matter of when and not if he goes.
Alex Kirilloff
The Twins need this to be the year that Kirilloff's wrist is right. After undergoing a more intense procedure to shave down his bone, there aren't many other surgical options. All reports thus far have been positive, and Kirilloff is a talent Minnesota has been waiting on at the big-league level for some time. He should factor in most as a left fielder, but he can also potentially be a star at first base. He'll get time at both spots this year, and the only thing holding him back has been health.
Trevor Larnach
We started seeing what a rolling Larnach looked like at points last season, but the core muscle injury killed the momentum. He's a power bat with a substantial amount of plate discipline, and he, too, should be expected to contribute from left field. There is no reason he can't be a middle-of-the-order bat, and we saw the arm play plenty when opposing runners tried to test him a season ago. Like Kirilloff, health is all Minnesota needs here.
Matt Wallner
Making his debut after such a solid 2022 in the minors, Wallner looked the part in a very small major league sample size. His 105 OPS+ was above league average; he made substantial strides last year when controlling the zone and taking walks. There is probably no room for him on Opening Day, but Wallner didn't slow down last year at Triple-A St. Paul and could quickly force Minnesota's hand if he comes out of the gates hot.
The Twins have more than a few decisions to make on the grass this season, and right now, things are a bit lefty-heavy. We'll see how this turns out before the club shows up in Fort Myers.