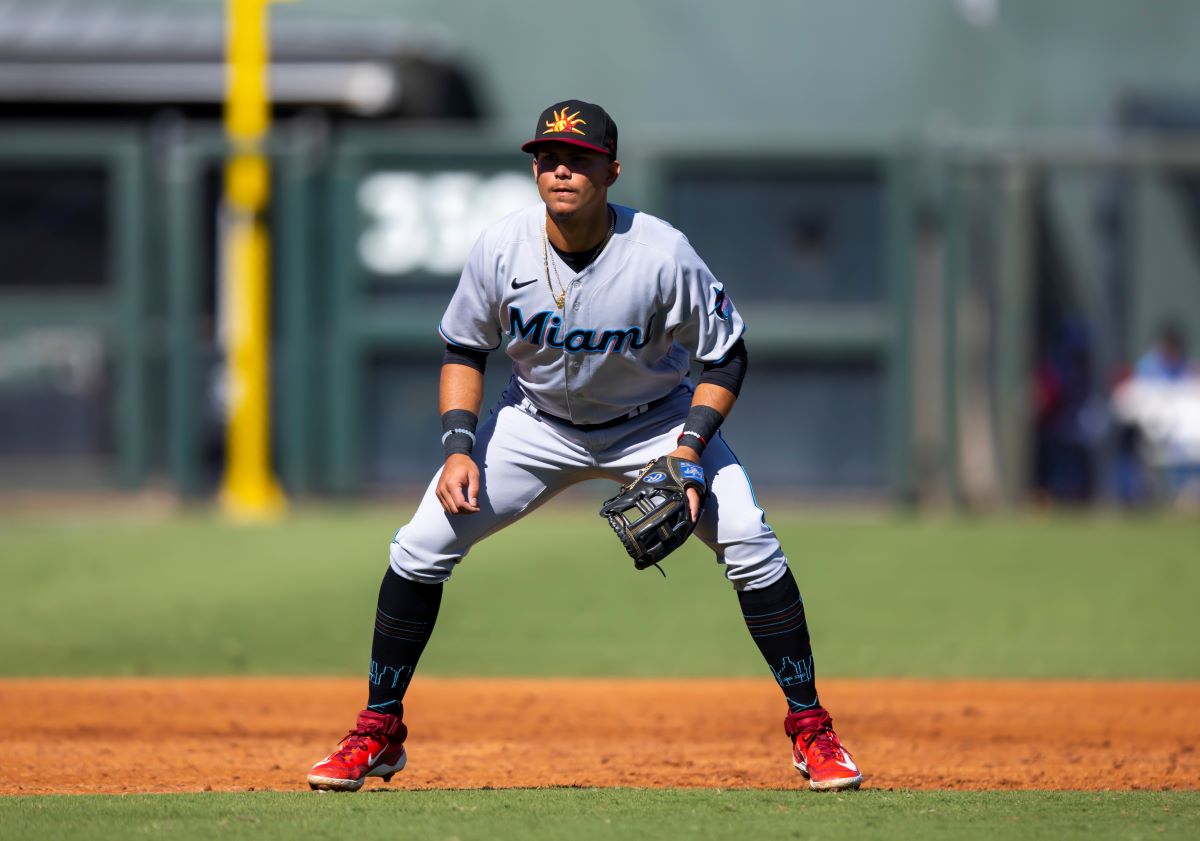 Image courtesy of Mark J. Rebilas, USA Today Sports
In a move sure to spark heated debated, fan favorite Luis Arraez was traded to the Miami Marlins on Friday for a package that includes right-handed pitcher Pablo López, infielder Jose Salas, and outfielder Byron Chourio. Let's get to know the two prospects in the deal.

Just as it emerged that the trade talks between the Twins and Marlins were at a standstill, a deal was completed in the early afternoon hours on Friday. Dan Hayes had recently reported that the Twins weren't willing to trade Arraez for López straight up. So it proved to be, with the Twins also acquiring significant prospect capital in exchange for the 2022 AL batting champion. What do we know about the prospects involved in this deal? Let's dig in.
Jose Salas
Grades (courtesy of BA) Hit: 55 Power: 50 Run: 45 Arm: 55 Field: 50
Let's get clear, Salas is a legitimately excellent prospect. In Baseball Prospectus' Top 101 (released this morning) he was ranked 93rd, he was 83rd in Fangraphs most recent Top 100 at the end of the 2022 season. Although not a consensus Top 100 prospect (not in MLB or Baseball America lists), he can be seen as a fringy top 100 player and one of four excellent Marlins prospects (Perez, Max Meyer, Berry), likely, the one you haven't heard of.
In Salas, the Twins have acquired an infielder who has good projectability left. He is just 19 years old and stands at 6'2. He has strong tools across the board. Salas was born in Florida, but split his time between Orlando and Venezuela growing up. Salas was signed by the Marlins during the 2019 International Free Agency period, receiving a hefty $2.8 million bonus.
Salas crushed when he debuted, boasting a .578 SLG in 28 games of rookie ball before getting a debut in Low-A ball at 18 years old. After an initial drop off in his offensive output at the tail end of 2021, he began 2022 in Jupiter and adjusted nicely, increasing his Slugging Percentage from .315 to .421 before spending the second half of the season at High-A.
Salas is a switch hitter who hits well from both sides of the plate. He projects to have above average power as he continues to fill out (20-25 home runs). Salas has a low-effort swing that has been ground ball prone early in his career. If he can work towards contacting the ball earlier in the strike zone, he should have a good hit tool.
Salas success on the base paths are more a reflection of outstanding baserunning than great speed. In two minor league season, he's stolen 47 bases. Salas' defensive home remains uncertain. He has a strong arm but may slow as he fills out meaning a transition to another infield position. A member of an NL operations department said of Salas: 'His tools are pretty damn impressive. He will probably be a bottom of the scale runner, hurting his chances to keep playing shortstop of even second base'. Salas' work ethic and drive have been praised by coaches he has worked with.
Bottom Line: Salas is an exciting prospect with strong tools across the board. The Twins have added another fringy top 100 prospect to their system (in addition to Royce Lewis, Brooks Lee, Emmanuel Rodriguez, Marco Raya, and Edouard Julien) and helped replenish the hit they took at the 2022 trade deadline. Salas is an exciting addition to a talented system.
Byron Chourio 
At first glance, Chourio may seem like the lottery ticket acquisition in the Luis Arraez/Pablo Lopez trade. A Venezuelan outfielder signed by the Marlins in 2022, Chourio is just 17 years old. At 6'2, and 171 pounds, there's plenty of room for him to add some mass as he grows and develops. The Twins seem to like what they have acquired in Chourio.
Assigned to the DSL Marlins, Chourio debuted last season, hitting .344/.429/.410 (.838) with nine doubles and one home run, 23 runs batted in, and 19 stolen bases in 51 games in his first professional season in the Dominican Summer League. We'll continue to add more information about Chourio as we get it.
What are you impressions of the Twins return for Arraez? What do you think of Salas? What's your evaluation of the trade? Join the discussion below.