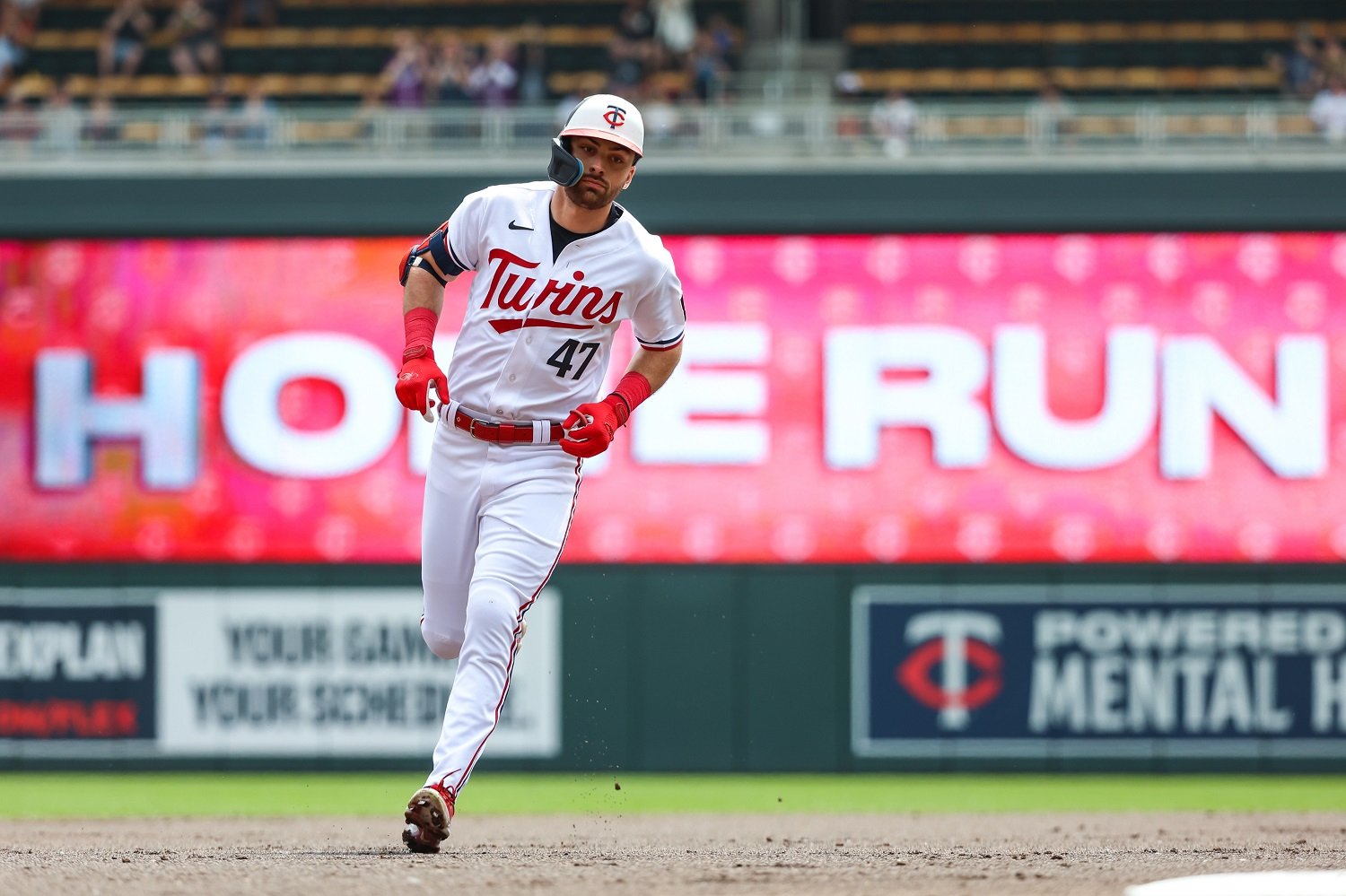 Image courtesy of Matt Krohn-USA TODAY Sports
Rocco Baldelli has been able to pull from a talented system as the Twins have dealt with injuries early in 2023. As Jorge Polanco hit the injured list most recently, it was Edouard Julien who was promoted to take his place. Working regularly at second base for Triple-A St. Paul, it's not a surprising fit at all. Just how good he can be there determines how long the leash is.
Across his first 16 games for Minnesota, Julien has played second base exclusively. There's an avenue in which he ultimately becomes a first baseman (or worse, a designated hitter), but those opportunities are currently earmarked for Joey Gallo, Alex Kirilloff, and Donovan Solano. The greatest knock on Julien has always been his defense or lack thereof, and we've seen that plenty to start.
It's very early with a sample size of just 104 innings, but Julien has already amassed a -3 DRS (defensive runs saved) while posting an equal -3 OAA (outs above average). It's clear that his arm can play at the less demanding spot, but his range and hands are not at all impressive. Booting a rather routine grounder on Sunday (the ball had just a .100 expected batting average) inexplicably saw Pablo Lopez credited with two earned runs rather than Julien picking up an error. (Julien made a sliding play to field the ball, but as he got up and tried to transfer the ball from glove to hand, the ball dropped.)
In the batter's box is where Julien has quickly become a prized prospect, and it's far too soon to knock him for 72 plate appearances of production, but the Twins want to see his Triple-A game come with. You can put up with shoddy defensive work at times if a guy is going to be an asset at the plate. Not only does Julien have the ability to hit for power similar to Brian Dozier before him, but he draws a massive amount of walks. 
For much of his minor league career, Julien has taken his base nearly one-fifth of the time that he steps in. With a strikeout rate just north of that at 25%, he has an exceptional approach at the plate. That has not yet translated to the highest level as Julien looks to settle in against big-league pitching. He's walking only around 10% of the time while heading back to the dugout after a strikeout 34.5% of the time.
A recipe that includes being a bad defender and an undisciplined hitter isn't going to afford Julien a long leash. Fortunately for him, the truth is probably somewhere in the middle, and as he finds comfort and continuity there should be an expectation of things normalizing. Polanco's injury should not be one that keeps him out for an extended period of time, so Julien will head back across town, but he has the book of things to work on.
Next time the Twins need to call on their Canadian prospect, they'll want to see a bit more refined ability in the field. The defense is something that will continue to be a work in progress, and likely something that will only improve slightly with an extended runway needed. In the box, he has already shown the type of hitter he is, and finding comfort against Major League talent will help to bring his calling card to the highest level.
So far we have seen a bit of everything that has been presented about Julien's game. The power is legit. He looks like a real player. The warts are also ugliest in the field, and we saw that again on Wednesday night against the Astros. He's not a perfect talent by any means, but it would stand to reason that Baldelli has someone he can be confident in contributing more as the 2023 season goes on.
A few weeks ago the Twins arguably gave Julien a similar blueprint when he was sent back to Triple-A. Cody Christie looked at it then, and seeing how the development has taken place over the past couple of weeks is certainly worth checking in on.
It's a big year for the second base prospect as Polanco is coming to the end of his deal, and the assumption would be that Julien can push to start next year on Opening Day. We're a ways from that reality coming to fruition, but how he evolves the rest of the season can go a long way toward making everyone involved feel more comfortable with the possibility.