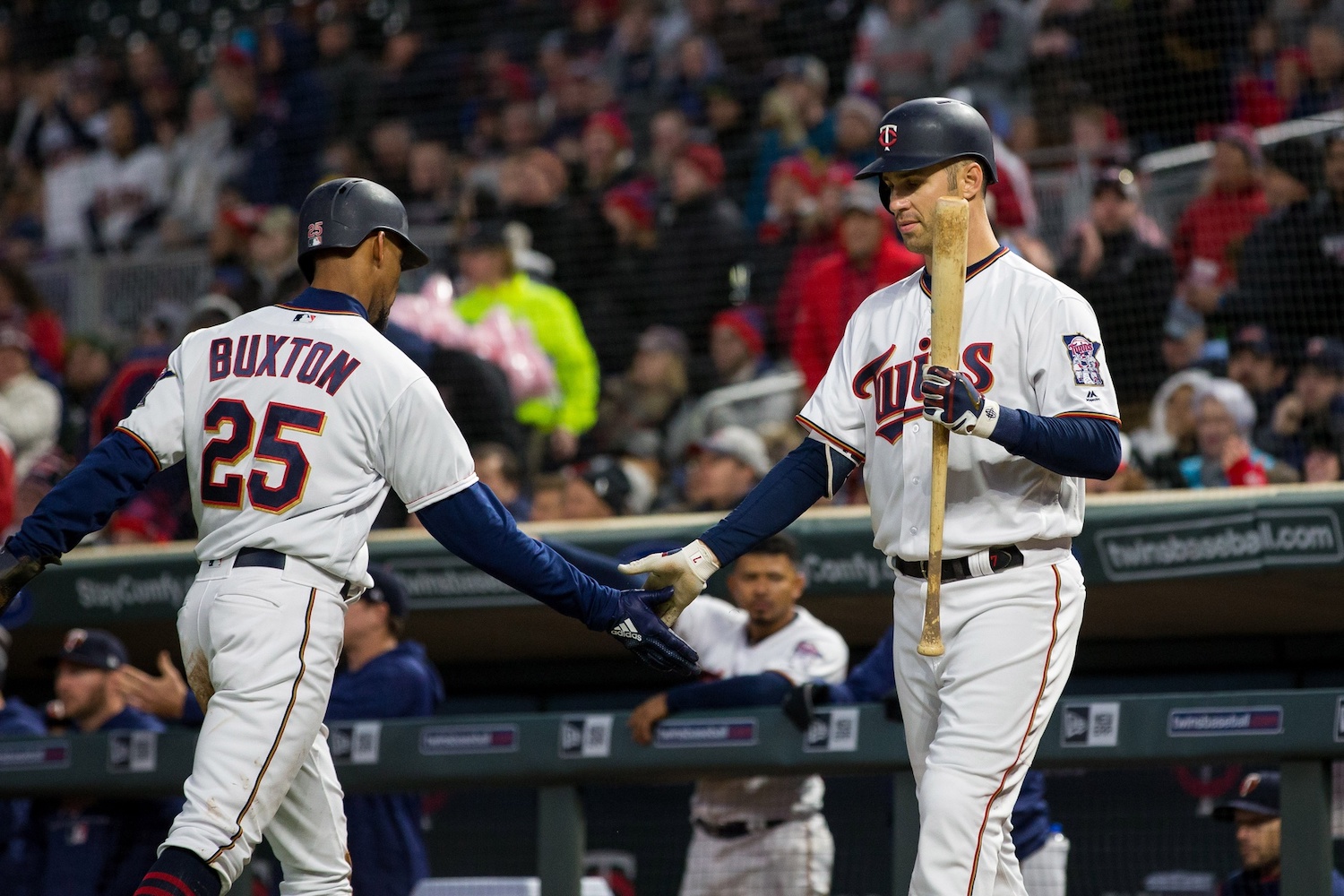 Image courtesy of Brad Rempel-USA TODAY Sports
Winning a Most Valuable Player award is the pinnacle of individual achievement in baseball and most any other sport. It's the honor of a lifetime for athletes, placing their names alongside true greats in the history books while celebrating an unparalleled contribution to winning.
Beyond all that, Byron Buxton is uniquely incentivized to prove deserving of this particular accolade. His contract structure with the Twins is such that Buxton will get an extra $8 million for winning MVP, adding more than 50% on top of his $15 million base salary. (He receives significant bonuses for finishing anywhere in the top 10, but that's obviously the biggest.)
Even with their payroll already stretched to a record high, the Minnesota Twins would be more than happy to pay out those extra millions, given what it would entail for the team. The trouble, of course, is that Buxton has generally come nowhere near making enough plate appearances to have a viable shot. 
The superstar talent presents a tough balancing act for Rocco Baldelli and the Twins: How best to utilize him in a way that gets him on the field enough to put himself in the MVP conversation, while also managing his workload to minimize injury risk and keep him strong through the end of the year?
Last season, the team was essentially forced into the position of trying to navigate this situation on the fly due to an early knee injury, which severely limited his availability. This year, they can aim to avoid the same outcome by planning around a playing time model that maximizes Buxton's impact while taking it relatively easy on his body.
For an example of how this might shake out, we need only look back to 2009 when Joe Mauer put forth the last MVP season by a Twins player.
Joe Mauer and the 70-15-15 Model
One of the most interesting things about Mauer's MVP season is that he missed the entire first month, making his season debut on May 1st. (And, unforgettably, homering in his very first at-bat.)
In the spring, Mauer dealt with an inflamed sacroiliac joint – which sits at the base of the spine – and it kept him out of action for nearly four weeks. Once he returned, he was able to play almost every day, making 109 starts at catcher and 28 at designated hitter on the way to accruing 606 plate appearances – plenty to establish him as the unanimous choice for MVP. 
Mauer's dispersal of games spent at catcher, DH, or not playing shook out roughly like this:
Catcher: 70%

DH: 15%

Off Days: 15%
The hope, obviously, is that Buxton will not have to miss a month of the season this year. But Mauer's example shows how the Twins can mix in ample rest days and still get Buck to the number of plate appearances required for legitimate MVP consideration (and to trigger his contractual PA bonuses, which hit at 502, 533, 567, 600 and 625). Planning around this model would essentially mean giving Buxton one day off and one day at DH each week.
The comparison between these two is a fitting one to me for a couple of key reasons:
Like Mauer, Buxton derives a huge portion of his value from playing excellent defense at one of the most premium positions on the field. 

In 2009, the Twins were comfortable giving Mauer semi-frequent days at DH and negating that part of his value because they had a backup they were very comfortable with in Mike Redmond. This year, the addition of Gold Glover Michael A. Taylor as Buxton's top backup in center provides a similar luxury.
While Buxton is ostensibly healthy at this juncture, the team's conservative approach to moving him along this spring signals a cautionary mindset geared toward prevention. The 70-15-15 model as a guiding principle feels like the sweet spot to me.
How Are the Twins Envisioning Buxton's Usage?
When I was in camp last week, I took the opportunity to ask Baldelli straight-up if he had a ratio in mind for Buxton's time spent at center field versus designated hitter this year. In 2022, 52 of Buck's 86 starts came in center field compared to 34 at DH, equating to a 60-40 balance clearly driven more by necessity than preference.
Unsurprisingly, the Twins manager – notoriously coy about revealing his future plans – was noncommittal in response, describing it as "probably at this point still an unanswerable question."
"I would say, we'd play Buck — and I mean it — we'd play him in center field for 162 games if we could do that," Baldelli said. "What he's going to need as the season goes on, nobody knows the answer to that. So we're going to react to whatever he needs, and we'll give him that."
Not the most fulfilling answer, but I guess I can't blame Rocco for not wanting to get specific, especially with the season still weeks away and Buxton still yet to make his spring debut. It's all very theoretical at this point.
At the same time, this is something the team needs to be very thoughtful and strategic about. While many sports fans may loathe the term "load management," it's a paramount aspect of handling Buxton properly. In an interview with MLB Network Radio later in the week, general manager Thad Levine was a bit more open about acknowledging this reality.
"What'd we try to do this offseason, to try to enhance his ability to stay on the field is, I think we really tried to build out our depth," Levine explained. "Going out and getting guys like Joey Gallo, Michael A. Taylor, two additional players in addition to Max Kepler  ... who could all play some center field, give Byron some opportunities to contribute as a DH, something that I think Rocco really believes can really extend his plate appearances over the course of the season."
You don't say?
Levine continued: "The reality was unfortunately he sustained an injury very early last season, ended up playing with it most of the year until effectively he couldn't anymore. We're hopeful we can avoid that early-season injury, we're hopeful that we can sort of insulate him by having some really excellent-caliber defensive players out there who can allow him to DH a little bit more without a known drop-off in our lineup."
While Baldelli might dream about playing Buxton for 162 games in center field, it's not realistic and would frankly be an irresponsible thing to attempt, in light of his history. Given his druthers, I have no doubt Buck would push to do exactly that, but it's incumbent upon the manager and front office to be smart and look at the big picture, even if Buxton is feeling good early in the season. 
As Mauer's precedent shows, there's a way to do it and still put the 29-year-old in good a position to earn his payday and lead the team to glory.