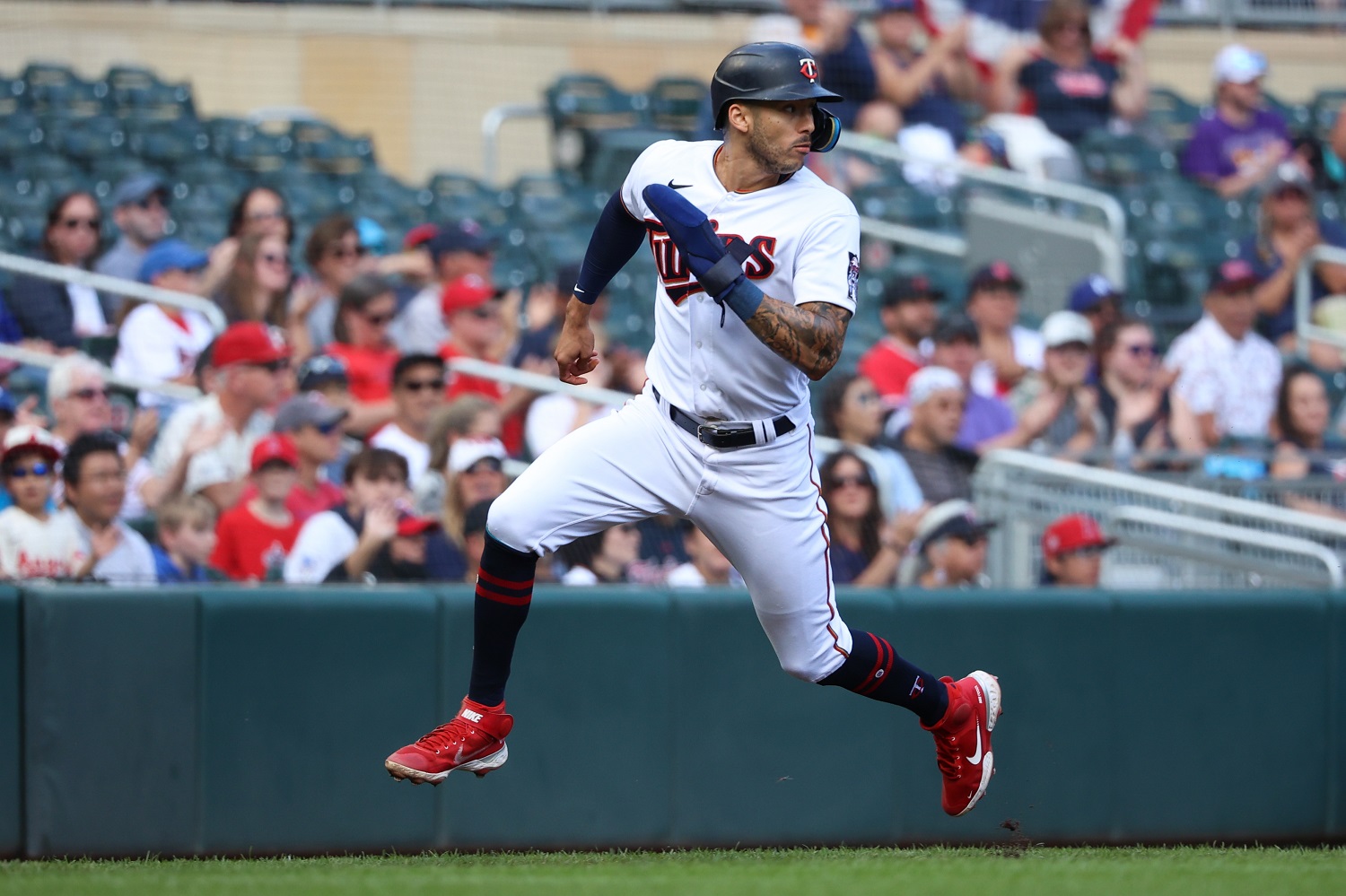 Image courtesy of © Matt Krohn-USA TODAY Sports
It wasn't supposed to go this way for Carlos Correa. He spent the last offseason seeking a long-term deal over $300 million. He never got that and instead settled for a one-year contract that paid him the highest average annual value we've ever seen for an infielder. Now, still unsigned on January 8, his long-term prognosis has been scrutinized, and sources continue to indicate that Minnesota could be the benefactor. 
It has been multiple weeks since reports trickled in that Carlos Correa would be signing a 12-year, $315 million deal with the New York Mets. They were a late suitor to the party, but stood there with a wad of cash after the San Francisco Giants wanted to rework their 13-year, $350 million offer following a physical. We now know that the issues stemming from the physical all tie back to an ankle that was surgically repaired as a prospect, and the Twins have seen the same information.
According to a source, Minnesota is now using the physical to their advantage. Correa was already cleared last March for what was a three-year contract. As recently as Saturday morning another offer was made. While the deal would still likely require a physical, the Twins have indicated they are comfortable with where Correa's health and body are. 
Coming into the season, Minnesota knew that Correa would opt out after one season unless he played poorly or was injured. They sought to keep him on a long-term contract, ultimately offering 10-years, $285 million. That didn't reach the same realm as either the Giants or Mets, and therefore left the Twins short. Prior to San Francisco making their last push, the Twins felt well positioned. Although that may have been shortsighted, it appears the chances may now be higher than ever.
New York is looking to rework Correa's deal, and a source indicated that language protecting the Mets meant his guaranteed money could be cut by as much as one-third. Correa is looking for long-term certainty, and the Mets adding conditions to exit the deal after seven years would be a non-starter. Although the Twins $285 million over 10 years was originally well short on dollars, it's now in the ballpark of (or even exceeding) the truly guaranteed money.
A source indicated the latest offer, which is thought to give Minnesota very firm footing, is in the range of that previous final offer. 
With New York reluctant on the length at this point, and with alternatives in top prospects Brett Baty and Mark Vientos, the Mets backing out altogether is not unfathomable. Mets owner Steve Cohen recently liked a tweet suggesting that the player needs his team more than the team needs him. Although that may be true for a franchise that has Francisco Lindor at shortstop and would be pushing Correa to the hot corner, it's certainly not an ideal way to go about welcoming talent.
From the get-go, Minnesota has made Correa and his family feel welcomed and a priority. Again, the front office has stood steadfast in holding close to an original offer despite multiple cutbacks from organizations that have since gotten cold feet. The Twins are growing increasingly comfortable that Boras is not simply playing with the Twins as leverage for the Mets. Instead, he has grown annoyed with the proceedings, wants resolution in the coming days, and Minnesota may even now be the frontrunner.
It's a wait-and-see game regarding Cohen and his unlimited amount of dollars. Whether general manager Billy Eppler wants to push forward or not remains to be seen, but the Mets have acted at the last minute multiple times during this saga.
Knowing that players like Manny Machado and Shohei Ohtani will be free agents next offseason has helped to keep some of the biggest markets out of this race. Minnesota won't be in consideration for those two, and this represents their best chance to make a splash of this caliber. Correa's dollars could come in nearly $100 million more than Joe Mauer's hometown extension, and seeing that type of commitment would be welcomed by Twins Territory.
While it has always been unlikely that Correa would wind up back in Minnesota, and it remains unlikely, this is probably as close as it has felt to them looking like a front-runner.