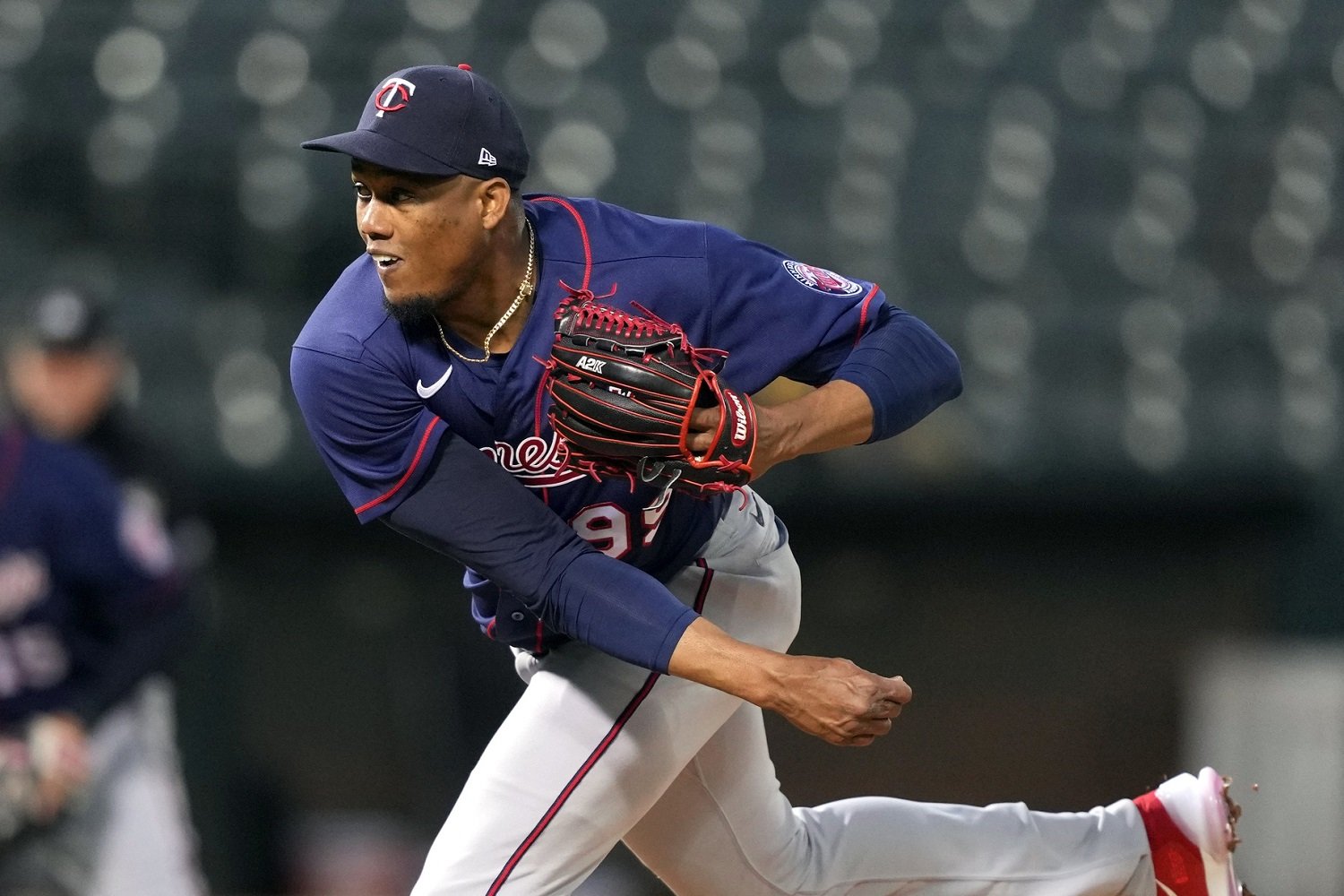 Image courtesy of © Darren Yamashita-USA TODAY Sports
The first two months of 2023 may or may not be a fluke for Yennier Cano and Baltimore, but even if they are a fluke, he's already produced far more than most would have expected over an entire year back when he was a Twin. He's allowed three runs in 29 innings and carries a 0.59 WHIP. Losing guys like that is an unfortunate part of the game, and it hurts to watch your team's castaways find success elsewhere. Look no further than other Orioles: Kyle Gibson, Tyler Wells, and Danny Coulombe, for more examples.
The Twins have also been the beneficiaries of such processes playing out. Caleb Thielbar was out of baseball before getting a shot in 2020, and he's been one of their top relievers for four years. Willi Castro, Brock Stewart, and José De León are each off to promising starts in 2023 after not securing MLB contracts this offseason.
However, identifying and molding talent into MLB value isn't an exact science. Let's use Cano as an example and then tie in some notable other instances of this process in practice.
The Yennier Cano Situation
No one will, at any point, deny that Yennier Cano had stuff. However, he struggled with his control mightily, even in the minors. His stuff was good enough to succeed, even with an alarming walk rate.
When he got his shot with the Twins as a 28-year-old rookie, he did not impress. He gave up 17 hits, 11 walks, and 14 runs in under 14 innings. It's unfair to judge a pitcher off of 14 innings. Still, a performance like that put him squarely on the St. Paul shuttle with arms like Juan Minaya and Jharel Cotton—guys who would come up to eat meaningless relief innings before returning to AAA.
Those shuttle guys weren't nobodies. They all had fans within the organization who believed they were a tweak away from being a solid bullpen piece.
Come the 2022 trade deadline, the Twins brought in three MLB players (Tyler Mahle, Jorge López, Michael Fulmer) and also traded for Sandy León, who was likely to make the big league team. 40-man roster cuts were coming. A handful of guys had to be waived to accommodate the newcomers. When Baltimore showed interest in one of the guys on the chopping block, it made all the sense in the world to include him in the trade.
Upon arriving in Baltimore, he still wasn't impressive, allowing nine runs in 4 1/3 innings. It seemed like a nothing burger. But then, 2023 happened.
The primary reason for Cano's newfound success has been adjusting his arm slot. With this change, the match between the release point and the movement on the pitches is immaculate, and he can better locate from that angle, too.
The question that Twins fans likely ask, then, is why he never changed his arm slot with Minnesota. Surely a competent player development system could have done that, right?
Player Development
As stated earlier, player development isn't an exact science. It's pretty chaotic.
In any organization, there are dozens of minor leaguers who can feasibly become MLB contributors. Even some who never reached AA at one point had the potential to play on the biggest stage. Sometimes players merely need to refine their skills on their ascent through the system. For others, it's not so cut and dry.
Most players who are talented enough to make AAA can have success in MLB. However, many of those guys don't need more experience to reach that level; they need adjustments. For Cano, that adjustment was a change in his arm slot.
Hindsight is 20-20. Now, we can sit here and say, "Obviously, he needed a change in his arm slot. Why didn't the Twins try that?" First, they may have tried to change the arm slot but didn't get it perfect. Second, in the moment, it's challenging to identify what the issue is.
Player development departments are faced with the nigh-on impossible task of correctly identifying each player's mystery tweak that can vault them into being a major league contributor. Then there's the challenge of actually implementing that tweak. There's a good deal of guess-and-check in the process, and it can take weeks or months to determine whether each tweak is successful.
Beyond that, there are finite resources in each system. There are only so many hours in a day and so many instructors or coaches at each level. Every player is equal, but some are more equal than others. As a 28-year-old minor league reliever, even with the potential everyone can see, a player like Cano won't get as much instructional attention as teammates on prospect lists like Jordan Balazovic or Ronny Henriquez, rightly or wrongly.
Not only are resources finite in terms of time but each coach or instructor only has so much expertise. Just like no one expects Luis Arraez to hit 40 home runs and maintain a .350 batting average, we can't expect every coach to be proficient in identifying and implementing every possible tweak. Let's look at two notorious examples of this in Twins history.
Johan Santana
We all know of Johan's greatness, and most of us have heard of the tweak he made in AAA. Edmonton Trappers pitching coach Bobby Cuellar personally taught Johan the circle change that catapulted him to the top pitcher in baseball with the best changeup in baseball. In this case, the player-player development pairing worked as well as anyone could dream.
However, we know that Cuellar never again had the same effect on a player. No other player was able to take this specific instruction, make the tweak, and become a legend for it. If it were simply the quality of the coach and instruction that determined the player's success, the entire organization would have had unhittable changeups.
David Ortiz
We all also know of Ortiz's greatness, and we will go to our graves filled with regret that he didn't have that career in a Twins uniform. After signing with the Red Sox for $1,250,000 in 2003 following his release from Minnesota, he became a superstar. Surely the Twins could have kept him, and he would have been Big Papi in the Metrodome, right?
It's debatable. The version of Papi that became a Bostonian legend was not what the Twins envisioned for him. In his own words, the Twins wanted Ortiz to hit to the other field "like a little b****." Did the Twins have someone on their staff who could work with Ortiz to hit like he preferred? It's unlikely, as that hitting style was out of line with organizational philosophy. The hard truth is he probably would have never become all-caps DAVID ORTIZ in Twins pinstripes.
Is all of this to say that the Twins should be excused for missing on Cano? Not necessarily. In a vacuum, it's looking like an ugly miss (though there is plenty of season left for that to change). It's incredibly frustrating to know he was one tweak from potentially being a bullpen fixture. In the grand scheme of things, though, there are players like Cano that enter and exit organizations constantly. A good organization is able to mold those guys into more Caleb Thielbars than Shaun Andersons, but it's not an exact science.
It takes skill, luck, and timing to identify the right changes and implement them, and it will never be one-size-fits-all.