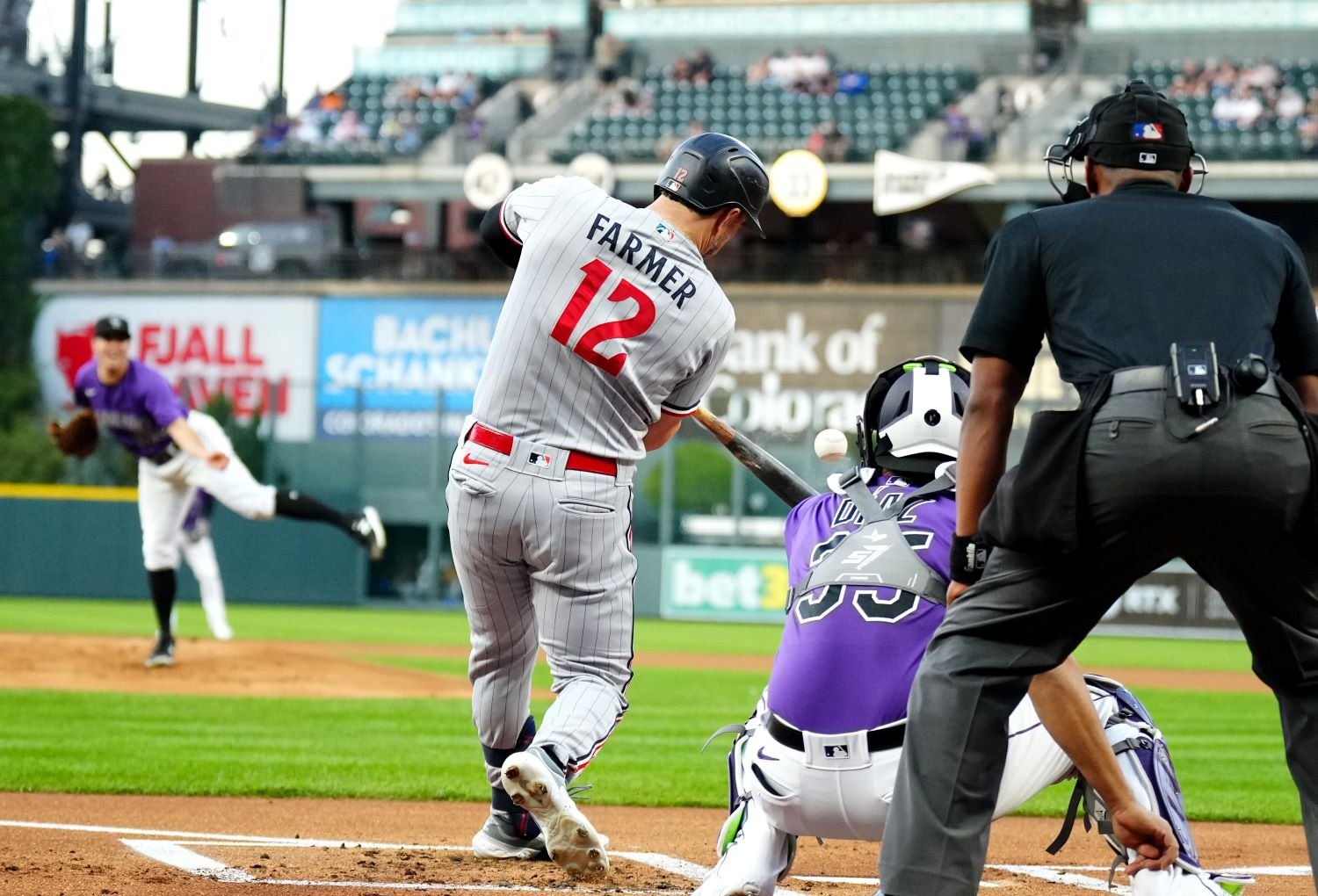 Image courtesy of © Ron Chenoy-USA TODAY Sports
Box Score
Joe Ryan: 5 IP, 8 H, 6 ER, 1 BB, 6 K
Home Runs: Michael A. Taylor (21), Trevor Larnach (7), Ryan Jeffers (14)
Top 3 WPA: 
Win Probability Chart (via FanGraphs) 
(Fangraphs is not working for some reason; we will have WPA info up as soon as it works again)
For the first time since 2014, the Twins headed to Colorado to face off against the Rockies. The only player from Minnesota's lineup that day still in MLB is Eduardo Escobar. Center fielder Sam Fuld is now the GM of the Phillies. Justin Morneau played 1st base for Colorado. Minnesota's 3rd baseman—Trevor Plouffe—was at today's game to support the broadcast. It had been a while. 
Given that the Twins were set to play in Coors, there was likely a skirmish amongst pitchers, with many hurlers protesting and petitioning Rocco Baldelli to avoid facing the thin air and hostile conditions. Evidently, Joe Ryan provided the least persuasive argument; he started the game on Friday.
And he probably wishes he didn't. His offerings of high fastballs and flyballs is the precise combination that inflates ERAs and bruises egos. He elicited 14 swings-and-misses, but Colorado clobbered three homers off him, leaving him holding six earned runs over five innings, otherwise known as a "Colorado quality start" (this is not true.) He finishes the season with 197 strikeouts, just one groin injury away from cracking the elusive 200 mark.
Minnesota's offense found Coors inviting—duh—at the start. Kyle Farmer flopped an RBI single to right and later grounded into a double play to invite another run home, but the big score came when Michael A. Taylor cracked a two-run shot to left. It was the longest homer a Twin had hit all year. It happened nine batters into their Coors adventure.
Lest anyone would take that record sitting down, both Trevor Larnach and Ryan Jeffers offered legitimate claims to overtaking Taylor's 468 feet of mashing. Their efforts tied the game.
The Rockies—knowing that the Twins are undefeated when Jeffers homers—shook in their cleats, retreating to the safety of their bunkers, hiding in fear of the terror caused by the 26-year-old North Carolinian and the good fortune hidden in his bat. 
Well, that didn't happen, but they had good reason to believe in Jeffers' luck. With a runner on 1st in the 9th, Farmer grounded a single up the middle that struck former Twin Tyler Kinley's leg, shooting the ball to a non-existent second baseman when an unimpeded ball certainly would have turned two. It didn't. Instead, Max Kepler drove a fly ball deep to center to score Andrew Stevenson, successfully concluding Minnesota's rally. 
Also, this didn't have a place in my narrative, but Willi Castro made a hell of a play in the 7th—and I thought it deserved a mention.
Emilio Pagán was the pitcher Rocco Baldelli's magic 8-ball spit out, so he received the call in the 9th. It worked. He allowed a single, but only threw nine pitches to earn his first save of the season.
Notes:
Michael A. Taylor extended his career-high in homers with bomb number 21; his previous record was 19 in 2017.
Kody Funderburk won the second game of his MLB career on Friday.
If he struck out three more batters, Joe Ryan would have made the 2023 Twins the first Minnesota squad since 1967 to have multiple 200 K pitchers. That team had three of them: Dean Chance, Jim Kaat, and Dave Boswell. 
Emilio Pagán is the 7th Twins pitcher to earn a save in 2023. 
Post-Game Interview:
What's Next?
The Twins and Rockies will play the second game of their series on Saturday. It will be a legendary matchup, with the young but talented TBD facing off against the grizzled but tenacious TBD, looking for the 157th win of his career. First pitch is at 7:10. 
Bullpen Usage Spreadsheet