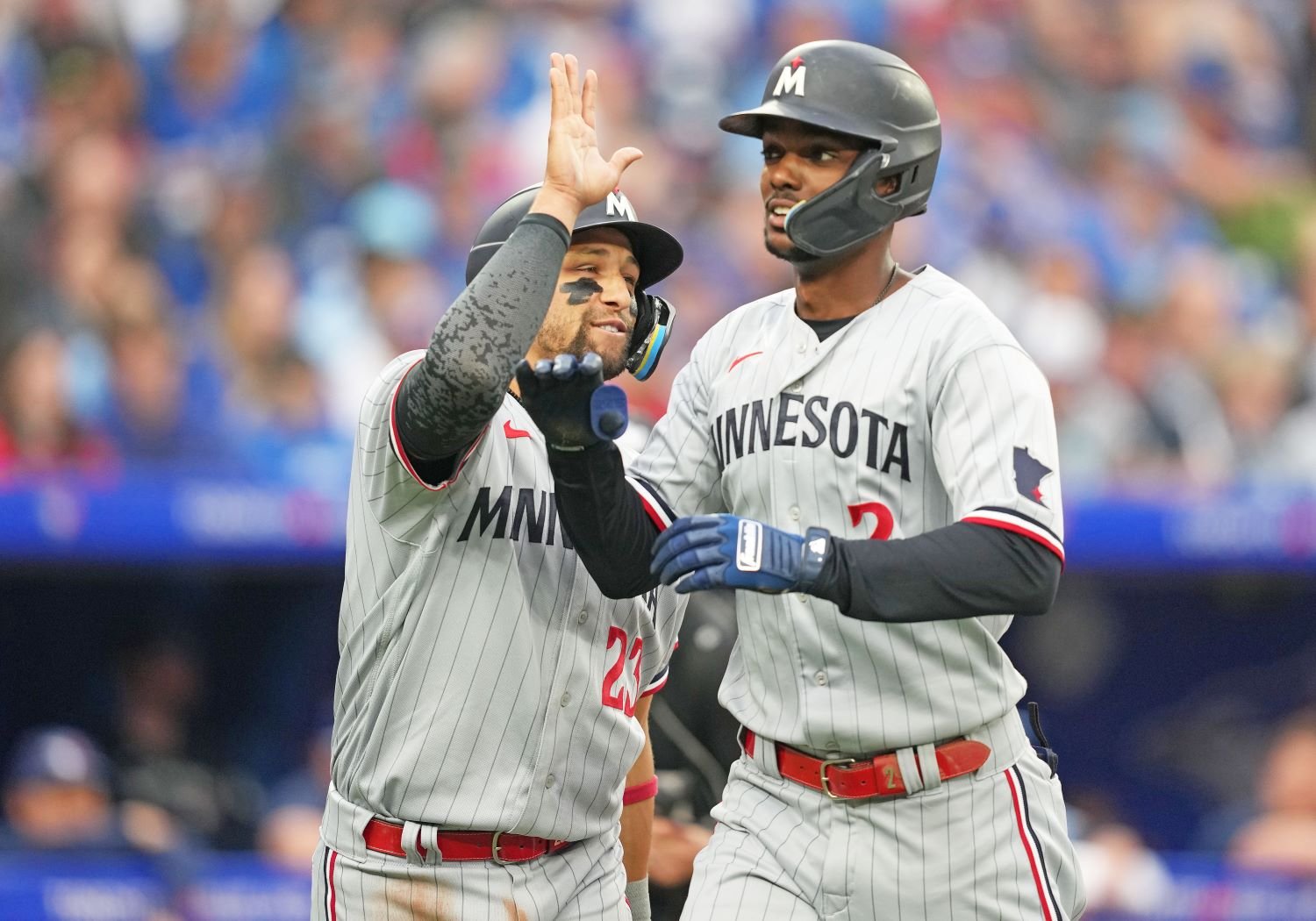 Image courtesy of Nick Turchiaro-USA TODAY Sports
Box Score
Sonny Gray: 5 IP, 5 H, 1 ER, 2 BB, 5 K
Home Run: Michael A. Taylor (9)
Top 3 WPA: Royce Lewis (.448), Jhoan Duran (.325), Michael A. Taylor (.318)
Win Probability Chart (via FanGraphs)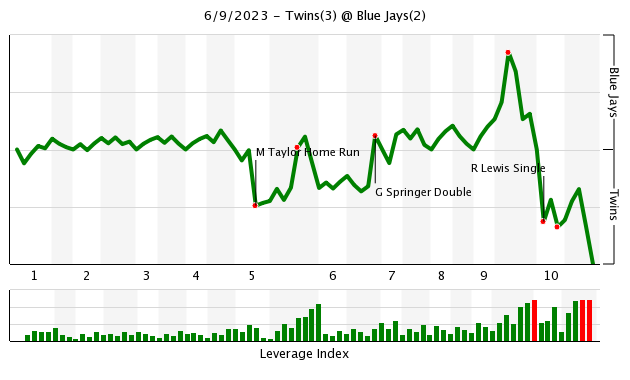 Fresh off a weak, un-intimidating effort against the Tampa Bay Rays, the Twins knew something had to change. A gradual increase of runs—none, to one, to two—may have been a little whimsical, but it was not effective, and the three-game sweep they endured only increased the pressure the often-criticized lineup has received.
And so, it was only fitting that they would have to face a lefty to fix their woes—the exact type of pitcher they have not hit well since Nelson Cruz took his talents to South Beach (or thereabouts).
The early frames played out as expected: the Twins made starter Yusei Kikuchi work, exhibiting the common styles of a pesky offense, but their work could only amount to nips and minor cuts, never inflicting serious damage as each rally died quietly. It was business as usual. 
Sonny Gray was his normal, hyper-efficient self, though, easily breezing through the first handful of innings with only an occasional hit—and his own clumsiness on a balk—breaking his rhythm.  
Things changed in an instant. The forces restraining Minnesota's offensive ability ceased in the 5th, allowing Royce Lewis to bust out an infield hit to begin the inning. Christian Vázquez may have struck out staring at the wisps of a Kikuchi fastball, but Michael A. Taylor found his fortune. Kikuchi's slider was perfect—low, precisely engineered to elicit a two-strike whiff—but Taylor sensed the pitch, predicted the strategy, and blasted it 403 feet out to left-center field, handing Minnesota a sudden 2-0 lead. 
But things are never easy for those searching for luck. Gray immediately capitulated, walking a batter before allowing a soft pitching wedge served into left field. There was trouble; Bo Bichette was trouble. His grounder found Toronto's trampoline infield, bounding just beyond Kyle Farmer's glove to score the opening run for the Blue Jays. Gray increased his anxiety with a bases-loading walk, but a pair of easy outs ended the frame with the damage limited. 
And so started the running of the bullpens. Nate Pearson earned his scoreless frame, forcing the focus to Jovani Moran. The lefty coaxed two quick outs before allowing a single to Santiago Espinal, inspiring Blue Jays manager John Schneider to call on George Springer for a little more of the clutch magic he has worked in his legendary MLB career. He came through. Brock Stewart's first-pitch sweeper did not surprise him, and the ensuing double plated the tying run.
The hiccup proved to be an outlier amongst the game's relievers, as the teams exchanged slugs of strong pitching—outs never in question—while the game slithered into its critical frames. 
The ninth inspired action, with the Blue Jays loading the bases on Jhoan Duran; he escaped unharmed anyways.
And with some aid from the Manfred Man, the Twins could finally break free. Royce Lewis acquired his fourth hit of the game—a dinky infield hit in front of Matt Chapman—setting up Taylor with the crucial at-bat; he delivered with a sacrifice fly just deep enough to elicit an awkward-hopped throw from Whit Merrifield, making Ryan Jeffers safe at the plate. 
Duran was back to being the man of the hour. Despite pitches oozing with stress, Rocco Baldelli trusted that his guy would win out, that his prize horse would find his gallop and lead the Twins to victory. There was a walk to Merrifield—better to leave the old nemesis on base anyways—but Duran stared down his enemies and sent them back to the dugout disappointed, ending the game with a harmless pop-up from Santiago Espinal and giving the Twins their first win in five games. 
Notes:
Friday was Royce Lewis' first four-hit game in his MLB career.
Jhoan Duran's 38-pitch outing was his highest pitch count in a game since throwing 40 pitches on July 16th, 2022, against the White Sox.
Sonny Gray has reached five innings in every start in 2023 except for his May 17th outing against the Dodgers. 
Post-Game Interview:
What's Next?
The Twins and Blue Jays will play the second match of their three-game series on Saturday; first pitch is at 2:07 PM, and Joe Ryan will face off against RHP Trevor Richards (likely a bullpen game.)
Bullpen Usage Spreadsheet