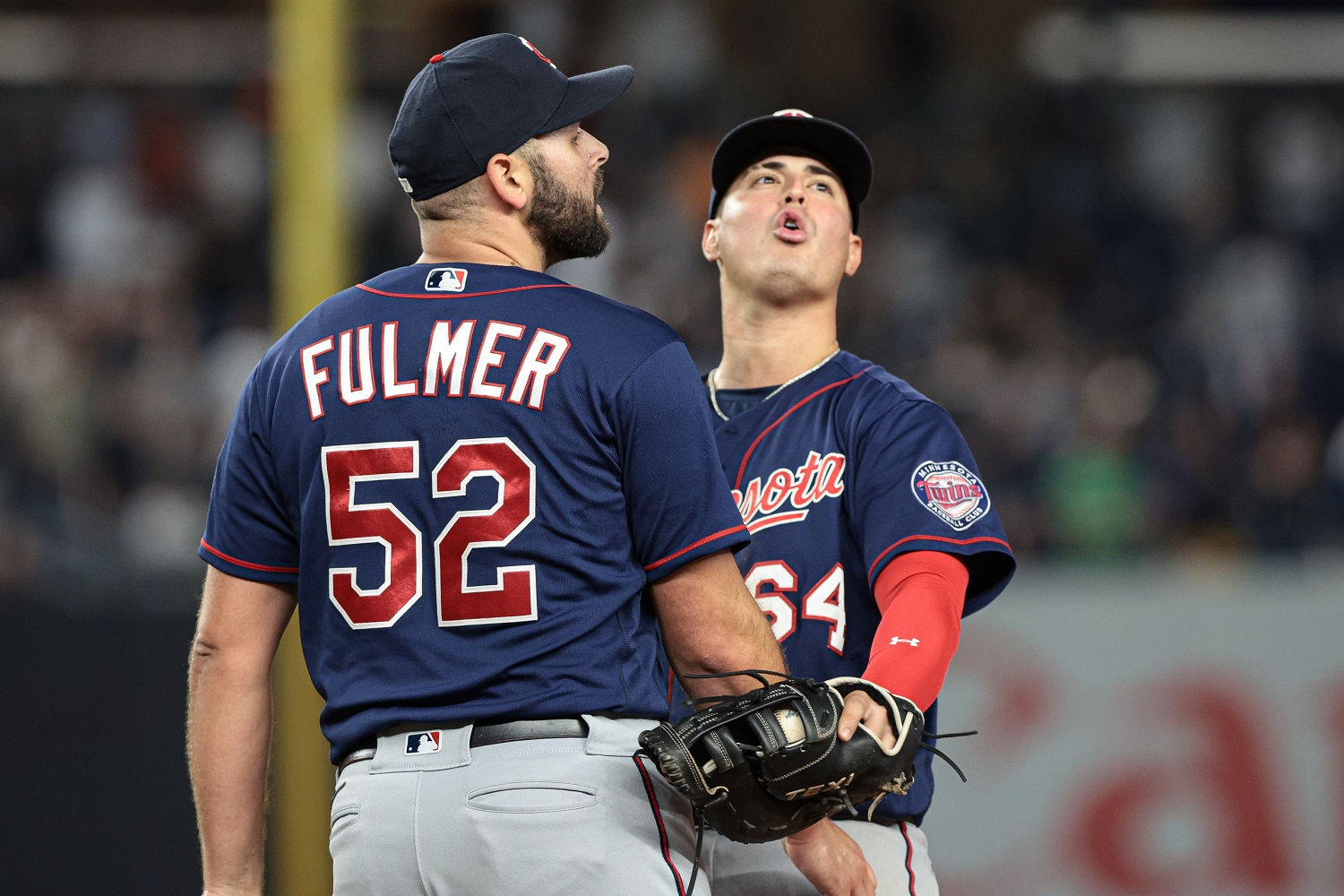 Image courtesy of © Vincent Carchietta-USA TODAY Sports
The Minnesota Twins bullpen is filling out nicely, projected as a top-five unit by some systems. They have arguably the best relief pitcher in all of baseball in Jhoan Duran and a strong supporting cast behind him, but there is plenty of noise that the Twins add one more right-handed reliever to fill out the bullpen. A popular candidate to re-sign for that last spot is one of their 2022 trade acquisitions, Michael Fulmer. 
Fulmer was solid for the Twins in the back half of the season, claiming a 3.70 ERA, 4.14 FIP, with a 20.6% K% and 7.5% BB% for Minnesota post-deadline. There has been little noteworthy reporting on a potential landing spot for Fulmer this offseason. Would a reunion in MN make sense for the right-hander? 
Fulmer sits in the mid-90s with his fastball, but his calling card is his slider. Throwing it more than 60% of the time and averaging over 90 MPH, the pitch laid waste to right-handed hitters, as Fulmer held them to a .188/.287/.257 slash line in 2022. 
However, as devastating as he is to right-handers, he was quite the opposite versus left-handed hitters. Allowing a .337/.404/.526 slash line, this extreme platoon split limits Fulmer's value, as he is only useful against one side of the plate. 
Fulmer toes a very fine line of success. His strikeout rate is just under league average (45th percentile), and he does a good job of limiting hard contact (61st percentile HardHit%), but walks were a problem for Fulmer in 2022. His 10.1% BB% was the 20th percentile, and while you can be an excellent reliever with a high walk rate, it is difficult to do so while missing bats at a below-league-average level. I believe Fulmer allows too many free passes to consistently rely on the variance of balls in play to be a sustainably reliable relief pitcher in the future. 
In addition to his struggles commanding the strike zone, Fulmer is starting to see deterioration in his pitch arsenal. Fulmer saw his pitch velocities decline by more than a mile per hour for all four of his pitches. 
The thing that concerns me the most is what happened to his slider. In addition to losing velocity, it started to lose movement. According to Baseball Savant, from 2021 to 2022, his slider lost more than an inch of horizontal break and an inch of vertical break. Given how often he throws this pitch and how critical it is for his success, declining speed and movement on his slider is extremely concerning moving forward. For a pitcher that is going to rely on soft contact for outs while also not throwing a lot of strikes, seeing their best pitch starting to slip is a red flag. 
I'm not opposed to re-signing Fulmer, but it would be a risky bet, and it would have to be a low-cost signing. I wouldn't be surprised if the Twins decided to fill that final bullpen spot with one of their relief prospects instead of Fulmer. Whether it's Cole Sands, Ronny Henriquez, Trevor Megill, or another option, it's not an unreasonable bet that the Twins can generate Fulmer's value as a righty specialist elsewhere