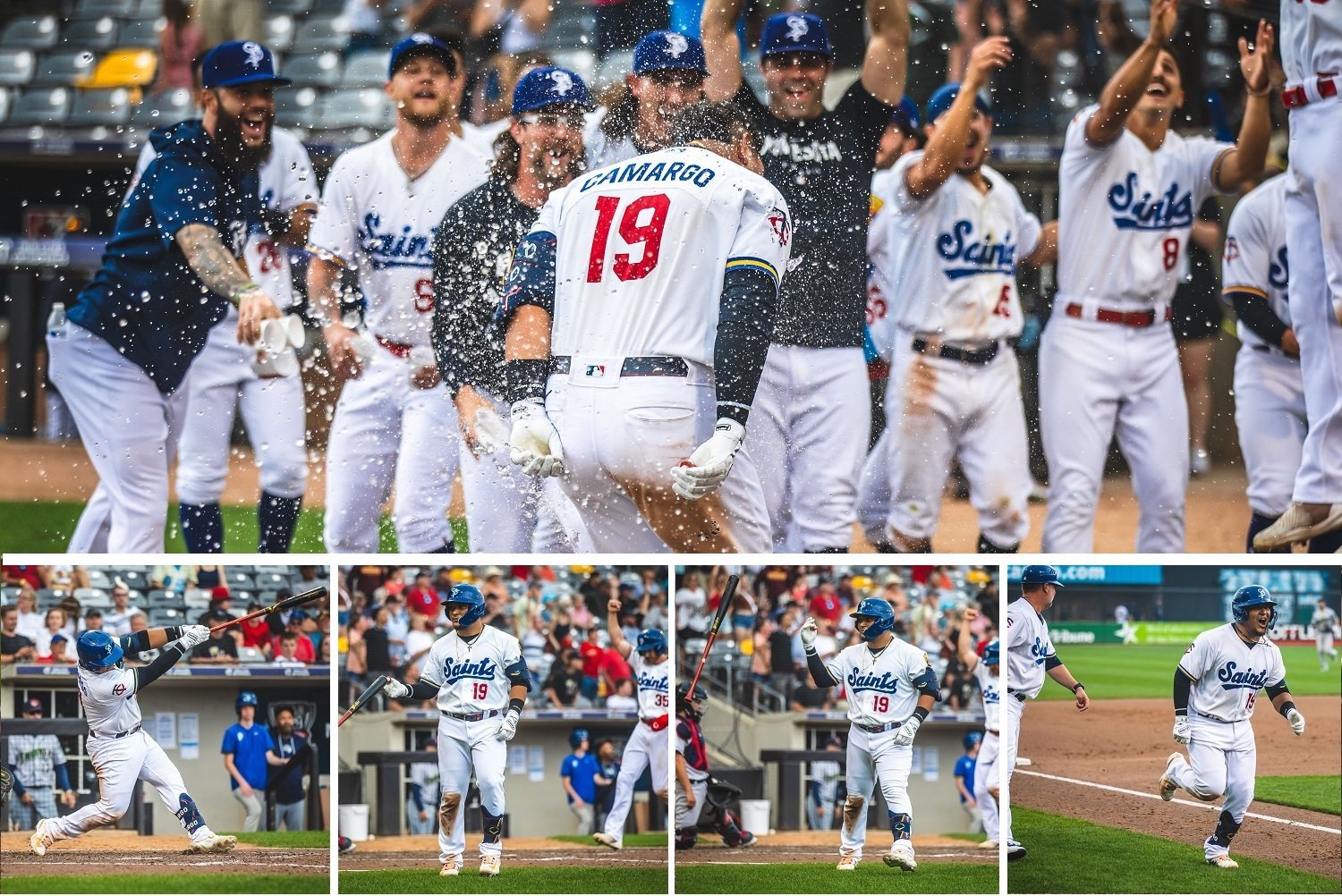 Image courtesy of Rob Thompson, St. Paul Saints
In reality, the World Series could be over as early as Wednesday night. At the latest, a Game 7 would be played on Saturday. 
When that final out is recorded, hundreds of players will become free agents. As you know, big league pitchers Sonny Gray, Dallas Keuchel, Kenta Maeda, Tyler Mahle, and Emilio Pagan, infielder Donovan Solano, and outfielder Joey Gallo will be among the newly-minted free agents. Five days later, they can start signing with other organizations. 
Things get interesting on the minor-league side, and it isn't always as easy to know who is a free agent. This year, players drafted in 2017 and not on a 40-man roster will become free agents. Those players signed contracts to play in 2017, 2018, 2019, 2021, 2022, and 2023. In addition, they were given credit for 2020 despite the season being cancelled by Covid. 
2017 Draft
Royce Lewis was the #1 overall pick in the 2017 draft. However, he was added to the Twins 40-man roster after the 2021 season and remains on the 40-man roster to this day. No, Royce Lewis will not be a free agent. The same is true for Bailey Ober, the team's 12th round pick in 2017. 
2016 International Signings (or Earlier)
In addition, players signed when they were 16 years old in 2016 who are not on the 40-man roster can also become free agents. The Twins didn't spend big on any one international prospect that year. While I found Wander Valdez and Jesus Feliz very interesting prospects, neither came close to the big leagues. One player signed that year was right-hander Prelander Berroa. However, he was traded to the Giants in the ill-fated Sam Dyson. He was later traded to the Mariners and made his MLB debut in 2023. What we can learn from Berroa, however, is that when a player is dealt to another organization, his free agency timeline doesn't change. 
In addition, a player signed in 2015 became a free agent after last year's World Series. When he signs another minor-league contract, he becomes a free agent again a year later. 
Case #1: C Jair Camargo
That is the exact scenario that played out a year ago for catcher Jair Camargo. In fact, he was the one pending minor-league free agent a year ago that I recommended the Twins bring back. That is exactly what happened. The Twins and Camargo quickly came to terms on a one-year minor-league contract. The Twins have the same season again this year. 
Camargo signed with the Dodgers out of Colombia in 2015. He came to the Twins with Kenta Maeda in the Brusdar Graterol deal before the 2020 season. He had a breakout season in 2022 between Cedar Rapids and Wichita. Combined, he hit .262 (.793) with 18 home runs. With the minor-league signing last offseason, Camargo was left at risk to be lost in the Rule 5 draft. Fortunately, he was not selected. 
However, as a 23-year-old in 2023, Camargo jumped up to Triple-A St. Paul. In 90 games, he hit .259/.323/.503 (.826) with 16 doubles, 21 home runs and 63 RBI. 
If the two sides reach an agreement again quickly on a minor-league deal, there is no way that Camargo is not lost in the Rule 5 draft. A power-hitting catcher who is athletic and a solid-to-average defensive backstop? It's likely Camargo would be the first pick of the Rule 5 draft.  
The Twins were able to go through the entire 2023 season and only used two catchers, Ryan Jeffers and Christian Vazquez. That is not normal. Jeffers, 26, is entering his first arbitration season and won't be a free agent for three more years, after the 2026 season. Vazquez, 33, just completed his first season of a three-year, $30 million contract. 
Most years, the Twins bring in a veteran catcher or two on minor-league contracts. They essentially become the team's #3 catcher and can be recalled if and when needed. Examples of that in recent years include Tony Wolters, and later Mark Kolozsvary, in 2023. In 2022, veterans such as Chance Sisco, Grayson Greiner, and later Jose Godoy. Tomas Telis was a Triple-A catchers for the Twins for three years before that. 
What Should Happen? 
Before the World Series ends, the Twins should absolutely add Jair Camargo to their 40-man roster. That move can be done without a corresponding move as the Twins 40-man roster is already below 40. Camargo should go to spring training understanding that if Jeffers or Vazquez miss some time, he will be the first call. In addition, they should still bring in one more veteran catcher for St. Paul, and to work with other younger catchers in the organization. 
What Will Happen? 
The Twins will absolutely add Jair Camargo to their 40-man roster. 
Case #2: RHP Blayne Enlow
The case for Enlow is a lot more difficult and a case could be made either way. In case you are new to Twins fandom, Blayne Enlow was the Twins third-round draft pick in 2017 out of high school in Louisiana. He dropped in the draft because he had a commitment to LSU and a specific number in mind that it would take to get him signed. Royce Lewis agreed to sign with the Twins well below slot and the extra money was used to sign Enlow. 
Enlow moved up the Twins organizational ladder slowly, but he was long a top 10 Twins prospect. He threw in the low-90s and was known to be able to spin the ball well. Unfortunately, he was not able to pitch in 2020. In 2021, he began at Cedar Rapids. Through three starts, he had a 1.84 ERA, and in 14 2/3 innings, he had 23 strikeouts. Missing bats was the one thing he needed to start doing. Unfortunately, in a bullpen, something didn't feel right in his elbow. Soon after, he had Tommy John surgery and missed the rest of that season. Still, the Twins had seen enough improvement and with his rehab that they added him to the 40-man roster after the season. 
He was able to return to the mound quickly, He threw 43 pitches in 1 2/3 innings of a May 7th rehab with Fort Myers, and the Twins deemed his rehab complete. They sent him to Double-A Wichita and he made 10 starts and 14 relief appearances. In 57 1/3 innings, he posted a 4.40 ERA. He had 64 strikeouts (10.0 K/9) but he also walked 30 batters (4.7 BB/9). Last offseason, the Twins were making player claims for pitchers such as Oliver Ortega. When they did that, Enlow was outrighted from the 40-man roster.  
He started the 2023 quite well. In Wichita, he made 11 appearances and went 3-1 with a 3.17 ERA. In 54 innings, he had 65 strikeouts (10.8 K/9) to go with just 13 walks (2.2 BB/9). He had found his lost control and he was still missing bats at career-high rates. He moved up to the Saints and made 15 appearances (12 starts). Things didn't go as well. He went 2-5 with a 7.94 ERA. In 45 1/3 innings, he had 44 strikeouts (8.7 K/9) and 19 walks (3.8 BB/9). He gave up a lot of hits and two homers per nine innings. 
Enlow will turn 25 in March. He's still young and still learning. He is a hard worker, and he knows the game well. However, he should have a lot of options this offseason. 
What Should Happen?
I would like to see the Twins try to sign Enlow and keep him around another season. He lost a full season to Covid. He lost a full season due to Tommy John surgery, and that 2022 season was more about getting through the season healthy. Since he's at Triple-A and healthy, give him another six-to-eight weeks as a starter. If that doesn't go great, move him to the bullpen full-time. See how he can perform in that role where he can air it out more often and see if it can play out. The hope would, of course, be that he becomes a dominant reliever and either help the Twins in the season's second half or make himself an easy addition to the 40-man roster. 
If the Twins don't add Enlow to the 40-man roster, they should still attempt to sign him to a minor-league deal. However, Enlow should certainly take advantage of his free agency, talk to any and all teams that show interest and do what is best for him. Of course, that means, which team does he think he has the best opportunity to get called up to the big leagues and live out his lifelong dream. 
What Will Happen?
I would be surprised if the Twins added him to the 40-man roster, and that's probably the right decision. I would like to think that the Twins would make him a fair minor-league offer. However, Blayne Enlow needs to go to an organization that needs pitching in the upper-levels of their minor-league system and there is more opportunity than there would be with the Twins. 
Other Free Agents
There is one other member of the Twins 2017 draft class that is still in the organization is Andrew Bechtold. He was the Twins fifth-round pick out of Chipola. He played all over the infield during his early years in pro ball. Blessed with a huge arm, his most natural position is third base. He also spent a lot of time at second base earlier in his career and at first base the last couple of seasons. In 2021, he started working bullpens in the catchers gear and ended the season making one start behind the plate. That year, he went to the Arizona Fall League and caught some more. In 2023 with the Saints, Bechtold added another position. Because of his arm, he was given a chance to pitch out of the Saints bullpen. He made 20 appearances, and in 18 innings, he had 24 walks and 16 strikeouts. Nothing like learning on the job in the highest level of the minor leagues. 
What I'd Like to See Happen? I would really like to see the Twins bring Andrew Bechtold back and give him a real opportunity on the mound. See where it goes. Let him hit. Let him catch. Let him play the corner infield spots. It doesn't need to be an everyday role, but building his versatility can hopefully keep his career going. 
Gilberto Celestino came off of the 40-man roster as the playoffs were about to begin. He was outrighted, but because it was his first outright, he could not elect free agency. Once the World Series ends, Celestino will become a free agent. But could the Twins add the still-just-24-year-old before then and keep a right-handed outfield bat on the roster, at least for right now? 
Right-hander Alex Scherff was the Red Sox fifth round pick in 2017 out of high school in Texas. He came to the Twins in a July trade deadline deal in 2021 that involved Hansel Robles. Once a very exciting prospect, injuries have really cost hi a lot of consistent development time. This year, he posted a 3.57 ERA in 53 innings at Wichita. he had 66 strikeouts but also walked 31 batters. He made five appearances with the Saints. Not a guy that would be considered for the 40-man roster, but an intriguing arm worthy of a minor-league deal. 
Obviously this is not a complete list of potential minor-league free agents (meaning, guys who could be free agents in the next several days), but these are certainly names that likely received quite a bit of conversation in the Twins offices. 
If you were Derek Falvey, Thad Levine, Jeremy Zoll, Alex Hassan, Drew MacPhail, a minor league coach or coordinator and could have your voice heard, what would you recommend?