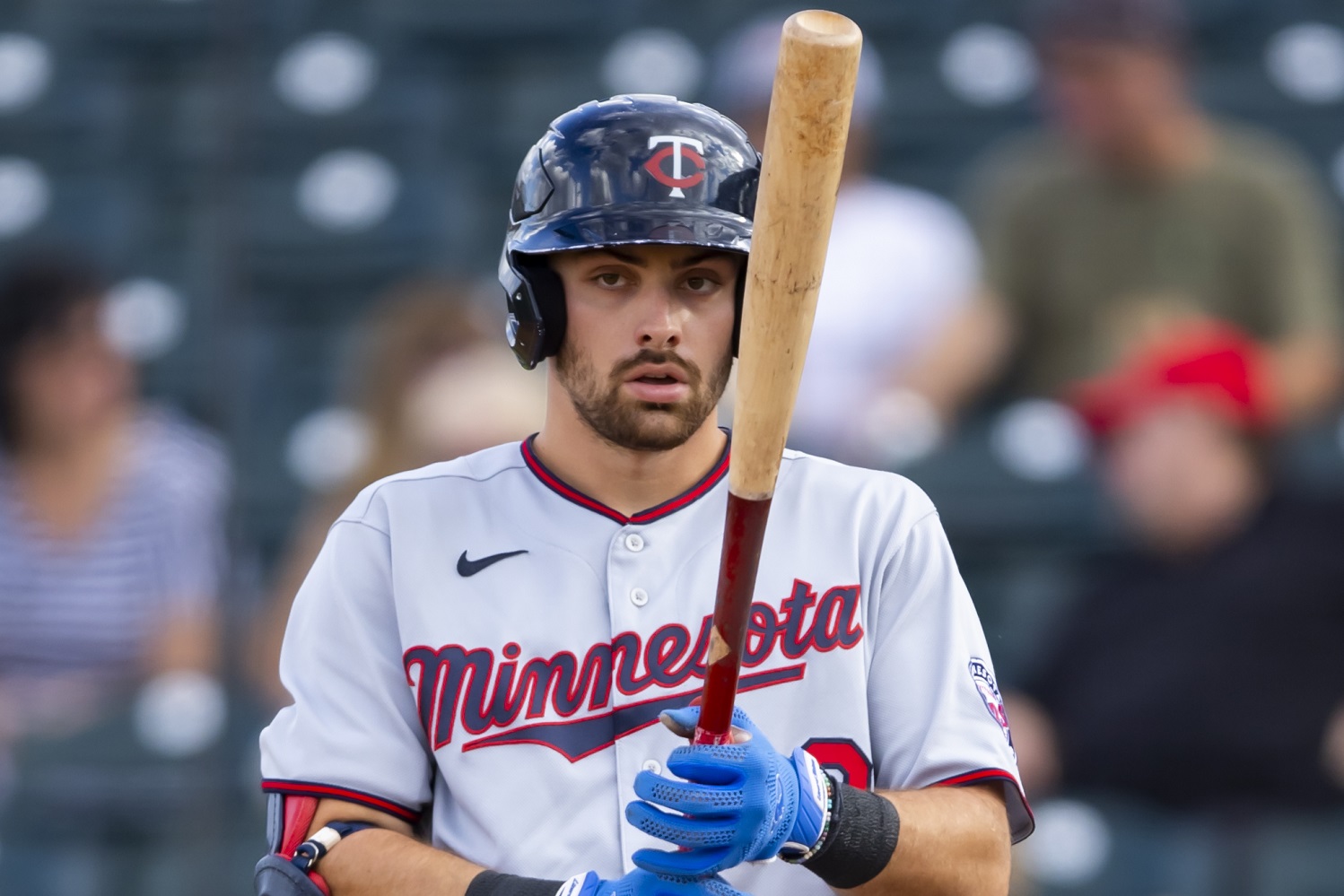 Image courtesy of Mark J. Rebilas, USA TODAY Sports
Prospect development is not a linear path. Some prospects reach the higher levels of the minor leagues and struggle, while others move quickly to the big-league level. Two of the prospects outlined below had a chance to reach the big leagues in 2022, but their performance didn't warrant a promotion. Injuries and poor performance can hurt a prospect's long-term outlook, but these players have the potential to impact the Twins in 2023.

Brooks Lee
TD Top Prospect Rank: 2
Debut Prediction: September
Minnesota selected Lee as the team's top pick in the 2022 MLB Draft. He flew through three levels in the Twins system and ended the year at Double-A. In 31-games, he hit .303/.389/.451 (.839) with six doubles and four home runs. He likely spends most of 2023 at the Double-A level, but his performance will dictate his ultimate landing spot. There is no need to rush Lee to the big leagues, but his college experience and advanced bat can put him on track to be a late-season call-up. 

Austin Martin
TD Top Prospect Rank: 6
Debut Prediction: July
Martin entered the 2022 campaign as one of the Twins' top prospects, but his season went differently than planned. There was an opportunity for him to make his big-league debut in 2022 since he was repeating the Double-A level. Unfortunately, he struggled offensively with a .685 OPS while also dealing with a wrist injury. Martin ended September on a strong note and carried his hot hitting into the Arizona Fall League. If healthy, Martin is still part of the team's long-term plans while offering plenty of upside. 

Edouard Julien
TD Top Prospect Rank: 10
Debut Prediction: May
While Martin struggled in Wichita, Julien was one of the organization's breakout prospects in 2022. In 113 games, he hit .300/.441/.490 (.931) with 19 doubles, three triples, and 17 home runs. He posted an eye-popping 1.248 OPS this fall on the way to being named the AFL's Breakout Prospect. Julien is close to big-league-ready when it comes to his prospect development. He will play the year in the upper minors waiting for an opportunity to arise at the big-league level. Since he's on the 40-man roster, one injury is all it will take for a call-up.   

Jordan Balazovic
TD Top Prospect Rank: 15
Debut Prediction: June
Balazovic struggled through much of 2022 but ended the year on a high note. Minnesota needed many starting pitchers last season, but Balazovic never got the call. In 22 appearances (70.2 IP), he posted a 7.39 ERA with a 1.94 WHIP and a 76-to-35 strikeout-to-walk ratio. Multiple starting pitchers have passed him on the organizational depth chart, but there have been times when he was considered one of the team's best pitching prospects. His September might signify that he is ready to take the next step, which can set him up for a bounce back year in 2023. 

Will all of these prospects debut in 2023? Can Martin and Balazovic bounce back? Who are you most excited to see? Leave a COMMENT and start the discussion.