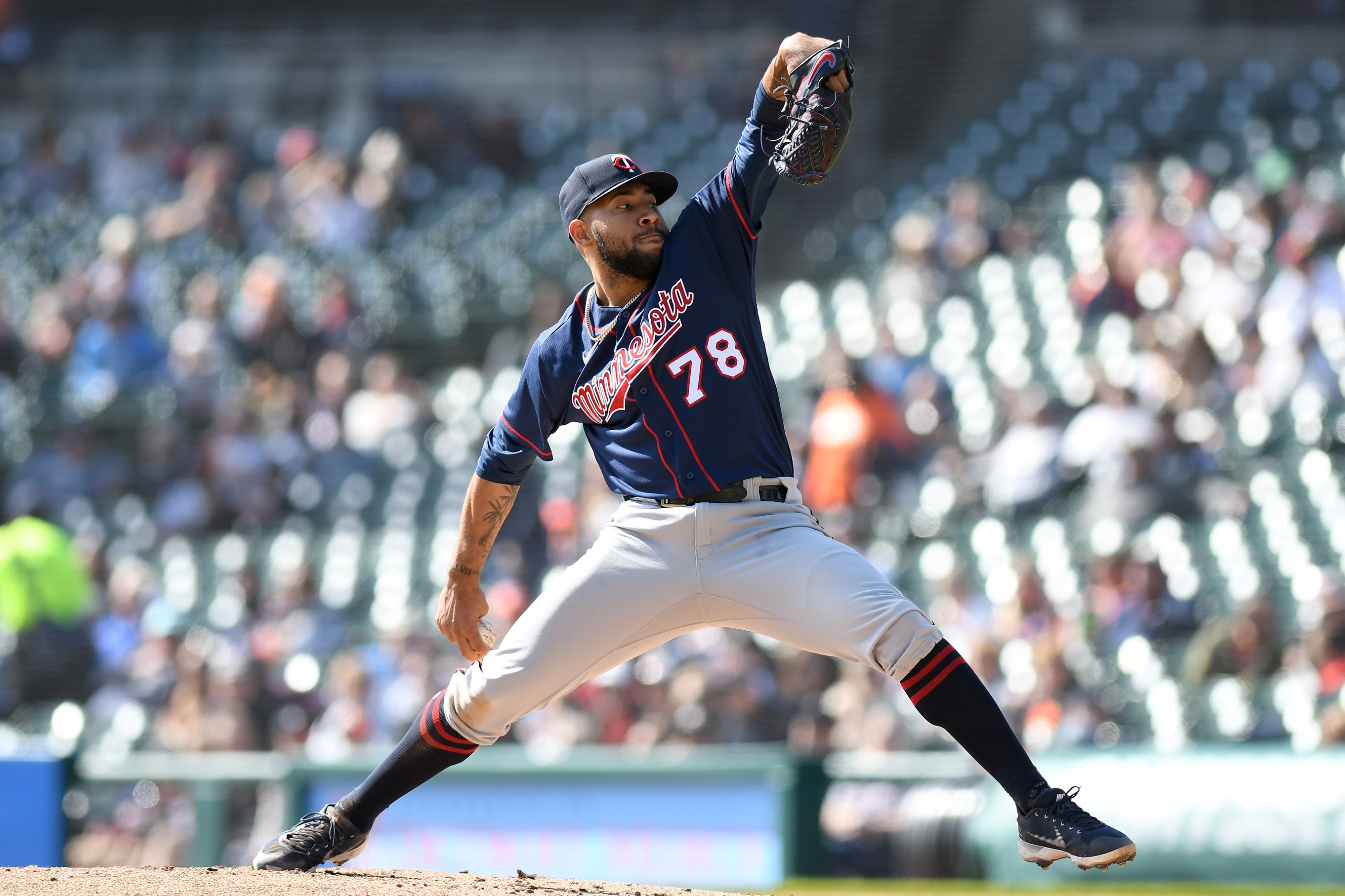 Image courtesy of Lon Horwedel-USA TODAY Sports
If you like, you can quickly catch up on the ground rules for this exercise in the first installment. The short version is this that we're attempting to rank Twins players and prospects through a big-picture lens in asking: Which current players in the organization are most indispensable to fulfilling the vision of building a champion?
Here in this second installment, breaking down my picks for #11 through #15, we find an interesting cross-section of rising and falling stocks. It feels like there's a lot at stake here; a couple of true breakthroughs at this level would profoundly impact the franchise's future fortunes.
First, a recap of the list as it stands, from Part 1:
20. Matt Wallner, OF
19. Louie Varland, RHP
18. Sonny Gray, RHP
17. Jorge Lopez, RHP
16. Alex Kirilloff, OF/1B
Top 20 Twins Assets of 2023: 11 through 15
15. Ryan Jeffers, C
2022 Ranking: 10
Good major-league catchers are really hard to find. The offseason market is typically sparse; this year the Twins were happy to land a reliably average veteran in Christian Vazquez on a three-year deal that – while reasonable – could hardly be described as team-favorable.
Even with Vazquez's addition, catching depth is sparse in the Twins system, which is why Jeffers remains a fairly vital if unexciting asset for the organization. Two straight sub-par offensive seasons have tempered expectations, but the defensively-acclaimed Jeffers remains heir apparent behind the plate, with the Twins surely hoping he'll have emerged as primary starter by the tail end of Vazquez's contract.
14. Trevor Larnach, OF
2022 Ranking: 12
Around this time last year, we were wondering if Larnach's fade during a promising rookie season in 2021 meant he was hitting a wall or merely enduring a speed-bump in his development. 
The good news is that he fueled the "speed-bump" narrative in 2022 ... at least for a while. Larnach emerged as one of the best hitters in the lineup, earning his way into the heart of the order by June, but a worsening groin/core injury tanked his performance leading up to surgery that ended his season halfway through.
There's no reason to believe that particular issue will be a factor going forward, and Larnach in general stands out as a player who figures to benefit from a fresh leadership voice on the training staff. Last year's performance, when healthy, left little doubt as to his viability as a starting outfielder in the big leagues – but at the same time, he hasn't firmly established himself as such and turns 26 in February.
13. Austin Martin, SS/OF
2022 Ranking: 5
Martin's huge regression at Double-A was one of the top headlines for the Twins system in 2022. He'd emerged as arguably their top prospect – centerpiece of the Jose Berrios trade and OBP wizard extraordinaire – but his bat went silent in a follow-up at the same level where he'd spent the entire previous year. 
While remaining true to his trademark calling card – namely, a knack for getting on base via the BB or HBP and then wreaking havoc as an aggressive runner – Martin batted just .241 with a .316 slugging percentage in his encore at Wichita. He managed two home runs in 90 games. Meanwhile, we gained no real clarity on his defensive future, as he continued to make nearly all of his starts at shortstop, where no one expects him to play in the majors.
With all that being said, Martin is still the same player he was a year ago, when he ranked #5 on this list, as well as #1 on our top prospects list and consensus top-50 status on global lists. It feels rash to drop him more than eight spots here in response to one tough season at age 23.
In the wake of said tough season, Martin did put together a very encouraging showing in the Arizona Fall League, slashing .374/.454/.482 with six doubles and a homer in 21 games. Something to build upon heading into a crucial 2023 campaign.
12. Connor Prielipp, LHP
2022 Ranking: NR
The Twins need to hit big on a premium arm in the draft. It's been a persistent sore spot for this front office. Yes, they've managed to develop some late-round picks like Bailey Ober, Louie Varland and Josh Winder into capable big-league starters, but in seven years, they haven't jumped on a high-end pitcher at the top of the draft and developed him into a frontline stud – and that's really what it feels like this franchise most desperately needs.
Prielipp has a real chance to finally break through as that guy. 
Easily enough said for a player who's yet to throw a professional inning, I realize. But in naming him Minnesota's most intriguing pick in last year's draft, The Athletic notes that before blowing out his elbow in the spring of 2021, "Prielipp was a consensus top-10 draft prospect with a chance to pitch himself into the No. 1 pick conversation." 
He was fully rehabbed from Tommy John surgery by the time Minnesota selected him 48th overall, but didn't see any official action last year. Baseball America already rates his slider as the best in the Twins system, even though he's yet to technically throw one as part of it.
Obviously there's a fair amount of risk attached to Prielipp, and that's why the University of Alabama product lasted into the second round of the draft, but you won't find much more pure upside in a collegiate pitcher draft pick. The Twins really need this one to click.
11. Simeon Woods Richardson, RHP
2022 Ranking: 18
Earlier I mentioned that Martin's step backward was one of the top headlines in the Twins system last year. The flip side is that Woods Richardson's emergence was another of the top headlines, and – given he came over in the same trade package – it helps take some of the sting out of Martin's drop-off.
Whereas Martin stumbled at Double-A after thriving there the previous year, Woods Richardson had the opposite experience. He found his footing in a second turn at Wichita, posting a 3.06 ERA over 70 innings, then pitched brilliantly after a promotion to Triple-A where he went 2-0 with a 2.21 ERA in seven starts. It all culminated with a late-season MLB debut, making him the youngest pitcher to appear in the big leagues in 2022.
He's very polished and it showed at every stop, but at the same time, Woods Richardson's stuff and approach don't quite scream "frontline starter." Not yet. He just turned 22 in September though, so there's plenty of room for growth. With his big 6-foot-3 frame and excellent demeanor for pitching, he's got much to work with.