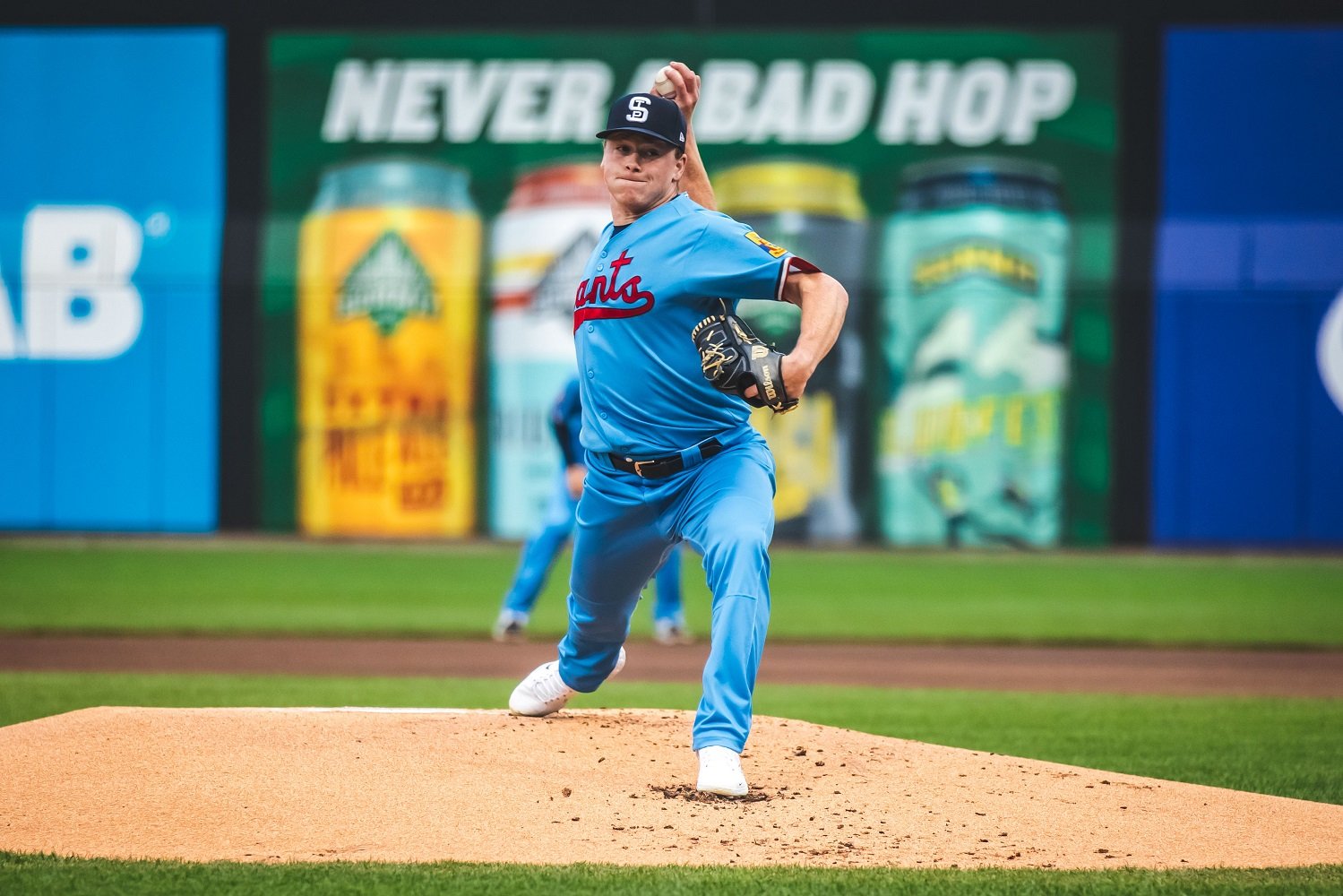 Image courtesy of Rob Thompson, St. Paul Saints
These rankings are intended to provide a relative view of Twins players and prospects by appraising their big-picture value to the organization. The goal is to answer this question: Which current players in the organization are most indispensable to fulfilling the vision of building a champion?
We account for age, contract, controllability, upside, etc. It's not strictly a ranking of trade value, because that would be more team-agnostic, where this list aims to capture a very Twins-specific POV. As such, players at areas of scarcity (i.e. pitching) get elevated while those at areas of abundance (i.e. lefty-swinging corner guys) get downgraded a bit.
I always find compiling this list to be an interesting offseason exercise – one that surfaces unique conversations about Twins players, how we value them, and where the system's strengths and weaknesses truly lie. 
What made it so challenging this year is that, by design, these rankings are a snapshot in time – published at the start of January for no other reason than a new year feels like a good time to reset and reassess – and right now, it's very tough to get a read on the state of this organization and its talent.
For one thing, it feels like we're in the midst of a slow-developing offseason journey with big twists still ahead. I have a strong feeling there will be noticeable changes to this list by March 30th. 
But even more, there is SO MUCH UNCERTAINTY with the players they already have. A snapshot at this midpoint of the offseason lacks clarity around key health-related details with massive implications. I struggled with many decisions, and they begin to crop up in this first installment.
For example: If healthy, Tyler Mahle at $7.2 million is tremendously valuable, even with only one remaining year of team control. Can we safely operate under the assumption he'll be healthy and at full strength in 2023? (Spoiler alert: I decided no, and he just missed the cut.)
Another example: If his latest surgery works and Alex Kirilloff returns to being roughly the player he was before his wrist affliction, he's a centerpiece in the lineup controlled for several years. Can you assume such a rare and complex surgery will take? (Spoiler alert: My cautious optimism got him on the list, but as you'll soon learn, not very high.)
With that setup, let's kick off the countdown with my picks for the 16th through 20th most valuable assets in the Twins organization. First, you can check out my rankings from the past five years to see how the franchise's talent landscape has evolved:
Top 20 Twins Assets of 2023: 16 through 20
20. Matt Wallner, OF
2022 Ranking: NR
On a list like this, Wallner has a few key things working against him.
First, his player type – strikeout-prone LH corner bat with big power – is fairly abundant in baseball, as evidenced by the Twins signing the poster child in Joey Gallo for $11 million. Second, that player type happens to be especially abundant in the Twins organization. So long as Max Kepler remains camped in right field, Wallner lacks a direct path to the majors, even though his skill set looks ready.
The reason he still makes the list, just barely, is because his abilities within that skill set are SO exceptional. Baseball America rates Wallner as the best power hitter and best outfield arm in the Twins system – tools that were on display during a September debut in the majors. 
Wallner didn't put up terribly impressive numbers in 18 games with the Twins but had some big moments, and if he's shown one thing during his ascent through the minors it's that he can quickly put a slow start at a new level behind him and start dominating once he gets comfortable.
The Twins will hope that's exactly what happens to the 25-year-old, who can make a big impact on the team's (near) future as either a slugger in the middle of the order or highly marketable trade chip.
19. Louie Varland, RHP
2022 Ranking: NR
Around this time last year, there was still a degree of widespread skepticism around Varland. Sure, he'd earned Twins Minor League Pitcher of the Year honors in 2021 with some truly dazzling numbers, but was this former 15th-round draft pick out of a D2 college the real deal, or a flash in the pan?
He backed up his breakout with a 2022 campaign that saw him:
Named Twins Minor League Pitcher of the Year for a second consecutive year, posting a 3.06 ERA in 126 innings between Double-A and Triple-A. 
Debut in the major leagues, where he showed the poise and ability of a seasoned vet. In five starts, Varland posted a 3.81 ERA over 26 innings, completing at least five frames in each turn. 
Skepticism remains regarding Varland's true ceiling, which is why he doesn't rank higher on this list, but he has solidified his standing as a turnkey mid-rotation starter with six years of team control. His durability and consistency stand out from the field of pitchers in the Twins organization.
18. Sonny Gray, RHP
2022 Ranking: NR
As things currently stand, Gray is the only pitcher in the organization who can credibly be looked at as a dependable frontline starter for 2023. That, in a nutshell, is why I had to include him in these rankings, albeit near the back end because the status of his contract (one year remaining at $12.5 million) and checkered bill of health this past season.
Gray has been around the block. He's made All-Star teams. He's started playoff games. He's been a featured rotation piece for several teams in a decade of big-league action, and he filled that role pretty well for the Twins last year.
It was a bummer that recurring hamstring issues limited Gray to just 24 starts and 120 innings, but he doesn't have the same kind of looming health-related questions as fellow veteran starters Mahle and Kenta Maeda. When on the mound, his performance was pretty much everything you'd want: a bulldog who throws strikes, keeping runners off the bases and batted balls in the park.
To whatever extent the Twins are successful in the coming season, it seems very likely that Gray will play a pivotal role. 
17. Jorge Lopez, RHP
2022 Ranking: NR
As the 2022 season played out, the Twins recognized that in order to take the next step forward, they needed to buttress Jhoan Duran at the back of the bullpen with another dominating force. This revelation pushed the front office to do something they rarely do: invest big in a buy-high relief pitcher.
The Twins gave up four prospects at the deadline to acquire Baltimore's All-Star closer, who was experiencing an instant breakthrough in his transition to full-time reliever. Lopez shook off his previous struggles as a starter and transformed into a convincing lights-out bullpen ace for the O's.
His performance in Minnesota after the trade was far less inspiring, but unlike Mahle, there's no reason to believe anything is physically amiss for Lopez. His profile – heavy doses of whiffs and grounders with sinking upper-90s heat – is a pretty reliable formula for success. So long as he can get back to commanding his arsenal Lopez figures to be a key piece during his two remaining seasons of team control.
16. Alex Kirilloff, 1B/OF
2022 Ranking: 3
I'm an affirmed believe in Kirilloff. In five past iterations of these rankings, I've had him in the top five twice, including #2 in 2021 and #3 last year. I view his pedigree, IQ and ability as a hitter to be in a rarefied class. 
He's flashed it in brief glimpses on the field, and last year AK hammered home his hitting prowess during a hilariously productive month at Triple-A (.385/.477/.725 in 28 games). But on the big-league field, Kirilloff's success has always been fleeting, with each setback tied to a clear culprit.
The wrist injury that sabotaged his elite swing, and has now required two surgeries, will define Kirilloff's career. He'll overcome it with help from this latest intervention, or join the long list of rising stars fell victim to the brutal physical toll of pro sports – forced to make do rather than make hay.
I'm bullish on Kirilloff overcoming it. If for no other reason than that the Twins as a franchise, and especially Alex Kirilloff as person, are overdue for a good break. The guy also lost a full year of development to Tommy John surgery, and despite it all, finds himself firmly planted in the majors at age 25. His talent is not in question. 
A healthy and raking Kirilloff would be a radical difference-maker in the outlook for the 2023 Twins and beyond. Ranking him 16th on this list is an attempt to balance that simmering potential with the cold realities of the human body and its limits.